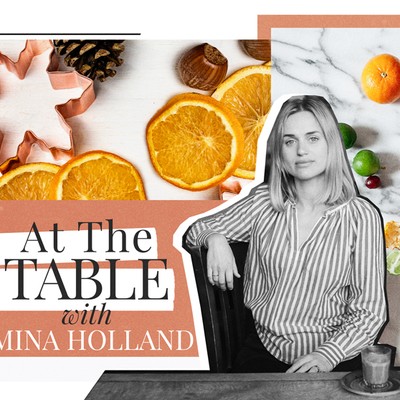 Mina Holland: Christmas Traditions

When it comes to food, writer Mina Holland knows what she's talking about. Here, in her new monthly food column, she celebrates the simple pleasures of being in the kitchen – and in the month of December, it's all about the sweet predictability of Christmas.

It starts with clementines, the scent of their sweet peel wafting around the office as headily as aromatherapy oil from mid-November. We'll debate which supermarket has this year's best easy peelers, then rush out to stock up, making sure never to run out, the scent of clementine embedded in my cuticles throughout advent: Christmas is coming.
 
In late November, I consider the Home Alone soundtrack, tentatively putting it on with headphones turned down low, lest I am rumbled listening to Christmas music before December. At home, the conversations start to make their annual crescendo: how we'll do the sprouts this year, what dessert we'll make for the Xmas-pud-nay-sayers, and the day-by-day festive booze schedule.
 
You get the idea. It's always the same. And I love it. It's likely that you love it, too.
 
Christmas isn't really a time for novelty; the festive season brings the year to a familiar and predictable climax. Whatever we've done in the 12 months preceding, wherever we've been and with whomever, Christmas brings with it the cosiness of the known. At no other time of year do I embrace tradition with such gusto; while normally I look for new experience at every opportunity, at Christmas I welcome certainty.
 
This is true not least in food, from clementine peel and beyond. As a food journalist, I work in a world where every new trend is pored over; I spend my year tracking the rise of vegans, the popularity of pickles and ferments, of poke bowls, of local sourcing and Food Assemblies, and wondering what's coming next. But on Christmas Eve, I know I'll be mopping up parsley sauce with a forkful of mashed potato and roast gammon, seeing Turkey & Co. on the 25th, and will expect those epic leftover sandwiches on Boxing Day.
 
All that said, while Christmas's culinary traditions are for me a line drawing done in Sharpie, I like to think those lines can be coloured in a little differently each year, the hues and tones shifting with my fancies. Just as Destiny's Child covered "Silent Night", I can remix my sprouts according to the year's mood – just as long as there are sprouts on the table.
 Here are five highlights that will be on my table this year… 1. Sprouts. I remember my Dad sighing deeply as a bowl of plain boiled Brussels sprouts were passed to him over the Christmas table. He'd take a couple and cover them fervently in black pepper and gravy to obscure the honk of Sixties school dinners. Luckily he's not had to endure that for a while: last year we had them roasted with Sriracha, the year before in sprout crumble. This year, inspired by chef Gill Meller, I'll be pan roasting them, with plenty of butter, caraway seed and garlic.
 2. Roast potatoes. Never much seen the point of doing them in goose fat, especially given we are not Dickensians and most of us don't even eat goose for Christmas lunch any more. Why exclude the vegetarians? I like Jamie Oliver's offering here, which gives three options with olive oil, butter and, yes, goose fat, respectively. In my house, we always opt for incidentally vegan-friendly ones, which delight just as much as the alternatives (IMHO), tossing fluffy boiled floury potatoes in hot olive oil and plenty of salt.
3. Red cabbage. We didn't always have red cabbage at Christmas lunch, but I live with a gannet for sweet and sour, and who can resist the colour? I find Felicity Cloake's guide to be a brilliant base, topping up the red wine, vinegar, sugar and spices for a punchy panful. 
 
4.  Quince. I always like to have a spiced fruit preparation that works as either a savoury or a sweet. Rachel Roddy's poached quince in wine is a winner in this regard, alongside cooked meat, cheese or ice cream, the juices spooned over the top, naturally. 
 5. Bread sauce. I used to be a 'bread sauce from a packet' kinda person. (For a lifelong bread sauce zealot, this is surprising). Then I married into a family in which the bread sauce – made with whole milk, sourdough breadcrumbs and star anise – is started with the first negroni of Christmas Eve, infuses overnight, and is finished on the hob while the following day's fizz is coiffed. I haven't looked back.
DISCLAIMER: We endeavour to always credit the correct original source of every image we use. If you think a credit may be incorrect, please contact us at info@sheerluxe.com.