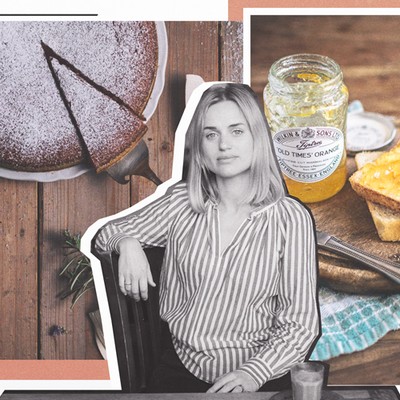 Mina Holland's Food For Thought: Blue Monday

When it comes to food, writer Mina Holland knows what she's talking about. Here, she defends breaking your new year's resolutions and giving in to indulgence every once in a while...

The first month of the year invites self-flagellation about food. Not least today, Blue Monday, the beginning of the third week of January, purportedly the West's most depressed day of the year, a maelstrom of bad weather, Christmas debt and failed New Year's resolutions.
 
I realize that we don't all make resolutions and that when we do, they don't always pertain to food and drink – and indeed that not everyone breaks them. But in 2019, I did and they did and I have. I can identify with anyone who might feel today to be a wretched sandwich filling between the fresh bread of good intentions and a staling slice of weariness. Pun intended: I 'gave up' sugar and gluten on instruction from both a midwife and a hypnobirthing class, both to lower my risk of gestational diabetes and to relax my birth canal in time for March (apparently this is a thing). But cake fixes, sandwich lunches and evening squares of chocolate in front of Les Miserables started to make appearances just days into January. My failure is hot from the oven.
Why do we do this to ourselves? While I'm all for supporting the medical benefits of cutting out or down on things that aren't good for us, like going easy on the booze after a heavy festive season or the ethical rationale for trying to do things differently (Veganuary seems to have had more air time than ever in 2019), it seems to me that taking such a sudden hard line – imposing rules on ourselves – never fails to invite rebellion. Gin after a challenging meeting, Saturday morning bacon or, for me, a blondie on the 3rd January – because, yes, I fancied a blondie, but I also knew how enhanced said blondie would taste given its forbidden status.
What's more, our new year's resolutions are a gift to the food industry. Companies step in to support our new starts with products developed to answer consumer 'needs', as they have forecast them. The Waitrose 2018-20 food and drink report says that 33.5% of the population are cutting down on or are cutting out meat – and, in turn, the supermarket has grown its vegetarian and vegan ranges by 60%. Soft drinks – flavoured tonics, counterfeit spirits like Seedlip, and alcohol-free beer and wine – are having a serious moment too, prompted by statistics that show we are drinking smaller volumes – and more occasionally. Sainsbury's recently launched a Nosecco, and their sales of alcohol-free wine are generally up 42% year on year.
 
All this suggests that we're becoming more responsible citizens, thinking more independently about our health and – although I think this is usually secondary – the environment. Far be it from me to criticize that – no, I applaud it. My comment is more on our tendency to swing between self-denial and indulgence, which plays into the hands of an industry that's forever looking for things to sell us, and ways to sell them. The moral of this story is neither original nor exciting: do what makes you feel good, moderately. But not before a piece of cake to cheer you up. It's Blue Monday, after all.
Mina Holland is a journalist, editor and author specialising in food, drink and lifestyle. She is deputy editor of the Guardian's Saturday 'Feast' supplement, regularly contributes to various sections of the Guardian, and has written for, among others, The Evening Standard, Men's Health, Noble Rot, Saveur, Soho House's 'House Notes', Stylist and SUITCASE magazines. She is the author of two books, The Edible Atlas (Canongate 2014) and Mamma (Orion 2017) and lives in London. Find her on @minaholland 
DISCLAIMER: We endeavour to always credit the correct original source of every image we use. If you think a credit may be incorrect, please contact us at info@sheerluxe.com.