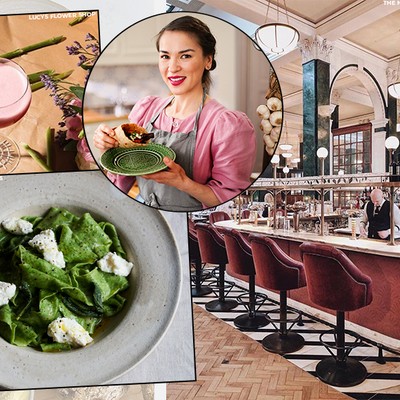 My Life In Food: Rachel Khoo

Chef, food writer and broadcaster Rachel Khoo's passion for patisserie led her to Paris, where she studied at Le Cordon Bleu and obtained a pastry diploma. She burst onto UK screens in My Little Paris Kitchen in 2012, and has since written six cookbooks and presented multiple food series. As she launches her new show, Rachel Khoo's Simple Pleasures, she tells us where she's missed most during lockdown, and what she's been cooking at home…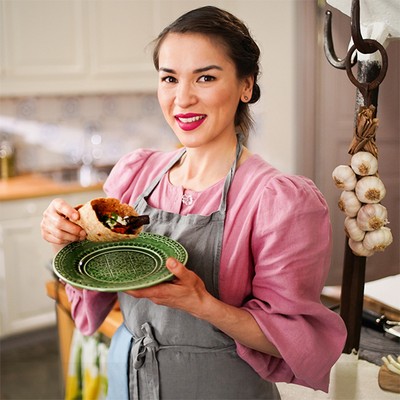 The restaurant from my childhood that will always stay with me is the village 'gasthaus' – a German pub – when I lived in Bavaria from the ages of 12 to 17. It was a family-run business and it had a bowling alley in the basement. We only ever got to eat out for special occasions, so it was really memorable.  
 
The first dish I learned to cook was spaghetti bolognese. My mum taught me, and I still make a version of it now.
 
Pre-lockdown, I spent a lot of time at Borough Market. I love 26 Grains Stoney Street. Everything Henrietta the head chef makes there is delicious, particularly the cakes, which have a wholesomeness to them. Elliot's makes the best burger in London. I love Flor – the recent restaurant from the team behind Lyle's – for a glass of wine and a few small plates. The last time I was there, I went to Mei Mei. I ate almost everything on the menu it was so good. I also managed to order some of the team's rendang spice blend and kaya jam which they posted to me. It's the closest I can get to eating there without having to get on a plane.
 
My favourite recent opening has to be Lucy's Flower Shop in Stockholm. It's a bar hidden behind a random door, down a staircase and past a flower shop. Behind the door you find a tiny cosy bar serving the most delicious cocktails.
 
My most memorable meal is eating any of the dishes my Austrian grandma used to make for me when I was a kid – think apple strudel, schnitzel and chicken soup with semolina dumplings. It was made with pure love. She'd be my dream dinner-party guest. I never got the opportunity to cook for her, as she passed away before I started to cook professionally. I would love to have cooked for her.
 
I love the rooftop bar at The Ned for the amazing views of London, delicious cocktails and beautiful interiors.
 
My go-to dish on a Sunday night is a pizza from the local pizzeria. When you cook all week long, all you want to do is to put your feet up. My idea of a perfect Sunday lunch is not having to cook or do the washing up.
 
My top recommendation for a date? Don't go for sushi. I nearly choked on a piece of sushi on a date once, which resulted in my date forever calling me 'Ma Petite Sushi'.
 
After a long, late shift my go-to meal is a plate of cheese with crunchy apple or grapes.
 
Ideally, I like to buy my ingredients from a farmers' market. They have a great one in Stockholm, where I'm living at the moment, which runs from May until the beginning of October – the growing season in Sweden is short because the winters are so long.
 
When I'm entertaining at home I like to check out the fridge and see what I can throw together in less than half an hour. Failing that the pesto cake bites from my new series are brilliant for entertaining: they're utterly moreish and easy to make – and they beat crisps and store-bought dips any day.
The secret to hosting a good dinner party is not slaving away in the kitchen, but hanging out with the guests. Prep as much as you can in advance or do dishes that can easily be thrown together.
 
The best party I've ever thrown was in Paris. I used to host Sunday potluck brunch parties with friends. Everyone brought random dishes. One brunch ended up in a chocolate hazelnut spread pancake food fight.
 
When it comes to takeaways or food on the go, I love anything spicy from Sichuan hot pot to a Sri Lankan curry. My favourite place to order from in London is Hoppers.
The one dish I always order if I see it on the menu is burrata. Do I need to explain why? It's pure cheese heaven with creamy ooziness.
 
My drink of choice is a whisky sour. But if we're talking non-alcoholic, it has to be tea. I'm currently rationing my English tea bags as I'm seriously low on supplies and I don't have any trips to the UK planned anytime soon.
 
For a quick midweek meal, I like to make buckwheat crepes. The batter is just buckwheat flour plus water, and I fill it with any random filling-type ingredients I can find in the fridge.
 
My most used ingredient in the kitchen? Butter!
The most decadent meal I've ever had was in Japan. The first time I went to Kyoto I was invited by the director of the InterContinental hotel to a tiny restaurant which served a Kaiseki menu, a traditional multi-course dinner. I had never eaten dishes that were so beautifully presented, executed and thought through.
 
My death-row dinner would have to be dim sum. I tend to order everything on the dim sum cart, but you can never go wrong with shu mai – steamed dumplings filled with pork and prawn.
And my food hell? Snails boiled and then stuffed back in their shells, topped with raw-milk camembert, then put under the grill. A dish I had to eat for a TV show once. The scene took so long to set up that the dish had gone cold – the snails were rubbery and the cheese had congealed.
 
Rachel Khoo's Simple Pleasures begins on the Food Network on Thursday 2nd July.
 
Visit RachelKhoo.com