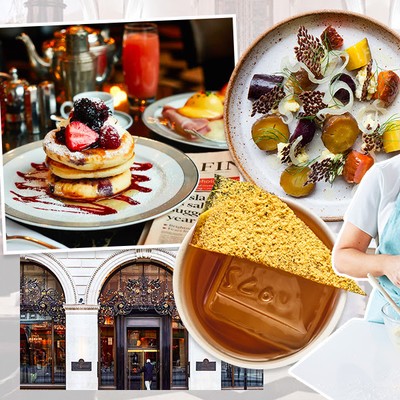 My Life In Food: Sabrina Ghayour

British-Iranian chef and author Sabrina Ghayour has been called the 'golden girl of Persian cookery'. Her debut cookbook Persiana was a runaway bestseller that she followed up with Sirocco, Feasts and her latest book, Bazaar. Here, she shares the restaurants she'll be visiting after lockdown and her ultimate home cooking tips…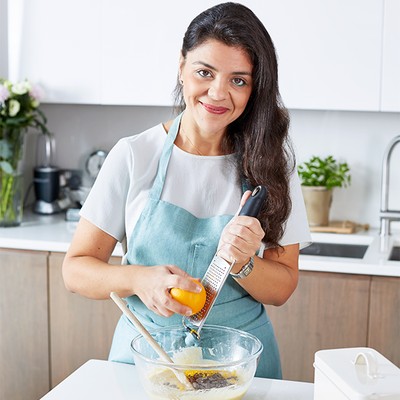 The restaurant from my childhood that will always stay with me is Benihana. When I was five years old and living in San Francisco, my mum took to me eat there. I'd never had teppanyaki and the sight of the onion volcano was something I'll never forget.
The first dish I learned to cook was a stir fry. It was the early 80s, Ken Hom was TV king and everyone owned a wok. It was a mix of vegetables, beef or chicken and Uncle Ben's jarred sauces, which were new and all the rage.
The restaurant I revisit most often is The Wolseley. I love the service and ambience, and have many of my work meetings there. Afternoon tea and breakfasts are my fave. I also love Roots in York for its ethos. The menu changes with the seasons, but the wild garlic and lardo roasts, and lamb and turnip bao buns are very special.
Once lockdown ends I'm dreaming of a slap-up lunch at The Ritz.
I have too many favourite chefs to mention but Nigella Lawson, Raymond Blanc, Nieves Barragan, Angela Hartnett, Tommy Banks, John Williams, Tomos Parry, Tom Brown, Selin Kiazim and Yotam Ottolenghi are definitely on my list.
My most memorable meal was on the Amalfi coast, at a little restaurant on the rocks that we had to get to by boat. We ate simply prepared fresh fish and seafood in the sunshine with friends. It's an incredible memory.
My favourite pub is The Dawnay Arms in Newton-on-Ouse, North Yorkshire, because it's lovely and traditional with a roaring fire – and the staff are great.
And my favourite London bar? The Groucho Club. I always order a glass of champagne or a pisco sour.
On Sunday nights I eat something different every time otherwise I'd get stuck in a routine. I like to whip up anything from a classic roast chicken to dan dan noodles or Persian dishes.
I'm not really into romance and schmaltz but when it comes to dates I suggest going somewhere where you can be you. I really love Brat restaurant in London. It's busy, buzzy and the food is absolutely incredible. But if you want something a little more intimate, then I do love Cornerstone in Hackney Wick.
I can spend all day cooking colourful and flavourful food for everyone else but when it comes to cooking after a long, late shift, I just eat packet noodles and cheese and onion crisps.
My favourite dining companion apart from my mum – she will kill me if I didn't say her – is my cousin Laily, who is like my sister and with whom I can have the biggest of laughs. We know each other inside out and can say anything to each other.
I don't really have a signature dish. When I'm entertaining, I tend to do feasts whether Persian, Italian or pan-Asian. I always cook lots of different dishes.
My cooking has definitely changed since lockdown began. I'm using a lot more dried herbs and spices to give store-cupboard ingredients a bit more life.
The secret to hosting a good dinner party is doing as much prep in advance to ensure you are relaxed and actually spend time with your guests, instead of coming across as stressed and anxious. Don't do the washing up while your guests are still there – that's madness! Why bother inviting people over if you're only going to set up camp in the kitchen and be obsessively washing and cleaning?
I've thrown so many good parties. The best ones began with great food and ended with lots of cocktails and very few memories – as well as a wicked hangover the next day.
My favourite takeaway is a sheekh kebab roll from my local Pakistani takeaway.
I never order the same thing when I'm out. I'm someone whose mood largely dictates what I want to eat. However, I do have a weakness for caviar and am mad about seafood and sushi.
The quickest midweek meal in my repertoire is tray-roasted togarashi salmon and asparagus. It takes just 12 minutes in total.
 
Bazaar by Sabrina Ghayour is available to buy now.
Visit SabrinaGhayour.com
DISCLAIMER: We endeavour to always credit the correct original source of every image we use. If you think a credit may be incorrect, please contact us at info@sheerluxe.com.