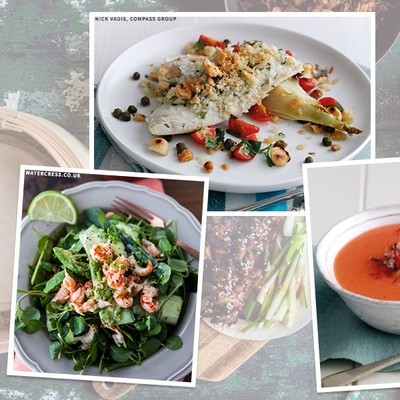 14 Simple Summer Suppers To Make This Week

In need of fresh inspiration when it comes to easy, midweek dinners to make at home? From gazpacho and grilled peach salad to cacio e pepe and mushroom tacos, here are some simple recipes to try.

Mussels In Green Broth With Homemade Fries: Anna Barnett, Staub
INGREDIENTS 
For the mussels:
1kg of fresh mussels, cleaned and debearded

Good glug of olive oil

1 large banana shallot, diced

½ bulb of fennel, diced

2 cloves of garlic, peeled and crushed

2 fresh bay leaves

Generous sprinkle of white pepper

350ml of white wine
For the herb drizzle:
Handful of wild garlic or 2 large cloves of garlic

Small bunch of parsley

Small bunch of dill

Sprinkle of sea salt flakes

Glug of olive oil or rapeseed oil
For the homemade fries:
3 medium-to-large potatoes, skin left on, sliced into thin chips

Generous glug of oil

Several sprigs of fresh thyme

Sprinkle of sea salt flakes and freshly ground black pepper
METHOD
Begin by cleaning your mussels, ensuring all shells are clean and crack free. Place in a large bowl of cold water until ready to use- ensure you only use the mussels that shells remain closed.

Preheat your oven to 200°C. Slice your potatoes into thin, even strips, leaving the skin on. Transfer to your large oven tray and drizzle with oil, use your hands to ensure all potatoes are evenly coated. Sprinkle with sea salt flakes and pepper and roast for around 20-25 minutes. When they're almost done throw in your sprigs of thyme and give your tray a shake. The keys to cooking these quickly is to just arrange a single layer of potatoes across the tray and not to interfere too much with them whilst they cook.

For the mussels, heat a generous glug of oil in a cocotte. Once hot add in the chopped shallots, fennel, garlic and bay leaves, allow to cook over a medium heat until soft and translucent – around 5-6 minutes. Next add in your white wine and increase the heat until boiling (to cook off the alcohol) add in your mussels, shake and cover with a lid. Cook your mussels for 3-4 minutes until the shells have opened. I like to give the pan a shake every minute or so to coat all the mussels in that simple delicious liquor.

While the mussels cook, muddle or blitz (I prefer to muddle for that extra hit of flavour) your herb drizzle ingredients, season have a taste and drizzle over your mussels for an extra hit of flavour when serving. Always leave that last bit of cooking liquor in the pan as this can collect a little grit from the mussels. Serve immediately alongside those freshly cooked golden crunchy chips.
Visit Staub-Online.com
Barbecued Gazpacho: Gizzi Erskine, Hellmann's
INGREDIENTS
1kg of vine-ripened tomato

1 red pepper

1 red chilli 

½ cucumber

3 garlic cloves, peeled

1 sprig fresh basil 

50g of Hellmann's Vegan Mayonnaise

100g of good-quality white bread, crusts removed, soaked in water 

50ml of extra virgin olive oil

2 tbsp of sherry vinegar

1 tsp of caster sugar

Sea salt 

Freshly ground black pepper
To serve: 
1 tomato (and a green too if you like), deseeded and chopped into small cubes 

¼ cucumber, deseeded and chopped into small cubes

¼ red and/or yellow pepper, chopped into small cubes

½ white onion, finely chopped into small cubes

4 radishes, finely chopped into small cubes

80g of white bread croutons

50g of Hellmann's Vegan Mayonnaise mixed with 50ml of extra virgin olive oil and 2 tbsp of water for drizzling
METHOD
First of all, we are going to concentrate the flavour of the veg and add an extra level of smoky charred flavour by barbecuing them, or popping under the grill. Place them directly on the hottest part of the barbecue around 10 minutes, (pop the lid on) and turning regularly with tongs, until all the skins are splitting and charred. 

Remove from the barbecue and put into a food blender with the cucumber, garlic, bread, mayo, basil, olive oil, sherry vinegar and blitz until smooth. Push this through a fine sieve into another mixing bowl to achieve a completely smooth soup. Repeat this process with the second half of the ingredients. 

Check for seasoning, and place in the fridge for a minimum of 1 hour so that it is thoroughly chilled. When you're ready to serve the gazpacho, ladle it into bowls. Top each bowl with a little mixture of the chopped vegetables and a good drizzle of olive oil. 
Barbecued Shellfish With Bisque Marie Rose
INGREDIENTS
2 small squid, body cleaned and scored, and the legs trimmed

12 king tiger prawns, heads on kept whole

Olive oil 

2 lemons, cut into wedges
For the marinade:
3-6 cloves of garlic, peeled

1 small dried chilli

2 tsp of salt

A few sprigs of fresh thyme, leaves picked 

80ml of extra virgin olive oil
For the bisque:
The heads of the 12 prawns 

50ml of sunflower oil

300g of Hellmann's Mayonnaise

3 tbsp of ketchup

2 tbsp of tomato puree

1 tbsp of sriracha or tabasco

2 tsp of Worcestershire sauce

A good squeeze on lemon juice
METHOD
First you need to make the prawn oil for the bisque. Remove all the prawn heads from the bodies. Heat the vegetable oil in a saucepan over a medium heat, and then add the prawn heads and start to fry them for 3-4 minutes, until the heads go lightly golden. Crush the prawn heads to squeeze out all their juice into the oil, and then take off the heat and allow them to infuse for about 20 minutes. Strain through a fine sieve and allow the prawn oil to cool to room temperature. 

While its cooling it's time to make the marinade. I use a pestle and mortar, but you can use a blender or even just chop the ingredients, but I pound the garlic, salt, chilli and thyme, then drizzle in the oil. Pour over the seafood and store in the fridge for an hour. 

Mix together the prawn oil, mayonnaise, ketchup, tomato puree, sriracha, Worcestershire sauce and lemon. 

Heat the BBQ on high. It needs to be really, really hot. Lay the prawns on the BBQ and then the squid. I keep the squid pushed down by putting a frying pan or even a brick on it. Put a lid on and cook for two or three minutes and then turn them all over, pop the lid back down and then finish for another minute or two.

Serve the seafood on a platter with the sauce and lemon wedges. 
Visit Hellmanns.com
Baked Sea Bream With Salted Macadamia Crumb: Nick Vadis, Compass Group
INGREDIENTS
1 fennel bulb 

20g of capers

Juice of 1 lemon 

50ml of olive oil 

50ml of white wine vinegar 

6 cherry tomatoes 

20g of flat leaf parsley 

80g of macadamia nuts chopped 

40g of macadamia nuts, whole roasted in a dry frying pan 

60g of breadcrumbs 

Maldon salt to season
METHOD
Preheat the oven to 180°C, cut the fennel lengthways through the root and trim out the tough core. Put the fennel halves in a small oven proof dish. Add the capers, lemon juice, olive oil and white wine vinegar, season with salt and pepper. Cover the dish with foil and bake it in the oven until the fennel is soft and cooked.

Deseed the tomatoes and quarter them. Chop the parsley and add half to the tomatoes. Set these aside and make the crumb mixture. Mix the chopped macadamia nuts with the breadcrumbs and the rest of the parsley, add salt and pepper. Lightly oil an oven proof dish, place the fillets of sea bream in its skin side down, and cover the fish with the crumb. Drizzle a little oil over and bake in the oven for approximately 10 minutes or until cooked. 

To serve, spoon some of the cooked fennel and capers onto each plate. Add the tomatoes, place the fish on top and drizzle some of the cooking liquid from the fennel onto each dish. Add the whole roasted macadamia nuts to add flavour and another texture to the dish. 

Add another sprinkling of salt just before serving will add texture and seasoning.
Visit MaldonSalt.co.uk
Simple Chilled Gazpacho: David Pitchford, Reads Restaurant With Rooms
INGREDIENTS 
1kg of ripe tomatoes

1 cucumber

2 large red peppers

100g of onion, finely sliced

100g of stale white bread, crusts removed

125ml of extra virgin olive oil

75ml of white wine vinegar

2 large cloves garlic, peeled

850ml of iced water

Maldon sea salt

White pepper 
METHOD
Quarter the vegetables and the sliced onion in a bowl with the bread, olive oil, vinegar, garlic and iced water. Season with salt and finely milled white pepper. Cover the bowl and put it in the fridge for 2 hours to marinate. 

Next take the tomatoes, peel the cucumber and cut it into slices, quarter and deseed the peppers and remove their stalks. Place the prepared veg out of the fridge and transfer everything to a blender (rather than a food processor, and you will need to do this in batches). Blend, and then pass through a medium strainer – not too fine – into a clean bowl. Push the liquid through the strainer with a ladle and mix everything together well. Put the gazpacho in the fridge to chill once more and serve it ice cold on a hot summer's day. 

If you have time, serve the gazpacho with small bowls of garlic croutons, finely chopped onion, small cucumber dice, diced tomatoes (skinned and deseeded) and diced red, yellow and green peppers. These items should be served separately so that guests can help themselves to whatever they like.
Visit MaldonSalt.co.uk
Indian Spiced Leg of Lamb Recipe: Alex Head, Social Pantry
INGREDIENTS
Whole leg of lamb

150g of natural yogurt

1 thumb-sized piece ginger, finely grated

3 large garlic cloves, crushed

1 tbsp of tomato purée

Juice ½ lime

1 tsp of ground cumin

1 tsp of turmeric

1 tsp of crushed chilli flakes

1 tsp of fennel seeds, lightly crushed

Handful of coriander, finely chopped
METHOD
Stir together the marinade ingredients and season with ½ tsp of ground black pepper and 1½ tsp of flaky salt. Slash the lamb several times on both sides, then massage the marinade all over it. Seal into a large food bag or non-metallic container and chill overnight (or at least for a few hrs). Let the lamb sit at room temperature for 1 hour before roasting.

Heat oven to 220°C/200°C fan/Gas 7. Put the lamb into a foil-lined roasting tin and roast for 20 minutes. Turn the oven down to 190°C/170°C fan/Gas 5 and roast for 1 hr 20 minutes for meat that's pink near the bone. Cover loosely with foil halfway through cooking or once the marinade has charred and the meat looks golden.

Leave the lamb to rest for 20 minutes before carving, then serve with lentil, tomato and cucumber salads
Visit SocialPantry.co.uk
Feta & Grilled Peach Salad With Toasted Seeds: Munchy Seeds
INGREDIENTS
1 pack of mixed salad leaves

1 little gem lettuce, leaves torn

1 peach or nectarine, stoned and thickly sliced

Juice half a lemon

1 tbsp of extra virgin olive oil

120g of feta cheese

1x 25g pack of Munchy Seeds Omega Sprinkles
METHOD
First grill the peach. Heat a griddle pan on a high heat and grill for two minutes on each side. Set aside to cool.

Put the salad leaves and little gem lettuce in a large bowl. Drizzle over the extra virgin olive oil and squeeze over the lemon juice. Stir well to combine.

To assemble, divide the salad between two plates, scatter over the grilled peach, crumble over the feta and top with the seeds.
Visit MunchySeeds.co.uk
Baked Salmon With Granola Crust: Miranda Gore Brown, Lizi's Granola 
INGREDIENTS
150g of brown rice 

1 tsp of chopped fresh dill and a little to put on top (or alternatively use thyme, mint or parsley)

1 spring onion or some chives finely chopped 

1 tbsp of olive or rapeseed oil

Salt and pepper

Two pieces of fresh salmon

70g of Lizi's Low Sugar Maple & Pecan Granola

Grated zest of half a lemon

3 tbsp of lemon juice

Salt and pepper

2 tsp of mustard

1 egg yolk (lightly beaten with a fork)

300g of tenderstem broccoli 
METHOD 
Rinse the rice well and put a pan of boiling water on the hob. Add a pinch of salt, bring to the boil and then add the rinsed rice. Cook for about 30 minutes then drain through a sieve.

Put the other ingredients into a jam jar, shake vigorously and put to one side.

Remove the skin from the salmon and then put the salmon pieces into an oiled roasting tin, with the skinned side up.

Preheat the oven to 200°C.

Put the granola, lemon zest, lemon juice, mustard and egg yolk in a bowl. Season well with salt and pepper.

Brush the top of the salmon with the olive oil.

Gently press half of the mixture onto each piece of salmon.

Put into the oven to bake for 10-15 minutes or until the top is golden and crispy and the salmon is cooked underneath. If it needs a little longer, cover the top with foil to stop the granola crust burning.

Boil or steam the broccoli for about 3-5 minutes or until tender, not soggy.

Mix the contents of the jam jar through the warm rice and fluff with a fork, use a fish slice or palette knife to carefully lift the salmon from the roasting tin. 
Visit Lizis.co.uk
Quinoa Stuffed Peppers: Ligia Lugo, The Daring Kitchen
INGREDIENTS
180g of quinoa or rice, thoroughly rinsed and drained

450ml of vegetable stock 

4 large red, yellow, or orange bell peppers, halved, seeds removed

120g of salsa, plus more for serving

2 tsp of cumin powder

1 ½ tsp of chili powder

1 ½ tsp of garlic powder

1 can of black beans, drained

180g of whole kernel corn, drained
METHOD
Add the quinoa and vegetable stock to a saucepan and bring to a boil over high heat. Turn the heat down, cover the saucepan and let it simmer until the quinoa absorbs all the liquid and gets fluffy, around 20 minutes.

Preheat the oven to 200°C. Lightly grease a 9x13 inch baking dish.

Brush the peppers with some high heat oil like refined coconut oil.

Add the cooked quinoa to a large mixing bowl along with the salsa, chilli powder, garlic powder, black beans and corn. Mix well. Season with salt, pepper or other spices to your preference.

Generously stuff the peppers with the mix. Place them in the dish and cover it with foil. Bake for 30 minutes. Remove the foil and increase the heat to 400°C and put them back in the oven for another 15-20 minutes, or until they are slightly golden.

You can serve with sliced avocado, fresh lime juice or chopped cilantro. Serve warm.
Visit TheDaringKitchen.com
Crayfish, Avocado & Watercress Salad With Cucumber & Lime Butter: Watercress.co.uk
INGREDIENTS
250g of cooked crayfish 

2 tsp of finely chopped chives

1 cucumber

85g of watercress

1 ripe avocado
For the lime butter:
50ml of fresh lime juice

65g of cold butter, diced
METHOD
Use a vegetable peeler to slice the cucumber lengthways into ribbons, discarding the centre.

Halve the avocado, remove the stone, peel and slice into thin strips.  

Place the lime juice into a small saucepan and bring to the boil over a medium-low heat.  Whisk in the butter one cube at a time, until completely melted and fully combined. Whisk in the chives and season to taste with salt and pepper.

Divide the watercress, cucumber and avocado among four plates. Top with the crayfish and drizzle with lime butter. Serve immediately.
 Visit Watercress.co.uk
Fried Mackerel With Wholegrain Mustard Sauce: Mark Hix, HIX
INGREDIENTS
Vegetable or corn oil for frying

4 large mackerel fillets, gutted and bones removed

Flour for dusting

Salt and freshly ground white pepper
For the sauce:
4 small shallots, peeled and finely chopped 

2 tbsp of cider vinegar

3-4 tsp of Tracklements Robust Wholegrain Mustard

1 tbsp of double cream 

60g of cold butter, diced

1 tbsp of chopped chives
METHOD
Heat a couple of tablespoons of oil in a large, heavy frying pan.

Season and lightly flour the mackerel.

Fry, skin-side down first, for 2-3 minutes on each side. You may need to do this in two batches depending how big your frying pan is.

Meanwhile, put the shallots in a pan with the vinegar and a couple of tablespoons of water and simmer for 2-3 minutes until the liquid has reduced by half. Add the mustard and cream and simmer for another minute then whisk in the butter, add the chives and season.

Serve the mackerel skin side up with the sauce poured on the plate or separately.
Visit Tracklements.co.uk
Crispy Jackfruit 'Duck' Pancakes: Gemma Ogston, The Self-Care Cookbook
INGREDIENTS
Pancakes for crispy duck (you can buy these in Chinese supermarkets)

1 cucumber, cut into matchsticks

1 bunch of spring onions, cut into thin strips lengthwise

Sesame seeds, to garnish

Fresh coriander leaves, to garnish
For the jackfruit duck:
2 tins of Holland & Barrett jackfruit

2 tbsp of sesame oil 

2 large spring onions, white part only, finely diced

3 cloves of garlic, finely diced

2 tbsp of ginger, finely diced

1 tsp of Chinese five spice

2 tbsp of tamari

2 tbsp of rice vinegar
For the hoisin sauce:
2 tbsp of nut butter

1 tbsp of dark brown sugar

2 tsp of rice wine vinegar

1 garlic clove, finely crushed

2 tsp of sesame seed oil

Black pepper 

4 tbsp of tamari  
METHOD
Put all the hoisin sauce ingredients into a blender and blitz with a smooth.

Drain the jackfruit tin and put in a bowl. Using the back of a fork break up the jackfruit until it is in threads.

Heat up oil in a frying pan and gently fry the spring onions until softened. Add the garlic and ginger and fry for a few more minutes.

Now add the five-spice mix and fry for a minute or so.

Add the jackfruit soy sauce, 2 tbsp of your homemade hoisin sauce, (or shop bought if you want) sesame oil and rice vinegar. Mix together everything well. Squash the jackfruit pieces again with a spoon to make sure the individual fibres separate more. Season with pepper (you don't need to add salt as already salty enough).

Simmer gently for about 10 minutes and then cool. Chill in the fridge overnight to marinade.

Just before you are ready to eat, turn on the oven to 200°C and spread the jackfruit pieces on a lined baking tray. Brush them with a little hoisin sauce. And roast for about 20 minutes until a little crispy on the edges.

Warm up your pancakes in a bamboo steamer if you have one or in a pan with a lid on a very low heat for a few mins.

Put some hoisin sauce on the inside of each pancake, followed by jackfruit 'duck', cucumber and spring onion garnish with. Sprinkle with sesame seeds and fresh coriander. Roll up and enjoy.
Visit HollandAndBarrett.com
Voatsiperifery Pepper Cacio E Pepe: Souschef
INGREDIENTS
100g of pecorino romano, finely grated

2 tsp of voatsiperify peppercorns 

200g of spaghetti, linguine or pici

Salt for the pasta water
METHOD
Finely grate the pecorino romano and set aside at room temperature in a bowl while you prepare everything else. 

Roughly crush the voatsiperify peppercorns in a pestle and mortar, or blitz, briefly, to a craggy rubble in a spice grinder. 

Bring a pan of generously salted water to the boil, then add the pasta – use the smallest saucepan possible to ensure there will be a good concentration of starch in the cooking water. 

When the pasta is halfway through its cooking time, toast the pepper in a dry pan, until fragrant, then turn the heat down low and add a ladle of pasta water to the frying pan. Allow the pepper to infuse into the water. 

When the pasta is almost al dente, scoop it into the peppery frying pan, using a spaghetti server or tongs - the splashes of excess cooking water will help create the sauce. 

Next, vigorously beat another ladle of pasta water into the bowl of grated Pecorino until it has melted and formed a paste. Add the paste to the pasta and toss everything together while shaking the pan – you need to keep everything moving to avoid the cheese clumping. 

Keep tossing until the sauce is creamy and glossy and the pasta is al dente. 

Divide between two bowls and serve immediately, with even more grated pecorino on top, if you wish. 
Visit SousChef.co.uk
Mushroom Tacos: Madeleine Shaw
INGREDIENTS
150g of Sainsbury's Vitamin D Enriched Super White Mushrooms

1 tbsp of mushrooms

1 tbsp of sriracha


Salt and pepper

2 eggs, boiled

4 tortillas

1 avocado, sliced

½ mango, cubed

1 jalapeno, thinly sliced

1 lime

Salt and pepper to taste
METHOD
In a pan heat the oil, mushrooms and siracha with some salt, fry for 7-10 minutes until golden.

Heat the oven to 200ºC and pop the tortillas, drape over two to three rungs in the oven to create tacos. Bake for 5 minutes then remove carefully.

Pop the mushrooms, avocado, mango, jalapeno, lime juiced, eggs and salt together in the tacos.
Visit MadeleineShaw.com
INSPIRATION CREDITS: Watercress.co.uk
DISCLAIMER: We endeavour to always credit the correct original source of every image we use. If you think a credit may be incorrect, please contact us at info@sheerluxe.com.