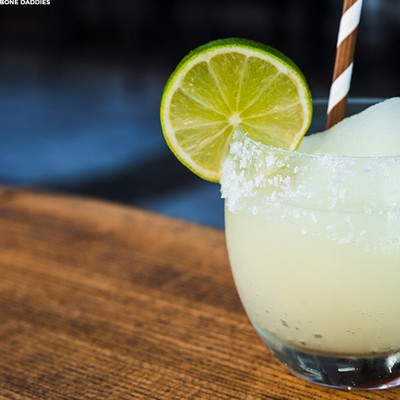 13 Frozen Cocktails To Make At Home

If you're looking to impress guests in the garden, frozen cocktails are the way to do it. From a classic frosé recipe to frozen banana coladas, here are some recipes to give a go…

Strawberry & Balsamic Frozen Margaritas: Thomasina Miers, Wahaca
INGREDIENTS 
200g of fresh ripe strawberries, hulled

80ml of blanco tequila

40ml of fresh lime

30ml of triple sec

10ml of sugar syrup or caster sugar

A dash of balsamic vinegar

2 large handfuls of ice
For the sugar-salt-rim:
30g of caster sugar

4g of fine sea salt

2g of cayenne chilli
METHOD
Blitz the strawberries with all the ingredients except the ice to get a smooth puree. 

Add the ice and blitz again to a lovely smooth margarita.

Rub the rim of your glass with lime, then dip into the sugar-salt mix. Pour and serve.
Visit Wahaca.co.uk
 
Frozen Braemble: Alex Lawrence, Lyan Bars
INGREDIENTS
40ml of Glasshouse whisky

10ml of Braemble liqueur

5ml of honey

10ml of lemon juice

100ml of ginger beer
METHOD
Blend the ingredients with four ice cubes.

Our into a glass and garnish with star anise
Visit MrLyan.com
 
Aperol Slushy: Double Standard At The Standard Hotel
INGREDIENTS
300ml of Aperol

300ml of fresh orange juice, from about 2 to 3 oranges

75ml of fresh lemon juice, from 1 to 2 lemons

1 bottle of prosecco, or other sparkling wine, divided in two

1 orange, sliced, for garnish
METHOD
Mix the Aperol, orange juice, lemon juice, and half bottle of prosecco in a large bowl.

Place in a shallow container in the freezer and stir mixture every 30 minutes until the mixture becomes a shaved ice/slushy texture – this'll take about two hours. After an hour, add the other half of the prosecco to the mixture.

Remove from the freezer after another hour, stir well and garnish with orange slices to serve.
Visit StandardHotels.com
Strawberry Prosecco Slushy: Pastaio
INGREDIENTS
75ml of prosecco 

35ml of Malfy Gin Con Limone

35ml of sugar syrup 

5 strawberries

10 ice cubes
METHOD
Cut the strawberries into two and add to the blender along with the gin, prosecco and a sugar syrup made from equal parts water and sugar.

Blend gently for a few seconds.

Add the ice cubes and blend into a slushy, adding more ice if necessary.

Serve immediately into a large tumbler with a paper straw – garnish with fresh strawberry.

Any extra can be kept in the freezer – simply stir it every few hours or re-blend before serving.
Visit Pastaio.co.uk
Frozen Yuzu Margarita: Bone Daddies
INGREDIENTS
175ml of tequila

100ml of triple sec

125ml of yuzu juice

60ml of agave syrup

50ml of sugar syrup

125ml of lime juice

Lime wedges to garnish

Sea salt to garnish

Large quantity of crushed ice
METHOD
Prepare rocks glasses for serving by rubbing the rim of each with a lime wedge, then turning in a saucer of sea salt to coat.

Fill a large blender (or prepare in batches if your blender is too small) with as much crushed ice as you like (depending on how strong you want the margarita to be), add all the ingredients and blend thoroughly.

Pour the frozen mixture into the prepared glasses and garnish each with a lime wedge.
Visit BoneDaddies.com
 
Strawberry & Watermelon Slushie: Dustin MacMillan, Black Cow
INGREDIENTS
180ml of Black Cow vodka + English strawberry

1 small watermelon

1 punnet of strawberries

Juice from two limes

Half a chilli (optional)

1 cup of ice

Mint to garnish
METHOD
Cut the watermelon into cube-sized pieces, remove the seeds and place into a blender. Remove the stems off the strawberries and cut in half, deseed the chilli, if using, and add to the blender. 

Juice the limes and pour in the vodka and ice and blitz. You may have to do this in halves depending on the size of the blender. 

Pour into your glass and garnish with 1 sprig of mint.
Visit BlackCow.co.uk
 
Frozen Raspberry Gin Cocktail: Ligia Lugo, The Daring Kitchen
INGREDIENTS
300g of frozen raspberries

4 tbsp of lime cordial

Juice of 2 limes

50ml of gin

250ml of soda water
To garnish:
Lime wedges and a few whole frozen raspberries
METHOD
Put all of the ingredients into a blender and blend until smooth.

Top with soda water if you prefer a thinner consistency.

Garnish with the lime and raspberries.
Visit TheDaringKitchen.com
Sgroppino: Italicus
INGREDIENTS 
2 parts of Italicus – Rosolio di Bergamotto

2 parts of prosecco

1 scoop of lemon sorbet
METHOD
Scoop the lemon sorbet into a coupe glass.

Add the measure of Italicus - Rosolio di Bergamotto.

Top up with prosecco.

Garnish with a bergamot or lemon zest.
Visit RosolioItalicus.com
Frozen Banana Colada: Aluna Coconut Rum
INGREDIENTS
60ml of Aluna Coconut rum

1 banana (frozen ideally)

15ml of maple syrup

100ml of coconut milk

3-4 ice cubes
METHOD
Put all ingredients in a blender and blitz.

Serve over ice and garnish with a slice of banana 
Visit AlunaCoconut.com
 
Frosé: Salvo Russo, Heliot Steak House
INGREDIENTS 
180ml of rosé wine (the fruitier the better) 

120ml of rose vermouth (Belsazar is my favourite) 

A large handful of fresh strawberries 

15ml of agave syrup 

Ice, to fill the blender 
METHOD
Throw everything into the blender and blend until smooth.

Serve in a wine glass. Garnish with a strawberry. 
Visit HippodromeCasino.com
 
Sgroppino: Malfy Gin
INGREDIENTS
50ml of Malfy Con Limone

25ml of lemon juice

15ml of sugar syrup

1 scoop of lemon sorbet

25ml of prosecco

1 mint leaf, to garnish
METHOD
Shake the gin, lemon juice, sugar syrup and lemon sorbet together. 

Strain into a chilled glass and top up with prosecco.
Visit MalfyGin.com
 
Basil Margarita: Waitrose
INGREDIENTS
270ml of tequila reposado

150ml of triple sec (such as Cointreau)

270ml of sugar syrup

180ml of lime juice (from about 6 limes)

Leaves from 8 basil sprigs, plus 6 small sprigs to garnish

2 cups of crushed ice
METHOD
1. Pour the tequila, triple sec, sugar syrup and lime juice into a freezeproof container and put in the freezer overnight (it won't freeze solid). 
2. To serve, put the crushed ice in a blender (work in batches if necessary). Add the chilled tequila mixture and basil leaves, then whizz until smooth, green and very thick – you may need to add more ice. Pour into martini glasses, garnish each with a basil sprig and serve immediately.
Visit Waitrose.com
 
Cherry Boozy Milkshake: Remy Savage, Le Syndicat
INGREDIENTS
30ml of premium vodka 

5 fresh cherries (pitted)

30ml of milk 

1 large scoop of vanilla ice-cream 
METHOD
Blend all ingredients in a home blender for 30 seconds until thick (the time varies depending on how strong your blender is).

Pour the milkshake into a tall glass, and garnish with a cherry.
Visit LoveFreshCherries.com
DISCLAIMER: We endeavour to always credit the correct original source of every image we use. If you think a credit may be incorrect, please contact us at info@sheerluxe.com.