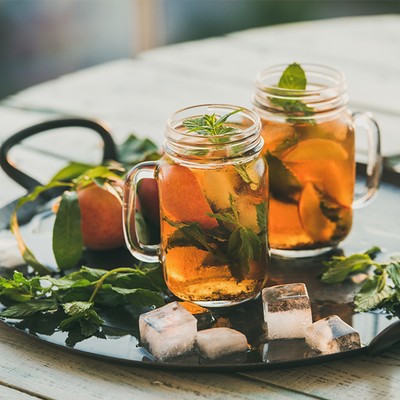 9 Iced Tea Recipes To Try At Home

Whether you're looking for a refreshing drink to see you through the working day or a non-alcoholic option for a BBQ or afternoon in the sun, iced teas are more interesting than ever. From peachy options to a watermelon and rose brew, here are nine recipes to try.

Hibiscus Blast Iced Tea: Cosmo Lewis, TEASE Tea Bar
INGREDIENTS
5g of hibiscus flowers, placed in 2 biodegradable tea bags. 

4 large strawberries, cut into 1-2cm slices 

1 handful of blueberries, cut into half 

3 zests of lemon, cut into small pieces

A pinch of salt

Filtered water 
METHOD
Place all the ingredients into a cafetière. 

Fill the remaining space with filtered water (approx. 900ml).

Press the filter to the half-way point, stopping all the fruit from rising to the top.

Refrigerate overnight (approx. 12 hours)

Filter in the morning. Discard the teabags, but save the leftover berries to use in the following: either a blended smoothie or as a topping on your granola.
Visit LoveTease.com
Peach Soda 'Margarita': Krisi Smith, Bird & Blend Tea Co
INGREDIENTS
3 tsp of peach-flavoured tea

A sprinkle of sugar

A sprinkle of salt

¼ of a lime

A dash of rose water

50ml of peach juice
METHOD
1. Brew 3 tsp of tea in 200ml of boiling water, then steep for 4 minutes.
2. Freeze 150ml of concentrated tea in an ice cube tray and reserve the remaining 50ml.
3. Once the ice is set, sprinkle a little bit of sugar and a little bit of salt onto a shallow dish. Run a piece of lime around the edge of a rocks glass and dip the rim in the sugar and salt mixture.
4. Into a cocktail shaker, add about six of tea-infused ice cubes, the remaining 50ml of tea concentrate, a dash of rose water and a big squeeze of fresh lime juice. Shake it all up.
5. Pour the peach juice into the rimmed glass and top with the full contents of the cocktail shaker. 
6. Stir the cocktail together, garnish with a slice of lime and enjoy.
Strawberry Lemonade Iced Tea 
INGREDIENTS
8 tsp of strawberry lemonade tea

900ml of boiling water

Sparkling water

2 lemons

Strawberries

Ice
METHOD
1. Brew your tea for at least 4 minutes and sweeten with sugar/honey if desired.
2. Strain and place in the fridge to cool. Alternatively, you can put the steeping tea in the fridge overnight and strain the next day for an extra strong taste. 
3. Slice the lemons and strawberries.
4. When ready to serve, pour ½ tea, ½ sparkling water over a glass full of ice and garnish with slices of lemon and strawberries. Stir well.
6. For an extra special touch, serve in champagne flute – or for a summer party, make up a pitcher or two.
Visit BirdAndBlendTea.com
Peach & Ginger Iced Tea: Ligia Lugo, The Daring Kitchen
INGREDIENTS
1 peach

2 green tea bags

4 rounds of ginger

3 cups of hot water

Raw honey or maple syrup, optional
METHOD
Pit and slice the peach. Add the sliced peach and green tea bags and ginger to a pitcher. If you want to make the ginger easier to remove later, you can skewer them on a toothpick before adding them in.

Pour the hot water into the jar and allow the tea bags to steep for 15 minutes.

Remove the bags, then place the tea in the fridge to chill for 3-4 hours, so the flavours release completely.

If you want to sweeten the iced tea, use raw honey or maple syrup for a vegan option.
Visit TheDaringKitchen.com
'Mojito': Sebastien Pole, Pukka Herbs
INGREDIENTS
3 gold turmeric tea bags

1 or 2 limes

A handful of fresh organic mint

A bottle of lemonade

Honey

Stack of ice
METHOD
Infuse the 3 sachets of tea in 250ml of boiling water. Leave to infuse for an hour, then remove the sachets and clarify the infusion with a colander. Let it cool.

Choose tall glasses and add crushed ice, a little honey, fresh mint leaves and 50ml of the tea infusion. 

Mix all the ingredients, then fill the glass with the lemonade and enjoy.
Visit PukkaHerbs.com
Rose & Watermelon Iced Tea: Carole Poirot for AO Life
INGREDIENTS
1kg of watermelon

3 heaped tbsp of dried, organic rose petals (buy from an organic retailer)

2 tbsp of honey (feel free to add more if you prefer it sweeter)

750ml of boiling water

Ice cubes
METHOD
Boil the water and pour over the rose petals.

Add the honey and stir in, leave to steep and cool down.

Chop the watermelon into chunks and remove as many pips as possible. Blitz the melon chunks in a blender.

Pour the melon juice through a fine sieve into a large jug.

Now add the rose tea, also straining it through the sieve.

Add ice cubes and refrigerate before serving.
Hibiscus Iced Tea
INGREDIENTS
2 heaped tbsp of dried hibiscus flowers

1 large (or 2 small) sprigs of fresh rosemary

1 lemon, juiced

150g of sugar

300ml of water for the syrup

1l of water

3 handfuls (or enough to fill the jug to the top) of ice cubes
METHOD
Place the 300ml of water, sugar and rosemary in a small pan. Bring to a slow boil and then simmer on a medium heat until reduced by half

Put the 1l of water into a large pot and bring to a boil. Add the hibiscus flowers to the 1l boiling water and steep for 10 minutes.

Pour the rosemary syrup through a sieve into the hibiscus tea. Add the lemon juice and stir. Now pour all the ingredients through a sieve into a large jug. Leave to completely cool, the place into your fridge overnight. Just before serving add the ice cubes and decorate with a large sprig of rosemary.
Visit AO.com
Turmeric Chai Iced Tea: Laura Jane Thorpe, Tea India 
INGREDIENTS
1 turmeric tea bag

Milk (oat, cashew and coconut are recommended)

Honey, to taste

Ice
METHOD
Using one teabag per person, infuse in simmering milk for 3 to 5 minutes and add honey to taste.

Allow the mixture to cool and pour over ice.
Visit TeaIndia.com  
Iced Green Tea Mojito: Paulene Enigbokan, Dualit
INGREDIENTS
1 lime, plus 2 wedges for garnishing

20 mint leaves, plus a few for garnishing

2 tbsp of honey

180ml of green tea, cooled

3 cubes of ice

Fresh mint springs and lime wedges to garnish
METHOD
Muddle the mint leaves and honey in a tall glass until the leaves bruise and the flavours are released.

Squeeze the juice of one lime into the mixture to create a syrup.

Add the ice cubes and cooled green tea to the glass.

Stir well, garnish with the mint leaves and lime wedges and enjoy.
Visit Dualit.com
DISCLAIMER: We endeavour to always credit the correct original source of every image we use. If you think a credit may be incorrect, please contact us at info@sheerluxe.com.