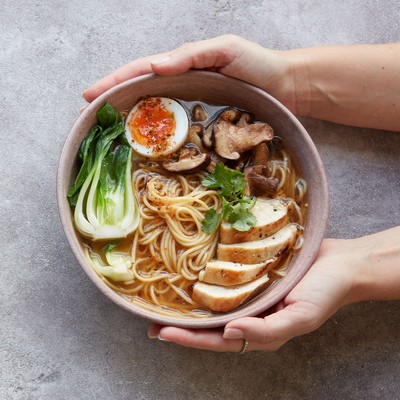 How To Make Ramen At Home

There aren't many dishes as comforting as a bowl of ramen. A great way of using up leftovers, this versatile Japanese dish uses bone broth as its base, which is great for the immune system, too. From how to make the best tonkotsu broth to ideas for toppings and accompaniments, look no further.

The Basics of Ramen: Ligia Lugo, The Daring Kitchen 
Broth: This can be light or heavy, clear or opaque. Put 1kg of chicken bones and wings in a pot. Add 1 carrot, 1 celery stalk, 2 cloves of garlic, 2 onions and 3 litres of water and bring them to a boil. After the stock boils, skim all of the impurities on the surface, cover the pot and let it simmer for 3 hours. Afterwards, strain the stock to remove all the bones and vegetables.
 
Flavouring: To season the broth you can make a tare, which is similar to the packages you get with instant ramen. Miso and garlic mashed with salt, soy sauce and salt are all great options for flavour. You can ladle the broth into your bowl and add the tare right in. Taste as you go so you get the right amount. In addition to tare, you can season with oil. An easy solution would be to drizzle a few drops of toasted sesame oil. On the other hand, you can make delicious garlic oil. To do that, mince a few cloves of garlic and add them to a small bowl. Heat some oil in a small saucepan until it's very hot, then pour the oil over the garlic and let it sit like this while you make the rest of the ramen. When you assemble the ramen, spoon the garlic along with the oil into the bowl.
 
Noodles: A good rule of thumb is to pair heavier soups with lighter noodles and the other way around. Cook the noodles in a pot of unsalted boiling water according to the instructions on the package, typically around 2-3 minutes, drain them and add them to your bowl when you are ready to eat.
 
Toppings: If you want to add a traditional soft-boiled egg, bring a pot of water to a boil and put the eggs in for 7 minutes. Cool them under cold running water and dry, before peeling and halving them, ready to add to your finished dish. An easy way to add a bit of meat to your ramen is stir-fried ground pork. Cook a small amount in a hot pan and season with salt and bean paste. Other topping options include thinly sliced spring onions or thin slices of kimchi. To assemble the bowl, start by mixing the broth with the tare, pile in the noodles and finish quickly with the flavoured oil, meat, eggs and other toppings of your choice.
 
Visit TheDaringKitchen.com
 
After some quick tips from the pros? Read on…
 
Akira Shimizu, Exec Chef at Akira
"A simple miso ramen is so comforting and very easy to make. To create the broth, stir together miso, soy sauce, water, chopped ginger, garlic and spring onion and simmer. You can also add vegetables such as cabbage and carrot. Bring a pan of salted water to the boil and cook the noodles until slightly tender. Serve your broth in a deep bowl, topped with the noodles and vegetables, then garnish with chilli, chopped spring onions and sesame seeds for maximum flavour."
Visit JapanHouseLondon.UK
Kanji Furukawa, Exec Chef at Shoryu Ramen
"Perfect ramen noodles need lots of boiling hot water to help the noodles to cook at the right temperature – for 2 portions you'll need about 2-3 litres of water. If you use less water, as you add more noodles, the temperature will drop and the noodles won't cook properly. The perfect time for cooking noodles at Shoryu is 45 seconds – so get your timer out. And don't forget to loosen your noodles as you add them to the boiling water, otherwise they will stick. To keep your soup and noodles piping hot, warm up your ramen bowls with boiling water, then empty just before dishing up and serving. 
"Some of my favourite toppings are garlic chips, fried onions and bean sprouts. For those who want more of a spicy kick, you can add sriracha sauce to the soup and add fresh jalapenos too. Be creative with your toppings – all over Japan there are hundreds of different variations. At Shoryu we like to have a nitamago egg with ginger, or you can try seaweed, miso and sweetcorn like they do in Hokkaido. It's a limitless, fun and great way to use up leftover vegetables from your kitchen." 
Visit ShoryuRamen.com
Cesar Fernandez, Home Economist at Miele GB
"Making ramen requires time, so if you want to make it from scratch, approach it more as a weekend project rather a quick meal if you want to get it absolutely right. Always prepare more than you will need and freeze the remaining broth so it can be used another time.
"For the broth (also known as tonkotsu), use as many bones as you can physically fit into your pot. Trotters, pork neck, chicken wings and carcasses, the more the merrier as they will add all the flavour. The technique used to make broth for ramen is completely different to the method used in Western cooking as all the bones are added into a pot, then, you bring them to a boil, cook them for a couple of minutes, and then everything is rinsed and cleaned as this removes a lot of impurities. After that, wash all the bones well and return to the cleaned stock pot. At this stage you will need to add your aromatics (onion, garlic, ginger, leeks, spring onions) and you will cook the broth long and slow for up to 8 hours, skimming any impurities from time to time. If you have a pressure cooker at home, use it to cook the broth as it will take no longer than 2 hours when you cook it using this method. "Another key component of a good ramen is what's called 'tare' which is the seasoning of a ramen. I normally use a combination of 100g of miso, 60ml of sake, 60ml of mirin and 1 tsp of salt – whisk in a small saucepan over a low heat for about five minutes. This will be enough for 4 ramen bowls. "Ramen noodles have a different texture to regular noodles and that is because they are 'alkalinated', which means that baking soda is used in the dough. If you are not making them from scratch, the easiest way to achieve a similar result is by boiling your noodles in water with 2 tbsp of bicarbonate of soda. For the marinated soy eggs, simply cook the eggs for 6 minutes, refresh them immediately in iced water and then peel them. Place the peeled eggs in a container with soy sauce, mirin and sake overnight, turning them halfway through."
Visit Miele.co.uk
Paul Bough, Expert Resident Chef at Staub
"Make sure you really paste your garlic by using a pinch of salt and the back of a chef's knife. Finely chop your chilli and ginger so that it doesn't overpower the flavour of the broth and make or use a good quality stock – chicken or vegetable works well. Work your knife skills when finely slicing spring onions, carrot, pak choi – they should all be the same size and finely sliced for presentation. For a healthy twist, try using finely sliced strips of courgette instead of noodles."
Visit Staub-Online.com
Loic Leguay, Head Chef at Bone Daddies
"Cook the broth slowly. You can use whole chicken wings and legs or a whole chicken – the higher quality the better, and always free-range – to make the stock rather than finding carcasses. You can then reuse the meat for a marinated topping.
"Noodles come down to personal preference – any kind of noodle will work as long as your broth is delicious. My favourite is udon, but rice noodles are a great alternative if you want to make your ramen gluten-free.
"When it comes to toppings, bamboo shoots from a tin work great, and I like a simple scattering of finely chopped spring onions for freshness and crunch. You can use your chicken meat leftover from making the stock and – of course – don't forget an egg.
"With the broth you can't cut corners, you won't develop flavour and it won't be the right consistency. It's the heart of the dish. You could save time with toppings by getting pre-cooked or pre-made items, but a great bowl of ramen really is about how much time and effort you put in."
Visit BoneDaddies.com
Inspired? Here are six recipes to try at home…
Chicken Ramen
Justine Murphy, MyMuyBueno
This is also amazing with salmon, beef, duck breast or even just vegetables. The broth is full of flavour and after a long day this really hits the spot. 
Ingredients
4

skinless chicken breasts 
3

tsp

of garlic, peeled and grated
2

tsp

of fresh ginger, peeled and grated
1

.2 litres of vegetable or chicken stock
200g

of shiitake mushrooms, thinly sliced
4

packs of dried ramen noodles
100g

of pak choi, sliced in half lengthways
Handful of fresh coriander
Method
Step 1
Preheat the oven to 180°C and season the chicken generously with salt and pepper. 
Step 2
Add the sunflower oil to a frying pan on a medium heat, then lay the chicken breasts into the pan. Cook for 5 minutes until the chicken is golden brown. Turn the breasts over and cook for another 5 minutes until golden on both sides. 
Step 3
Transfer the chicken breasts to a baking tray and roast them in the preheated oven for 15 minutes, until cooked through. Remove the chicken from the oven, transfer to a plate and cover loosely with foil until ready to serve.

Step 4
Next, make the ramen broth. Heat the sesame oil in a large pot over a medium heat, until simmering. Add the garlic and ginger, cook for a few minutes until softened, then add the soy sauce and maple syrup. Stir to combine then cook for another minute. Add the stock, cover the pan, and bring to the boil.
Step 5
Remove the lid, turn the heat down, simmer the broth uncovered for 10 minutes, then add the mushrooms. Simmer gently for a further 10 minutes to allow all the flavours to develop. 
Step 6
Add extra salt to taste then add the ramen noodles and pak choi to the broth and cook for 2 to 3 minutes. Once they are ready, use tongs to divide the noodles and vegetables between bowls. Top with your sliced chicken breast (no end bits) and ladle over the broth. 
Step 7
Add half a soft-boiled egg to each bowl along with some fresh coriander, togarashi and a lime wedge to serve.
Sticky Pork Ramen
Waitrose & Partners
Ingredients
400g

of slow cooked pork shoulder 
25g

of fresh ginger, peeled and shredded 
300g

of fresh egg noodles 
90g

of baby pak choi, each halved lengthways 
125g

of trimmed salad onions, shredded 
½

-1

tsp

of chilli infused olive oil, to serve 
Method
Step 1
Preheat the oven to 200°C, gas mark 6 and roast the pork in its foil tray for 20 minutes. Meanwhile, put the dashi into a large saucepan with the ginger and bring to a simmer for five minutes. 
Step 2
Pour the pork cooking liquor into the dashi, then spread the sticky sauce sachet over the meat and roast for five minutes. Meanwhile, add the noodles to the dashi and lay the pak choi on top, cut-sides up. Cover the pan and simmer for three minutes, until the pak choi is just tender. 
Step 3
Slice the pork thickly and keep any sauce. Put the noodles, pak choi and broth into large bowls, top with the pork, remaining sauce and a mound of salad onions. 
Step 4
Drizzle with a little chilli oil to taste and serve. Toss to mix and add more chilli oil if you like your ramen really spicy.  
Curry Miso Ramen With Butternut Squash, Tofu & Kimchi
Gizzi Erskine
Ingredients
2

tbsp

of coconut, light rapeseed or groundnut oil, plus extra for frying 
6

garlic cloves, roughly chopped
3cm

piece of ginger, peeled and roughly chopped
2

tbsp

of curry powder (English or Malaysian)
1

tsp

of ground coriander
1

tbsp

of soy bean chilli oil (Chinese, Thai or Japanese) 
1

.2 litres of boiling water 
1

tbsp

of nutritional yeast 
1

tbsp

of palm or brown sugar
200g

of shiitake mushrooms, sliced
200g

of firm tofu, cut into thick slices 
2

free-range eggs, boiled for

6

minutes, quickly cooled in iced water and peeled 
90g

of buckwheat noodles per person, cooked until al dente and refreshed in iced water 
3

slices of roasted butternut squash per person 
2

heaped spoonfuls of kimchi 
2

spring onions, thinly sliced
½

tsp

of Korean chilli powder
Method
Step 1
In a medium casserole dish, heat the oil over a medium heat and add the onion. Allow to soften for about 15 minutes to develop their sweet flavour before adding the garlic and ginger. Sweat for a further three to four minutes before adding the spices. 
Step 2
Next, add the soy bean chilli oil and give this a couple of minutes on the heat, before adding the water. 
Step 3
Whisk in the miso paste, followed by the mirin, nutritional yeast, Marmite, soy and sugar. Allow the sauce to reduce on a low simmer for 30 minutes and then add the soy milk. Transfer to a food processor and blitz until smooth, then return to the pan. 
Step 4
Meanwhile in a frying pan heat a glug of oil and fry the mushrooms over a high heat for five minutes until they start to caramelise, then set aside. Return the pan to the heat, add a little extra oil if necessary, ramp up the heat and fry the tofu for a minute on each side, or until really charred. 
Step 5
Put the teriyaki sauce in a bowl, add the tofu and the eggs and coat thoroughly. Set to one side. 
Step 6
When ready to serve, divide the noodles between two ramen bowls and pour a quarter of the soup base into each bowl. Slice the eggs in half and place on top. Slice the tofu into strips and arrange next to the eggs, followed by the butternut squash and kimchi. Finally, sprinkle the spring onions, chilli powder and sesame seeds over the top and serve immediately.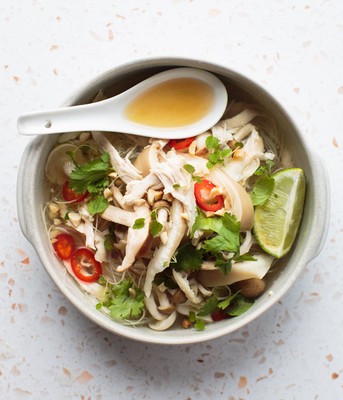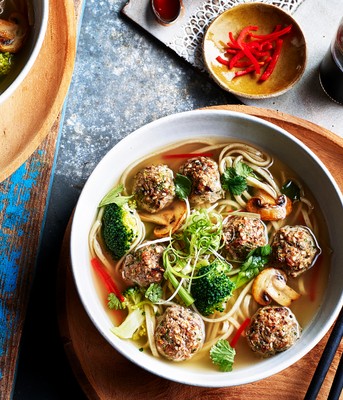 Caramelised White Miso Ramen & Crispy Togarashi Kombu
Brian Donnelly: Bia Rebel Ramen, Belfast
Miso is normally a white anaemic, affair but caramelising the miso adds real depth to an otherwise boring soup and the addition of the crispy kombu adds texture, height and even deeper umami flavours.
Ingredients
600g

of dried ramen noodles (rehydrated as per instructions on the packet)
For the broth:

½

white onion, finely diced
20g

of fresh ginger, finely diced
1

clove garlic, finely diced
12

dried shiitake mushrooms
Toppings:

Spring onions, finely sliced
Sesame oil

4

slices of nori
Method
Step 1
In a pan add a little oil and once the pan is hot add the onions, garlic and ginger and fry quickly stirring all the while until the mixture becomes fragrant. Now add the miso paste and sugar and continue to stir ensuring the miso does not stick to the pan. After 3-5 minutes the miso will have change colour and started to caramelise.
Step 2
Next add the mirin and cook for 2 minutes, then set to the side. 

Step 3
In a separate pot, add the water, shiitake and kombu and bring the water to the boil before turning off, allowing it to stand for a further 10 minutes. When the time is up, strain the liquor off and reserve to the side – this is your dashi for the soup. 
Step 4
To make the soup, add a ladle of the dashi to the miso and whisk until you have a smooth paste then add another until all the dashi has been added. Place in a pot and bring to the boil slowly ensuring the broth does not split.
Step 5
To make the crispy kombu, finely slice the kombu and deep fry until crispy – normally 1-2 minutes. Remove and place on a paper towel to absorb the excess oil, then sprinkle with togarashi spice or sea salt.
Step 6
In fresh boiling water, add the noodles and cook until tender, following the instructions on the packet, and strain.
Step 7
Divide the miso broth evenly between four bowls then add the noodles and mingle with chopsticks so the noodles do not stick together. Arrange the toppings attractively and place the nori at the back of the bowl, drizzle with a little sesame oil and serve.
Chilli Noodle & Meatball Broth
The Mushroom Bureau
This hearty broth not only has a great aroma but also contains gorgeous flavours. Served with crunchy spring onions and tangy hoisin sauce, this is a great meal for any day of the week.
Ingredients
For the meatballs:

250g

of chestnut mushrooms, finely diced by hand or in a food processor (save a couple of mushrooms, slice them and sprinkle on top when you are ready to serve)
1

green chilli, deseeded and chopped
For the noodle broth:

2

litres of vegetable stock
2cm

piece of fresh ginger, peeled and grated
1

red chilli, deseeded and sliced
4

nests of dried medium egg noodles
100g

of broccoli, cut into small florets
To serve:

Coriander leaves, finely chopped
Method
Step 1
Preheat the oven to 180°C/160°C Fan. Line a baking sheet with non-stick baking parchment.
Step 2
Mix together all the ingredients for the meatballs in a large bowl until well combined.
Step 3
Roll the mixture into balls, roughly the size of walnuts and place onto the baking sheet. Bake for 15 minutes until cooked through.
Step 4
Meanwhile, heat up the vegetable stock in a large pan and add the garlic, ginger and chili. When the liquid is boiling, add the noodles and cook for 3 minutes. Add the broccoli and cook for a further minute.
Step 5
Serve the broth in bowls topped with the meatballs, spring onions, coriander and sliced mushrooms. Add soy sauce or hoisin sauce to taste.
Late-Night Miso Ramen
Signe Johansen, Solo
Rather than diving into a packet of crisps, instant or quick-cook ramen is ideal when you've been out late and fancy a bite to eat before bedtime. You can play around with this recipe, adding all manner of ingredients; these work particularly well: leftover roast meat such as chicken, shellfish such as prawns, or tofu; assorted pickles, citrus, herbs, mushrooms, kimchi, sriracha sauce, coconut milk or cream, peanut butter and Korean gochujang paste.
Ingredients
150g

packet of miso ramen noodles (or plain noodles)
Handful of frozen peas, or any vegetables you have lurking in the fridge (carrots, sugarsnap peas, corn, bean sprouts, finely shredded cabbage, courgette, etc.)
1

tbsp

of red or brown miso paste (if using plain noodles)
1

fresh green chilli, sliced
1

spring onion, sliced and placed in a bowl of iced water for a few minutes
A generous pinch of black or white sesame seeds
Toasted sesame oil, to taste
Japanese dried nori seaweed, to serve (optional)
Method
Step 1
Cook the ramen noodles according to the packet instructions, adding the frozen peas (or whichever veg you opt for) to the pan so they cook at the same time.
Step 2
Cook the egg by poaching it in the broth (whisk it in a bowl first then pour it into the broth or crack it in), boiling it whole in a separate pan, or giving it a quick fry.
Step 3
Add the miso paste to the noodle cooking liquid (if cooking plain noodles) and stir through.
Step 4
Remove from the heat and garnish with the chilli, drained spring onion, sesame seeds, sesame oil and any other toppings you like. The egg goes on last if you cooked it separately, along with the seaweed (if using).
DISCLAIMER: We endeavour to always credit the correct original source of every image we use. If you think a credit may be incorrect, please contact us at info@sheerluxe.com.