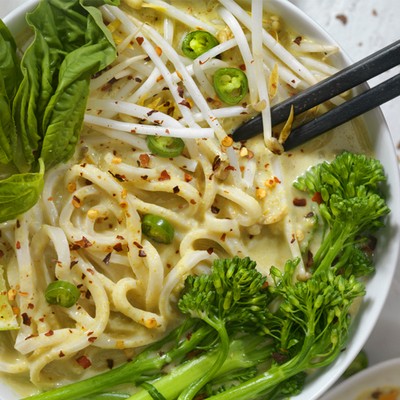 5 One-Pot Veggie Meals

It's easy to get stuck in a rut during Veganuary, leaving new, inventive ways to make veggies exciting feeling like a challenge. Thankfully, SL contributor and food writer Chloe Scott-Moncrieff is on hand to tell us how to create four, quick and easy, one-pot veggie dishes, all of which are bursting with good nutrition…

1. One-Pan Miso And Soy Brassicas
INGREDIENTS
Half a white or spring cabbage, finely sliced 

150g of purple sprouting broccoli or cavolo nero

250g of ramen noodles

600ml of vegetable stock

2 tbsp of soy sauce

1 tbsp of miso

1 knob of ginger, peeled and finely chopped
Garnish:
6 spring onions, sliced

2 boiled eggs, peeled and halved

Sesame seeds and red chill flakes, optional
METHOD
In a large pan, mix the stock with the soy sauce, miso and ginger. Simmer. Taste. Add a little sugar, if you want to balance the umami, before adding the shredded cabbage and purple sprouting broccoli. 

Follow the instructions on the back of the packet for the ramen noodles; it normally requires simmering the noodles in the stock for around 3 to 4 minutes. 

After approximately 5 minutes, when everything is cooked, divide the noodles, stock and brassicas into bowls. 

Add the sliced shallots (a smattering seaweed flakes would be great here) and egg halves. Finish by sprinkling over sesame seeds and red chilli, if using.
2. Pappa Al Pomodoro (An Italian Tomato & Bread Dish)
INGREDIENTS
2 tins of Italian tomatoes

150g of leftover bread (if you've old slices that have gone hard, this is perfect)

2 garlic cloves, finely chopped

Quality olive oil

Basil leaves
METHOD
In a large pan, sizzle the garlic cloves quickly on a gentle heat. Throw in the tomatoes and simmer. Season with salt and pepper.  

Finely chop the bread and sprinkle into the mix. 

Now pour in 100ml water or vegetable stock (a cube is fine) and a pinch of sugar and stir well. 

Simmer gently, breaking down the bread. Taste and check you are happy with the consistency - you want it creamy but not smooth.  

Tuck in with plenty of basil and a slurp of olive oil in each portion. 
3. One-Pan Pilaf 
INGREDIENTS
120g of basmati rice

2 onions, finely sliced

2 carrots

1 bag of spinach

370ml of stock

1-2 tsp of cumin seeds, cloves, coriander seeds, cardamom pods (crushed and seeds removed) - or use a curry powder

2 tsp of cinnamon powder

Fresh coriander 

2 handfuls of flaked almonds
METHOD
Wash the rice thoroughly until it rinses clear. 

In a large non-stick pan, fry the onions and spices, then add all vegetables except the spinach. Cook for a few minutes on low heat. 

Pour in the rice, then the stock and simmer. Pop a lid over so it's covered. Simmer gently for ten minutes, until everything is cooked, stirring now and again to check it's not dried out and isn't sticking to the bottom. 

During the remaining minutes, add the spinach. If you need more stock, pour in a little more. Stir well. 

Meanwhile, dry fry the almonds in a pan with no oil. Plate up the pilaf with almonds scattered over. 
4. Roots & Veg Casserole
INGREDIENTS
1 onion, finely chopped

2 carrots, finely chopped

2 stalks of celery, finely chopped

1 apple, grated

2 peppers, sliced

2 tins of tomatoes

1 tin of lentils 

150-200ml of vegetable stock
Spices and herbs to include (all optional): 
1 tsp of smoked paprika

1 tsp of oregano

1 tsp of cumin seeds and 1 tsp of coriander seeds

1 tsp of thyme 

1 tsp of finely chopped sage
METHOD
In a large pan, add all the chopped vegetables, except the tins of tomatoes and lentils. 

Sauté for a few minutes on a low heat with the spices of your choice. Any three will work. 

Once you've sautéed the mixture for a few minutes on low heat, chuck in the tomatoes and lentils. Season with salt and plenty of black pepper. Taste to check it's well balanced. 

Eat with slices of chunky sourdough bread.
5. Sticky Rice with Shiitake Mushroom Pot
INGREDIENTS
150g of VeeTee duo pot sticky rice 

1 packet of shiitake mushrooms

1 packet of chestnut mushrooms

1 tbsp of desiccated coconut

3 shallots, finely chopped

Coriander leaves
METHOD
In a large pot, fry the shallots, coconut and the chopped mushrooms in a spray of veg oil. Stir in the shrimp paste. 

Cook the sticky rice, according to the instructions on the back. Transfer the rice to the mushrooms. 

Season it with a slosh of soy. Always taste to see if you're happy with the balance of flavours. 

Serve with a sprinkling of fresh coriander.
DISCLAIMER: We endeavour to always credit the correct original source of every image we use. If you think a credit may be incorrect, please contact us at info@sheerluxe.com.