SheerLuxe's Christmas Sandwich Taste Test

Christmas is upon us, so 'tis officially the season to eat sandwiches – and trust us when we say eating festive creations is not a task we take lightly. This year for SL's official sandwich taste test, SL's Features Writer Pascale Day travelled the length and breadth of the high street to find the best one – and last year's winner has been knocked off the top spot. Here are her favourites…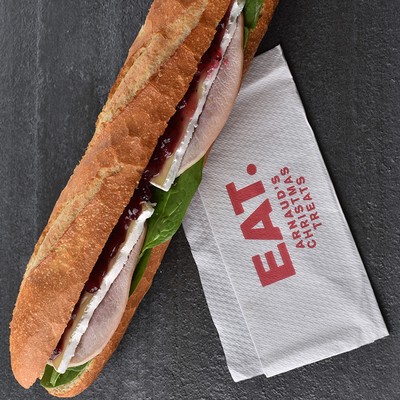 Ham, French Brie and Cranberry Baguette – EAT
I know I'm going to break hearts here, but the traditional Christmas turkey sandwich didn't even come into the equation for the top spot this year. Instead it was this baguette by EAT that took the Christmas sandwich crown. Full to the brim with smoked ham and mild French brie, topped with tart and sweet cranberry sauce and lying on a bed of spinach, this baguette kept it classy from start to finish. And the freshness of the bread meant I wasn't hacking away at it like a lumberjack with a crosscut saw in order to cut it in half. Oh, and the packaging said 'Carbe Diem' – extra points for being cute.
Tastes like: The kind of classy Christmas party you've always wanted to have, minus all the red wine and subsequent crying.
Price: £3.50
Rating: 9/10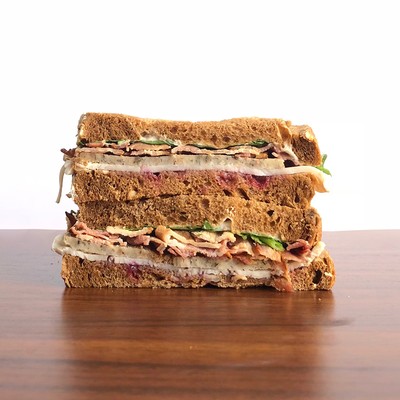 British Turkey, Bacon and Stuffing Bloomer – Benugo
Yes, last year's winner might have been dethroned by a crispy baguette, but it's certainly no loser – we'll always be ride or die for this soft, soft bloomer. Turkey, bacon and stuffing densely packed into melt-in-the-mouth brown bread, with the sweetness of the cranberry settling with the hot horseradish? That's a festive flavour you don't forget easily.
Tastes like: IT'S CHRIIIIIISTMAAAAAAAAS!
Price: £3.95
Rating: 8/10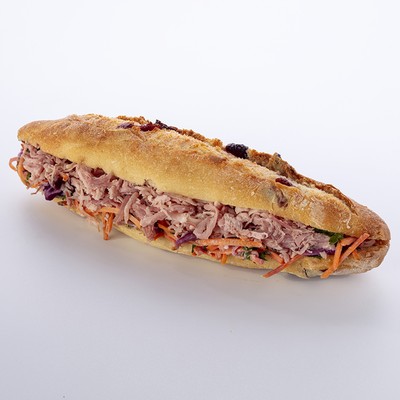 The Ham Hock Feast Sandwich – Paul
Paul has always seemed like a strange choice of title for a café to me; the name of a middle-aged man has never really got my taste buds in the mood for a delicious baguette. But these bad boys are legit – I've never seen so much meat stuffed into one sandwich. Some of their other festive offerings were a little sparse on the fillings, so this was a welcome surprise. The saltiness of the ham hock was complimented the heat of the horseradish mayonnaise and the crunchiness of the Christmas coleslaw (what makes the coleslaw Christmassy I'm not quite sure, but any coleslaw is a winner in my eyes). The bread was perhaps a little too hard if I were to criticise something – like, I'm not saying you could bludgeon someone to death with it, but a couple more days out on the side and it might be possible. My teeth, my poor teeth. But the filling was top-notch. My tip? Don't eat on a first date – it is messy.
Tastes like: SO. MUCH. HAM.
Price: £4.40
Rating: 8/10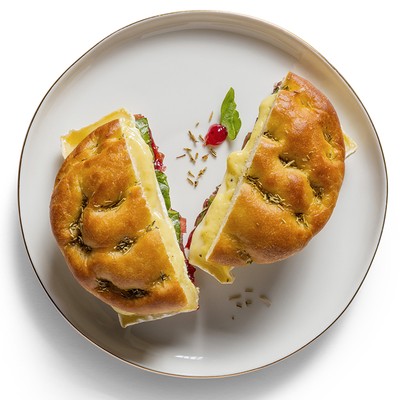 Brie & Cranberry Focaccia – Starbucks
This this brie-tastic sandwich tastes completely different to EAT's cheesy iteration. This one is oozy and messy and must be eaten in private – or at the very least a room with very low lighting. Creamy brie and cranberry sauce lie on a bed of spinach, sandwiched between a focaccia studded with rosemary. Need something warming on a cold, bleak Monday? Eat this.
Tastes like: A beautiful mess.
Price: £4.25
Rating: 7.5/10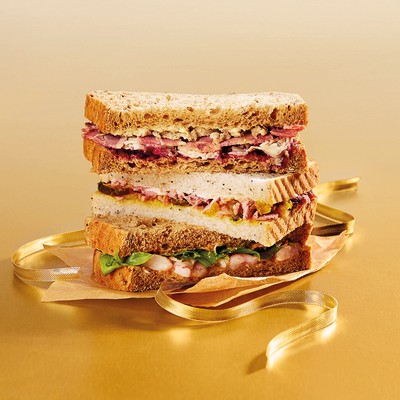 Ham Hock & Piccalilli – Costa
I'm a newcomer to piccalilli and honestly, what have I been doing with my life? Where have I been? Tangy and a little sweet, piccalilli is like Branston's exotic younger brother. If these two pickles were people, Branston would wear a polyester suit and work in accounting and piccalilli would be all tie-dye T-shirts and visits to India on the regs. What I'm trying to say is, I like piccalilli. It's interesting, and it goes with the ham hock really well. With two ham hock offerings in the line-up this year, there had to be something to distinguish the two, and each were accompanied by something that did just that (well, that and the fact that the sandwich filling was pretty uneven in this sandwich – I had to manually spread the ham hock. Still tasted good though.)
Tastes like: Boxing day.
Price: £3.50
Rating: 6/10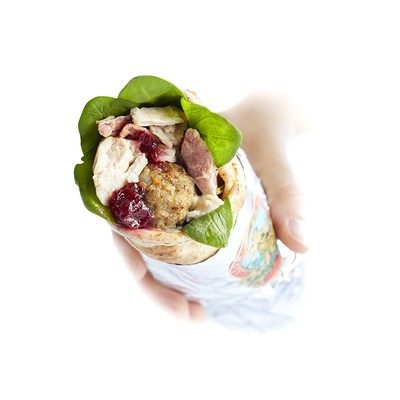 The Christmas Wrap – LEON
LEON doesn't have a huge selection when it comes to its Christmas wraps (but if you're not limiting yourself to sandwiches, their LEON x Gizzi Erskine Turkey Curry is pretty special). What they lack in range, however, they make up for in taste. Quality over quantity, as they say. Choose between The Christmas Wrap, loaded with turkey, ham hock and pork, sage and onion stuffing balls, complete with spinach, tarragon mayo and a cranberry and clementine sauce; and The Falafel Wrap. It's hard to make falafel Christmassy, but LEON has tried its best, adding in the same cranberry and clementine sauce, along with vegan sage and onion mayo, toasted pine nuts and crispy onions. The turkey wrap gets my vote, because falafel is just not something I like – but the vegetarians in the SL office tell me it's pretty darn good as far as festive falafel goes.
Tastes like: A flavour explosion.
Price: £5.45
Rating: 6.5/10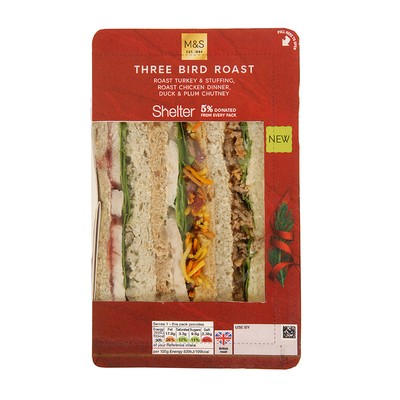 Three Bird Roast – Marks & Spencer
Turkey, chicken and duck – never make a tough decision between birds again with this sandwich. I think it's safe to say you can trust that any sandwich from Marks & Spencer is going to be a good'un, but this one was particularly special, and great if you're suffering from a post-Christmas party hangover. Plus, M&S has once again teamed up with Shelter to give 5% of every sandwich sale to the charity, which makes you feel all warm inside. If you go by the rule of saving the best until last, I would keep the Duck & Plum Chutney, followed by Roast Turkey & Stuffing, and have the Roast Chicken Dinner first. But this is the sandwich equivalent to eating an actual Christmas dinner with seconds, so to those chowing down on it at work, I say this: please be aware that you're going to feel really, really sleepy afterwards, and you're not going to be able to fall asleep in front of the TV like you can after a real Christmas turkey dinner. So, consume responsibility.
Tastes like: Pure, unadulterated Christmas greed.
Price: £3.50
Rating: 7/10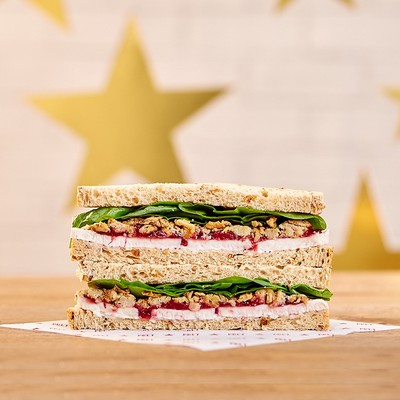 The Christmas Lunch Sandwich – Pret a Manger
When it comes to celebrating Christmas during your lunch break, if you think any old sandwich will do, then think again. Pret's turkey and stuffing sandwich is often considered the holy grail when it comes to festive high street lunches. Thick slabs of turkey are piled high with crumbly pork and sage stuffing and a sweet cranberry sauce, and finished off with a generous handful of spinach – so, you know, technically you're being healthy. But the best bit? The crispy onions. In fact, if someone could make a Crimbo sandwich filled with only crispy onions next week you're guaranteed the top spot.
Tastes like: Holidays are comin'.
Price: £3.75
Rating: 7/10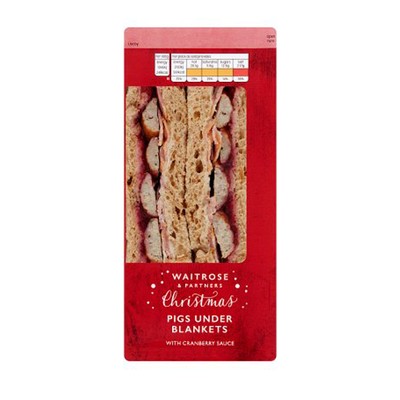 Pigs Under Blankets – Waitrose
Undoubtedly the best part of a Christmas dinner, and also the best Christmas sandwich at Waitrose. More like pigs on top of blankets, if we're being picky, these little sausages are lying on a moist bed of mayonnaise and bacon and covered in a slick of cranberry sauce. Herby, sweet, soft – what more could you want.
Tastes like: The best part of a roast dinner.
Price: £2.95
Rating: 6/10
If you want to see SheerLuxe's Pascale give them the taste test, watch our latest episode of Behind-The-Scenes here...
DISCLAIMER: We endeavour to always credit the correct original source of every image we use. If you think a credit may be incorrect, please contact us at info@sheerluxe.com.