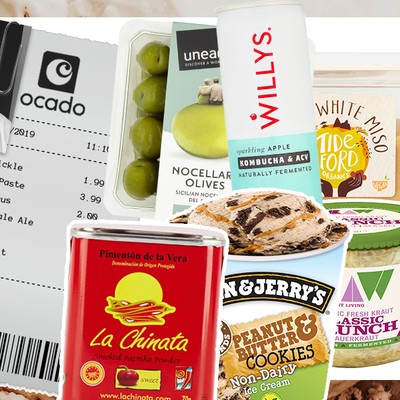 What's In My Ocado Order: Grace Regan, SpiceBox

Stuck in a rut when it comes to your weekly food shop? What if you could have a peek at someone else's online shop for fresh inspiration? This month, we've seen inside vegan curry house SpiceBox chef and owner Grace Regan's Ocado order. From smoked hummus to apple cider vinegar, here are the snacks and supper staples she orders time and again.

FRIDGE STAPLES
Alpro Plain Soy Yogurt  - I'm going through a yoghurt phase at the moment. I'd forgotten how great it is in the morning. I usually have it with stewed fruit, either apples or rhubarb cooked down with ginger and orange zest and then topped with some homemade granola. The unsweetened Alpro yoghurt is also great for savoury dishes – stir through some diced cucumber, mint and lime and you've got a quick raita which is delicious with curries and dhal. 
Oatly Organic Oat Milk – The godfather of plant-based milks. My favourite of the Oatly milks is the organic one as it has the simplest ingredient list. I have this with porridge or, most often, straight from the carton. I am weird and don't really like cereal or granola with milk – I prefer it dry. I really like dry textures, like those you get with oat cakes and nut butter.
Raw Organic Fresh Kraut Classic Crunch Sauerkraut – I'm a ferment addict. Sour is my favourite flavour profile – every meal I eat has to have a sour element to it and usually this is provided by a ferment or pickle. There's always a classic sauerkraut in my fridge. I sometimes make my own, but these supermarket ones are often just as good – just make sure it's 'alive' and bought from the fridge section. If you want to jazz it up, try stirring some fennel and mustard seeds through it. 
Moorish Smoked Hummus – This Moorish smoked hummus takes things to the next level. My favourite way to eat hummus is by using a little gem lettuce leaf to scoop it straight from the tub. I then put a sundried tomato in the middle and eat it like a hummus taco. Divine.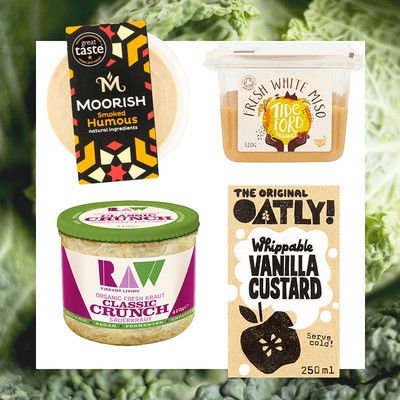 Sour is my favourite flavour profile – every meal I eat has to have a sour element to it and usually this is provided by a ferment or pickle.
Tofoo Co Smoked Tofu  - Tofoo tofu is hands down the best you can find in a supermarket. It's really firm and has a good natural flavour. By now, you may have begun to pick up on a theme – I really like smoked food. Smoked tofu has a meaty flavour and is great used as a meat replacement in stir-fries and fry ups. Just make sure you always give it a generous amount of salt, otherwise it can taste a bit bland. 
Fresh White Miso Paste  - I've had a tub of Tideford miso paste in my fridge for well over a year now and it's as good as new. Miso is a great way of quickly adding depth of flavour to your cooking. The best way to use it is by dissolving it in a splash of hot water. Then add a splash of rice wine vinegar and soy. Now you have a flavour packed potion you can add to sautéed veg for an umami kick.  
Oatly Vanilla Custard -  This is so, so good. I would give you a neat little recipe but, in all honestly, I drink it straight from the carton. 
Nocellara Olives  -  When I'm feeling fancy, I'll buy a tub of these olives for my fridge. They're my favourite variety: smooth and almost creamy and not too strong and 'olive-y'. I think they're best enjoyed alone as a snack.
Smoked tofu has a meaty flavour and is great used as a meat replacement in stir-fries and fry ups.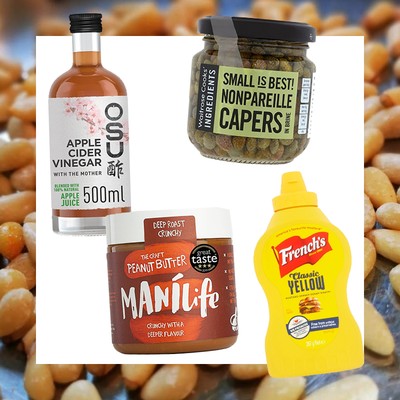 FRUIT & VEG
Fairtrade Bananas – I try to buy seasonal organic fruit and veg as much as possible. Most of my mornings start with a banana dunked in tahini with a sprinkling of Maldon sea salt. Don't knock it 'til you've tried it. 
Best of British Apples – On Sunday nights in the winter I make a big batch of stewed apples with ginger and cinnamon, which sees me through the week. I usually eat these with yoghurt, granola and a drizzle of tahini. 
Rhubarb – It's currently 'forced' rhubarb season. This variety of rhubarb has long thin pink stalks and cooks down to form a beautiful tart pale pink compote. Cut up a large bunch and place in a saucepan with a generous amount of sliced ginger and the juice and zest of an orange. Stew with a splash of water until it's cooked down. I actually don't add any sugar to mine as I like to keep it super tart. I eat it with yoghurt and granola and a drizzle of maple syrup. And, of course, a pinch of Maldon salt.
Lemons & Limes – I can't cook a meal without citrus. I mentioned earlier that sour is my favourite flavour profile, so lemons and limes are a must-have in my fruit bowl. Whenever I cook a vegetable, I finish it by squeezing lemon over it. I also can't eat a curry or dhal without a wedge of lime and slices of raw red onion on the side. 
Pitted Medjool Dates – Nature's candy. The best ones are from Waitrose. Tear them in half and dip into peanut butter or tahini. With, of course, a sprinkling of Maldon salt. Try keeping them in the fridge, they go harder and even fudgier.
British Leeks – Leeks are underrated. They're a winter stalwart in the UK and are amazing cooked down slowly in a generous amount of sesame oil with a large pinch of salt. Finish with a squeeze of lemon and pinch of chilli flakes for a quick veg side dish. 
Pointed Cabbage – Like leek, I think cabbage doesn't get enough love. My favourite variety is the sweet pointed cabbage. I often cook them like the leeks above. I will also make a quick cabbage sabzi with them – an Indian veg stir fry. I fry cumin and fennels seeds and add the cabbage with green chilli, garlic, ginger and a generous pinch of salt. Once it's started to cook down, I add a handful of desiccated coconut and a pinch of sugar. I then toast off the coconut and finish it with a generous squeeze of lemon.
Fennel – This is always in my fridge to jazz up salads and stir-fries. If I have it to hand, I add it to the cabbage sabzi above. It's also delicious slow-roasted in an oven with a generous amount of oil and some rosemary. 
Cauliflower – My favourite vegetable. I roast it in a hot oven with curry powder and smoked sea salt until it's soft, golden and crispy. I never throw away the leaves: roast them too and they'll go super crispy. If you're feeling old school, place the cauliflower in a large pan of boiling very salty water (it should taste as salty as the sea). Boil until soft and buttery. I have been known to enjoy a whole boiled cauliflower drizzled with French's mustard for dinner from time to time.
Red & White Onions – I make a lot of curries, so I always have lots of onions lying around my kitchen. I prefer cooking with the sweeter red onions. I also make a quick onion pickle with these. Check out our YouTube channel SpiceBox TV for a quick video on how to do this. 
Garlic & Ginger – I can't make a curry without using at least four cloves of garlic. Never bother to peel ginger – it's a waste of time.
Coriander, Parsley, Rosemary, Dill – My favourite herbs, in order. Two top herby tips: store your herbs in a glass of water in the fridge to make the last. When, eventually, your herbs are beginning to look sad, blitz them with olive oil, one clove of garlic and a pinch of salt. Store the herb oil in the fridge for a quick way to spruce up cooked veg or pasta.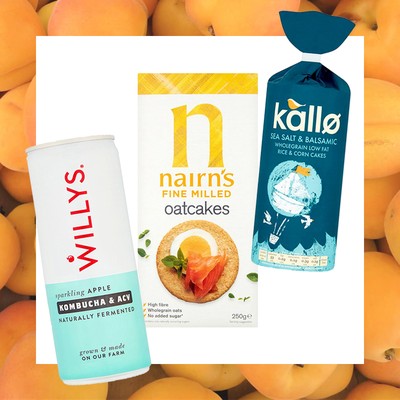 My mornings starts with a banana dunked in tahini with a sprinkling of Maldon sea salt. Don't knock it 'til you've tried it.
CUPBOARD ESSENTIALS
Pine Nuts – I add toasted pine nuts to salads and cooked lentils for added texture and a delicious nutty flavour. They're also good stirred through the herby oil recipe above.
Sundried Tomatoes – I'm addicted to sundried tomatoes. I feel anxious if I don't have a jar in my fridge. My favourite way to eat them, aside from said hummus lettuce taco, is chopped up and stirred through cooked green lentils with a mustard dressing and topped with toasted pine nuts. 
Capers – These add the same flavour injection as sundried tomatoes. I often add them to the lentil dish above, as well as salads. They're also amazing finely chopped with parsley and lemon zest and sprinkled on top of roasted cauliflower with a drizzle of tahini.
Apple Cider Vinegar – Make sure to buy it with the mother. I drink 25ml of this every morning. I'm told it will make me live to 100. 
Belazu Tahini – I live for tahini. It's smooth and creamy with a subtle bitterness and sweetness. It is utterly addictive. My favourite brand is Al Nakhil – it comes in a beige tub with a green lid but, alas, you can't buy it in supermarkets, you need to seek it out in Middle Eastern/Asian stores. The Belazu one comes in a close second and is more widely available. Finally, always top your tahini with Maldon salt.
Mani Life Deep Roast Crunchy Peanut Butter – The best peanut butter out there. We recently did a collaboration with Mani Life where we made a sweet potato peanut curry.
Maldon Smoked Sea Salt – You may have guessed by now that I'm a fan of Maldon salt and smoked things. This puts them together and the result is glorious. Add this smokey salt to roasted veg for a meaty, complex flavour kick.
La Chinata Smoked Sweet Paprika, Chilli Flakes, Turmeric, Cumin Seeds, Ground Cinnamon – A list of my essential store cupboard spices. It's amazing how much you can do with a few spices. I make a banging dhal using just cumin seeds and turmeric.
French's Yellow Mustard, Smoked Tabasco – My two favourite condiments. I particularly like French's mustard with boiled broccoli. 
Try keeping medjool dates in the fridge: they go harder and even fudgier.
SNACKS
Nairns Fine Milled Oat Cakes – I only really like fine milled oat cakes. They almost dissolve in your mouth and suck every ounce of moisture in the process. As mentioned, I like dry things, so this is heaven to me.
Kallo Sea Salt & Balsamic Vinegar Rice Cakes – Dry, salty and vinegary…These are great dipped in hummus.
Dried Apricots and Prunes – I always have these lying around to dip in tahini when I'm feeling peckish. My acupuncturist told me that apricots were good for my constitution so now I try to eat them every day. 
DRINKS
Kombucha Kat Original Kombucha – I used to have a Robinson's fruit squash addiction, but I've recently managed to kick the habit. This has been replaced with a less budget-friendly kombucha addiction. At least it's good for me…
Willys Kombucha With Apple Cider Vinegar – This has an added acidity from the ACV – this is for the real booch fans!
FREEZER
Frozen Berries – I try not to buy fresh berries in the winter. Frozen berries are perfect for topping porridge, I love the hot and cold contrast. I also pop them in a bowl and microwave them for a quick berry compote and then top them with yoghurt. I recently discovered frozen cherries – these are so great with porridge.
Petit Pois – After cauliflower, peas are my second favourite veg. Sometime I eat a bowl of peas with garlic, lemon juice, smoked sea salt and ketchup for dinner. It reminds me of being a kid. Peas and ketchup are a timeless combo. 
Ben & Jerry's Vegan Peanut Butter and Cookies – The best of the vegan Ben and Jerry's range. Best enjoyed straight out the tub …with a pinch of Maldon.
DISCLAIMER: We endeavour to always credit the correct original source of every image we use. If you think a credit may be incorrect, please contact us at info@sheerluxe.com.