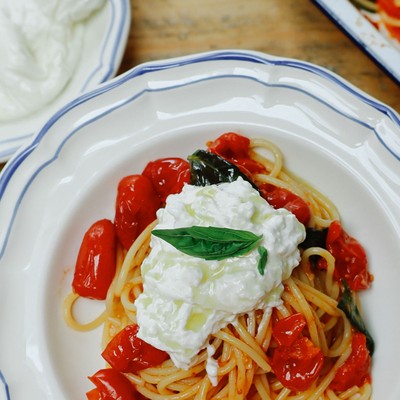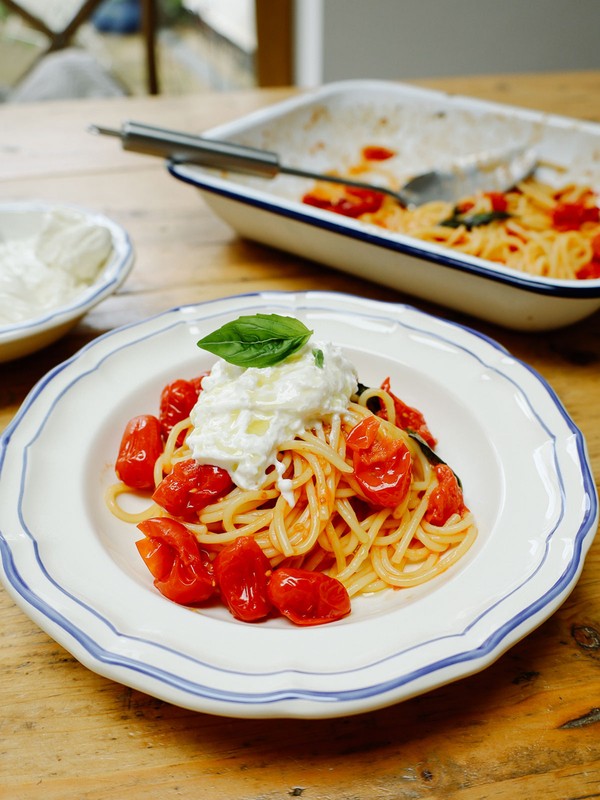 What's On My Table – With Alexandra Dudley

Alexandra Dudley is a food columnist, cookbook author and host of the Come For Supper podcast. In this column, she takes us inside her east London kitchen to show us what she's cooking and the tools she's loving – this month, it's a summery supper plus three of her top homeware finds and a must-try restaurant.

By Alexandra Dudley
I am one of those people who loves spending hours in the kitchen. I love the lengthy humdrum tasks of shelling broad beans, podding peas or peeling garlic cloves. On weekends when I have more time, I will purposefully choose to cook things that take longer. But like most of us, there are periods when time is scarce and spending leisurely hours in the kitchen is a luxury I simply do not have. This is a dish I cook a lot midweek when I am back home late, or sometimes because I simply can't be bothered. A blob of burrata, mozzarella, or even a spoonful of ricotta adds a creamy indulgence to this simple spaghetti. I usually have one or more in my fridge on standby to jazz up a weeknight meal. The beauty of this spaghetti is that it needs little attention. Cooking the tomatoes this way means I can get on with catching up on emails or laundry with no need to stir. I add the garlic just as I chuck the pasta into the boiling water and in ten minutes, supper is on the table.
It's been a bit of a humid summer so far, and I've been cooling down with this rosé vermouth from Cornish winemaker Knightor. Simply add it to a glass with ice and top with soda water. I have been finishing mine with a smashed cherry, but a wedge of orange or lemon is delicious too.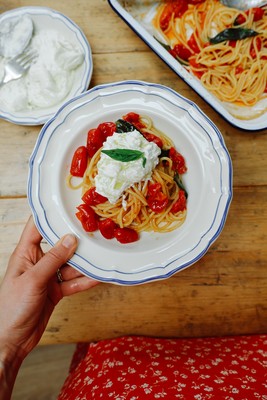 Lazy Roasted Tomato Spaghetti With Burrata 
Method
Step 1
Preheat the oven to 200°C Fan. Add the tomatoes to a deep roasting tray, drizzle with olive oil and sprinkle with sea salt. Toss to coat, using your hands and roast for 20 minutes.
Step 2
Bring a large pan of water to the boil. I find most spaghetti takes about 10 minutes so use this as a marker for the next stage. As the spaghetti cooks, temporarily remove the tomatoes from the oven. Finely grate in the garlic and give everything a toss. Return to the oven and allow it to cook for a further 5 minutes then switch off the oven leaving the tomatoes in there until the pasta is cooked.
Step 3
Using tongs, lift the pasta into the tray with the tomatoes (a little water coming along with it is fine too). Add the basil leaves, a pinch of salt and a good drizzle of olive oil, then toss everything until the pasta and tomatoey juices have combined and that basil has slightly wilted.
Step 4
Twist the pasta into bowls and break over the burrata. Finish with olive oil and freshly cracked black pepper.
Chubbie Salt & Pepper Grinders, £54 | Addison Ross
I love these cute salt and pepper grinders. They add a pop of colour to the table and are small enough to take on a picnic.
Visit AddisonRoss.com
---
Ceramic Candle Stick Holders, Price Available On Request | Joanna Ling
I have admired Joanna Ling's work for a while. All her ceramics are handmade in her garden studio in London. These candlestick holders have such a delicacy to them. I plan to use three or five of them down the centre of my table and fill them with different coloured candles.
Visit JoannaLingCeramics.com
Linen Napkins, £47.50 | Polkra X Jess Wheeler
I love the artist collaborations Polkra do. Its latest squiggle napkins with Jess Wheeler look great on any table. They'd make for wonderful gifts, too.
Visit Polkra.com
---
The Garden at The Corinthia
London's hotel restaurants have some special spots for lunch. With hotel guests out exploring the city during the daytime, it is rarely difficult to get a reservation. The Garden at The Corinthia is a spot I have been gatekeeping for a while. An open-air haven in the centre of town with striking tangerine striped cushions and candy coloured Ginori plates, it has the kind of chic charm that immediately transports you to a sun-drenched terrace in Lake Como. The menu is Mediterranean inspired and ordering a pizzette as an aperitivo snack is a must. The caponata is particularly good, as is the spiced spatchcock chicken, and the team will not bat an eyelid if you order an additional plate of cacio e pepe as a side to share. Be sure to save room for the tiramisu, which is spiked with the Italian hazelnut liqueur Frangelico, giving it an added nutty – almost chocolatey – indulgence. I have eaten a lot of tiramisu and it is one of the best I have tried.
Visit Corinthia.com
Read More From Alexandra Dudley
DISCLAIMER: We endeavour to always credit the correct original source of every image we use. If you think a credit may be incorrect, please contact us at info@sheerluxe.com.