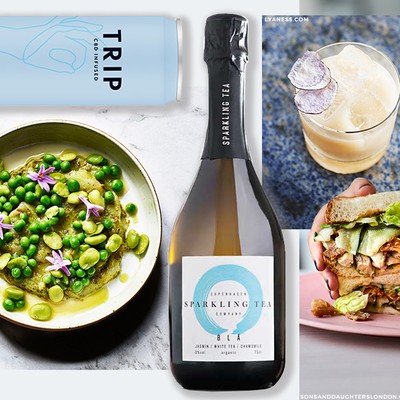 10 Food Trends To Try This Year

Last year saw a rise in CBD-spiked drinks, gut-friendly fare and the expansion of food halls, but what does this year have in store? From Filipino cuisine to sparkling tea, here's what we'll all be eating and drinking in 2020…

Milk Punch
DrinkUp London is declaring 2020 the year of the milk punch. This was a budding trend about five years ago, but it was very much in the very top tier experimental cocktails dens in London. Now 'Tattie Milk Punch' features on Lyaness' new menu, which sees Compass Box Artist's blend whisky mixed with vegan honey, potato 'cream' and aged vanilla. At The Bloomsbury Club Bar, the menu is inspired by tarot card readers of 20th century. It features 'Moon Milk', which brings together Havana Club Selección De Maestros, fizzy clarified milk punch, Cynar Amaro liqueur, Mancino Bianco Ambrato and Angostura bitters. Elsewhere, the new 'Interpreted Magic' menu at Beaufort Bar features milk in its 'Twice Shy' sip alongside rum, vermouth, salted pistachio yoghurt, earl grey, vanilla and lime.
Posh Sandwiches 
Lunch is set to be given a makeover via the high-end sandwich. We've always been fans of Max's Sandwich Shop up in Crouch Hill (his 'Ham, Egg N Chips' with slow-cooked ham hock, fried egg, shoestring fries, piccalilli and malt vinegar mayo is the best sarnie we've ever tasted), but there are a number of newcomers to also get excited about. Up in King's Cross, Sons + Daughters has been launched by the duo behind award-winning east London restaurant Pidgin, serving sandwiches filled with the likes of Swaledale chicken, pickled cucumber, miso mayonnaise, green sauce, soy-cured parmesan, gem lettuce and wasabi cress. Elsewhere, Bodega Rita's at Coal Drops Yard is a celebration of all-American classics, while Arcade Food Theatre's TŌU, has seen queues for its Iberian katsu sando, a Japanese-inspired brioche creation filled with deep-fried Iberian pork neck, shredded cabbage, raspberry brown sauce, and xo shallot sauce.
Sparkling Teas
The latest trend in the no-ABV movement is sparkling tea. Saicho is a new sparkling cold-brewed tea packaged in beautiful 500ml bottles. It comes in three flavours; Jasmine, Darjeeling and Hojicha, all designed to be served chilled in a champagne flute or coupe. We also really like Fortnum & Mason's celebration-ready version – a perfect non-alcoholic alternative to champagne or prosecco.
Vegan Patisserie
Crosstown Doughnuts has been serving vegan doughnuts at its Marylebone site for the last few years. Now Londoners are spoiled for choice with the recent opening of Ruby's of London – which sells a range of vegan patisserie – and Pret, which has just launched 'The Very Berry', a fruity vegan-friendly croissant. We also love the sound of Ô Craquelin's new vegan treat: a black forest tart with a pecan sable base, 70% Guanaja ganache and cherry jam topped with gold leaf.
Canned Drinks
Waitrose drinks expert Jamie Matthewson predicts an even bigger switch from bottles to cans in 2020. "Thanks to the craft beer boom, sales of canned lager now outstrip bottled," he says. "Ready-to-drink cocktails in a tin are also flying off the shelves and Waitrose is selling English wine in a can, too. Aluminium is proving popular as it's easily recyclable and cans already contain a high proportion of recycled content, making them a greener choice". See also Bloody Marys in a tin (thanks, Bloody Drinks), water via CanO and cold-brew coffee – we like Minor Figures and Trip's CBD versions.
Crudo 
Crudo – raw seafood – is the star of the show at Ben Tish's newest opening, Norma. It's at the crudo bar that you'll sample the restaurant's best dishes: think cherrystone clams with saffron or red prawns with rosemary and orange. Cured versions of crudo have been dubbed 'seacuterie' by BBC Good Food, which cites Cornerstone chef Tom Brown, who serves salmon pastrami, sea bass 'ham' and monkfish bresaola from his kitchen, as the man to emulate. We've also recently enjoyed the trout crudo with green tiger's milk, mezcal, avocado salsa and crisped corn at Wild by Tart in Belgravia. 
Filipino Cuisine 
There have been a number of Filipino restaurants launches in London over the last year – most notably Bong Bong's Manila Kanteen, from the winning team behind BBC2's My Million Pound Menu in 2019. Later this month, popular Filipino supperclub Sarap will open a permanent spot in Brixton Village, showcasing lechon liempo –slow-roasted pork belly stuffed with lemongrass, ginger, garlic, chilli, coconut vinegar and soy sauce, served with liver sauce, spiced coconut vinegar and atchara pickle. Elsewhere, keep an eye out for the purple vegetable ube, often used in desserts such as ice-cream and doughnuts, which Yelp describes as the "new matcha".
Zero Packaging
Waitrose shoppers are continuing to welcome its 'Unpacked' trial, a new way of shopping that involves less packaging. Currently, frozen vegetables, pasta dispensers and beer on tap are being trialed by Waitrose in four stores, and at its Oxford Botley Road site, unpackaged produce is outselling packaged goods. We've also seen similar schemes rolled out in independent local grocers, such as Hisbe Food in Brighton and The Store, which has package-free shops in Australia and New Zealand, in Brighton and Dublin.
Barbecued Puddings 
2020 is set to see a sweet take on the BBQ trend. Inspired by American classics like s'mores and sweet tortillas, this year expect to sample dishes such as barbecued peaches and bananas infused with smoked jasmine; strawberry and rhubarb risotto over charcoal; and roasted coconut, chilli and basil ice-cream. Fraser Thomson, director at dessert brand Pots & Co, says: "We are going to see a huge twist on the traditional BBQ in 2020 with foodies swapping savoury for sweet over the heat. From delicious smoked infusions to delicately flavoured desserts, diners are increasingly looking for new and innovative dishes." Bring on summer.
Low-Waste Kitchens
Nose-to-tail and root-to-fruit dining will continue apace in 2020. Leading the charge is Hackney Wick newcomer Silo, which has moved from Brighton to Crate Brewery. The UK's first zero-waste restaurant, here award-winning chef Douglas McMaster's sustainable approach covers everything from trading directly with farmers to composting leftovers and creating the open-plan space with pioneering, high-quality materials such as cork, mycelium and upcycled plastic and leather. Cub, Allegra, Roganic, Spring, Ugly Butterfly and Native are all places to head for great food in low-waste environments.