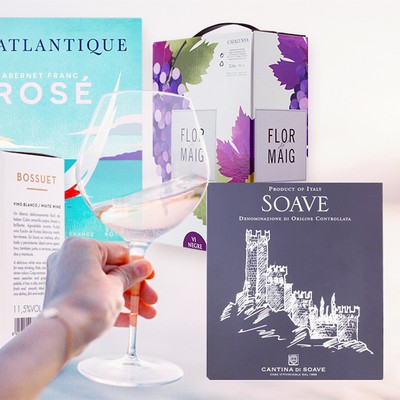 11 Of The Best Boxed Wines Under £20

Often thought of as an 80s relic, it's fair to say boxed wine has earned itself a bad rap. But, as wine expert and writer Lily Thomas argues, the latest iterations are elegant, well-packaged and stay fresh long after you've opened them. Here are her top picks, all of which are under £20…

Country: Italy 
Soave is a super soft Italian wine that will go with most foods – it has a great balance between sweetness and acidity. With notes of pear, apple, peach and honey, it's the perfect combination of acidity and creamy softness. 
Pair it with: Low in alcohol and light-bodied, this is a wine to drink in the summer with light dishes. It would also go well with cakes or tarts, as well as salads – particularly ones including goats' cheese. 
Available here
Country: Chile 
Fresh and light, with notes of lemon and lime, sauvignon blanc always has great floral aromas. This one is named after a mysterious sighting by a fisherman, and has enticing aromas of citrus followed by crisp, concentrated flavours of tropical fruits.
Pair it with: Sauvignon blanc is a popular choice for summer, and this wine is fresh, young and should be enjoyed cold – and preferably outside. Perfect with smoked salmon, lobster dishes or even a caesar salad.
Available here
Country: New Zealand
True to its country of origin – where some of the world's best sauvignon blancs are produced – this wine is full of zingy passionfruit and gooseberry flavours, with a refreshing lemon finish.
Pair it with: A light and fresh wine best suited to warmer weather, it will go particularly well with chicken and fish dishes, or even summer pastas with light, creamy sauces.
Available here
Country: Spain 
A smooth, pale straw-coloured white wine, chardonnay is a universal grape that most people enjoy thanks to the fresh taste and easy drinking. This one has aromas of Mediterranean peaches and grapes, with a silky, fruity finish on the palate.
Pair it with: A great staple to have in the house, this wine goes just as well with a pasta carbonara as it would with roast chicken. It's also great to serve with canapés or light starters. 
Available here
Country: France (Loire) 
Cabernet franc can be strong and full bodied but when used in rosé, the notes of raspberry, strawberry and other summer berries keep things dry, bright and refreshing. High acidity means this one is also light in colour, which makes it a popular choice.
Pair it with: Delicious with seafood, fruit or summer salads. 
Available here
Country: France (Languedoc) 
Pale, and with notes of grapefruit and strawberry, the grenache grape offers up real summer fruit flavours. Made in the southern French style, it's fruity, dry and not too sweet. 
Pair it with: This wine is an especially good rosé for pairing with food, and is lovely with a range of different appetisers – but mainly with fish and chicken dishes. 
Available here
Country: Spain 
With notes of strawberries and citrus, this wine is on the sweeter side, but is still very refreshing. A pink blush is a rosé made with Spanish grapes, and is often light, round and very easy to drink. It also stays fresh for four weeks after opening, making it a great choice for casual BBQs. 
Pair it with: Equivalent to three bottles-worth, this wine is perfect for sharing and can be enjoyed on its own or with a wide range of cuisines. It's particularly good served at either end of a meal – with antipasto or desserts. 
Available here
Country: Chile 
Malbec is super easy drinking, as it's often smooth with plenty of plum, fruit flavours. Wine from Chile is also incredibly modern and has a style that many people enjoy – uncomplicated and clean, it's accessible for people new to the wine world. 
Pair it with: This is a great option for a summer BBQ or dinner party. Pair it with marinated and spiced meats, or a traditional steak come winter. 
Available here 
Country: Spain 
With notes of plum, oak and redcurrant, tempranillo is the main grape in rioja, and is often structured, strong and powerful. As a result, it really stands up to strong food, and leaves a long finish on the palate. 
Pair it with: Thick meaty sauces, whether it be with pasta or standalone dishes like bolognese, ragú and chilli con carne. 
Available here
Country: Spain 
With notes of dark fruit and pepper, this young wine is still full bodied. A blend of monastrell, syrah and merlot, it's made with grapes from Catalonia, so it's not overly complex, either. On the palate, expect a fresh and balanced finish.  
Pair it with: Fruity notes mean it will go with most foods, but it can be enjoyed on its own just as well. For a rich experience, pair it with meat dishes – especially cured meats.
Available here 
Country: Spain 
Juicy, with medium acidity and oaky notes, this big, rich wine comes with plenty of tannins and structure. Expect rich chocolate and leather aromas from the blend of Spanish grapes. 
Pair it with: Hearty dishes, such as roast vegetables and sausages. It also works as a winter aperitif, or with smoked dishes, rice and roast chicken. 
Available here
DISCLAIMER: We endeavour to always credit the correct original source of every image we use. If you think a credit may be incorrect, please contact us at info@sheerluxe.com.