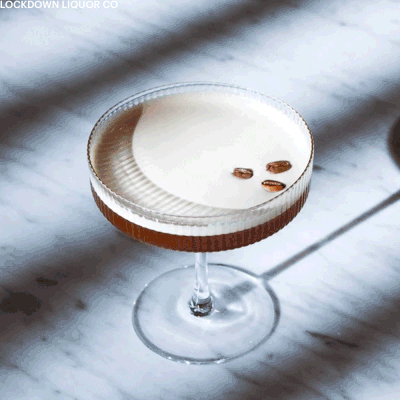 13 New Drinks Deliveries Services To Try

Whether it's an easy premixed cocktail to signal the end of the working day or you fancy trying something new over the weekend, the latest drinks delivery services have you covered. Here's where to place your order during lockdown and beyond…

Hawksmoor at Home
Hawksmoor is expanding its at-home offering – which previously just included excellent steaks and accompaniments – into cocktails. Available to order for nationwide delivery through the Hawksmoor website, the range features four bottled and four canned cocktails, including signature classics such as the 'Fuller-Fat' old fashioned and 'Ultimate' dry martini alongside a sour cherry negroni and 'Backburner' (Ocho tequila, Dangerous Don mezcal, jalapeno and pineapple soda). The bottled cocktails serve two and are £12 to £14 for 200ml or £48 for a set of all four. Canned cocktails are available as a set of four for £28.
Visit TheHawksmoor.com
Lockdown Liquor & Co
A lot of readers will know we're big fans of Lockdown Liqour & Co – the overnight success from lockdown 1.0. If you need bringing up to speed, for £25 (plus delivery) you get a 500ml serve that's good for four drinks. The brand has evolved as quickly as it's grown, and now, there are smaller and larger sizes, as well as a choice of six cocktails: fiery, tequila-based 'Picante'; refreshing, gin-laced 'Pepino'; 'Pepino Ruso', which swaps the gin for vodka; espresso martini, the 'Tucci' negroni; and right now, a limited-edition hot toddy.
Visit Lockdown-Liquor.com
Coupette
Coupette's online shop launched in time for lockdown 2.0. The bar's award-winning signature serves 'Apples', 'Champagne Pina Colada' and 'Boardroom' are available for purchase alongside newly devised concoctions such as the 'Corny Gimlet' which uses homemade corn liqueur to add depth to salty buttered gin and the splash of popcorn tea, and the 'Bitter Quarter', a sharp drink with a combination of gin, vermouth, Campari and carrots.
Visit CoupetteShop.com
Lyaness at Home
Lyaness at Sea Containers London has launched Lyaness at Home. The award-winning bar is now delivering bottled versions of five of its most popular serves for the duration of lockdown, allowing customers to sip on expertly crafted cocktails in the comfort of their own home. Customers can enjoy the likes of the 'Rock Pool Sazerac' and 'Beetle Boulevardier' in three different sizes (for one person, two people or a five servings) via Deliveroo every day of the week. Prices start from £13 and be can be ordered from 2pm-10pm Monday to Friday and 1pm-10pm on weekends. In addition, a selection of dishes will also be available to order, including the smashed patty burger, halloumi burger and fried chicken burger. For those across the UK, the bottles are available to buy on Shopify.
Visit Lyaness.MyShopify.com
Crispin Wine Club
Crispin, the all-day cafe and restaurant in Spitalfields, has set up its natural wine club. Available throughout lockdown and beyond, the Crispin Wine Club subscription service offers hand selected bottles recommended by Crispin's in-house sommelier, Stefano Cazzato (previously Londrino, Hakkasan and Dalla Terra). With a focus on natural, biodynamic and low-intervention wines from small producers and cooperatives, the wine club will support small and independent producers who use old world indigenous and rare grape varieties. Each subscription case will include some easy drinking wines, alongside more interesting, funky and wild wines. Prices start at £55 per wine case.
Visit CrispinStores.com
Oranj
A new online platform that celebrates natural wine, Oranj Wine offers monthly sommelier curated wine boxes for nationwide delivery. For December, Dominic Smith – 'Dom the Somm' –from one-Michelin-starred restaurant The Clove Club, has taken the reins with his pick of winter warmers. Dom will select five bottles of his favourite low-intervention wines from small-batch producers, which will be matched by a festive edition of sommelier tasting notes, giving recipients the tools to pair their bottles with their Christmas fare. Alongside, Oranj has commissioned artist Fey Wei Wei to create a limited-edition poster and a specially recorded DJ set to enjoy while drinking.
Visit Oranj.co.uk
The Sorting Table
Last month saw the launch of The Sorting Table, a new delivery platform founded by Ben Henshaw, UK wine writer Jamie Goode, sommelier Paz Levinson and Raj Parr – star of Netflix's Somm series – which aims to redefine fine wine by bringing carefully selected wines directly to doorsteps across the UK. The initial range is sourced from passionate winemakers who are crafting compelling examples, at an accessible price. The Sorting Table will also offer a wine club subscription. This membership includes a quarterly delivery of either six or 12 bottles.
Visit TheSortingTable.co.uk
Tayer + Elementary
Monica Berg and Alex Kratena created a series of bottled cocktails from their award-winning bar, Tayēr + Elementary, during the first lockdown. The collection of serves features popular Tayēr recipes including the 'Palo Santo Gimlet', 'Sandalwood Martini' and 'Bergamot Margarita'. Each recipe has been kept exactly the same to fully replicate the experience of drinking it at Tayēr. Presented in the bar's signature style, the brown bottles with minimalist labels are available in 300ml serves and are available to take away from the bar or online at The Whisky Exchange.
Visit TheWhiskyExchange.com
Peckham Cellars
Peckham Cellars is an independent wine, beer and cocktail shop delivering nationwide. Individual bottles, cans and cases are available to order online, all at competitive prices. The 150-strong wine list is curated by sommelier and co-founder Ben, who builds an eclectic selection prioritising small producers who use minimum-intervention practices from emerging wine regions. But bottled cocktails – such as a Troo margarita – are also available, as are some interesting cans of craft beer.
Visit PeckhamCellars.co.uk
Kuka
Kuka specialises in easy-to-make espresso martinis. There's no need for a fancy coffee machine or any bar equipment as it's all included in the Kuka kit. Each kit makes two espresso martinis and five coffees, and includes instructions, a shaker jar with measurements, a reusable straw; premium coffee and the necessary spirits. The coffee is fair trade, single origin and 100% Brazilian arabica with flavour notes of chocolate with a citrus finish. Best of all, there's no added sugar and the packaging is 100% recyclable.
Visit KukaCoffee.co.uk
Waitrose x House of Suntory
Waitrose has introduced a new interactive service with its 'Cocktails at Home' experience boxes, in partnership with John Lewis. The two limited-edition boxes include the key ingredients and kit to make either gin cocktails with a bottle of Roku gin, or whisky cocktails with Toki whisky, both craft spirits from the House of Suntory. The kit includes two John Lewis high ball glasses, a cocktail spoon, jigger and a booklet with two cocktail recipes and a range of garnishes. Inside each box is an invitation to an online masterclass with a Waitrose drinks specialist, where the recipient can find out more about their chosen spirit and learn to mix cocktails like a pro.
Visit JohnLewis.com
Swift
Soho-based cocktail bar Swift has launched its bottled cocktail delivery service, bringing its elegant and award-winning cocktails from Soho to your door. The bottle service offers a range of cocktails, such as its 'Ember', 'Woodstock' and Swift negroni. The 500ml bottles are ready to pour and priced at £28. Newest to the collection is a make-at-home Irish coffee kit, which makes 16 serves for £65.
Visit SpeakeasyAtHome.co.uk
Sketch in a Bottle
Sketch in a Bottle is a collection of aperitifs, champagne and wines curated by the top restaurant's wine director Frederic Brugues and mixologist Alexandre Robin to enjoy at home. Flights of three glasses of wine can be paired with each course of the Sketch at Home meal service, but if you're just after drinks, Alexandre has opted for a twist on the classic negroni and popular Sketch serve 'Fantasmargarita'. All cocktails are individually bottled at Sketch and wax sealed by hand, keeping the flavours and aroma crisp and fresh, right up to the moment the seal is broken at home.
Visit Shop.Sketch.London