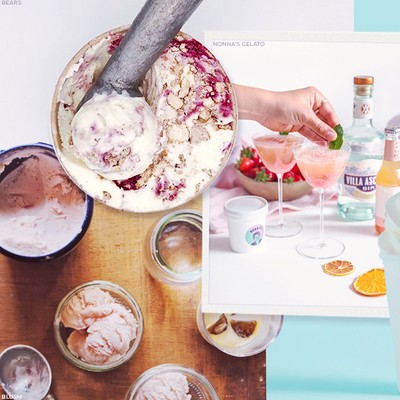 The Best Ice-Cream Takeaways & Deliveries

It's not just flowers that can be delivered through the letterbox these days – innovative technology and a host of different delivery options mean you can now enjoy fresh gelato whenever you please. Whether yours is a takeaway sundae or a specifically designed tub, here are 11 of the best places in the capital to order from now.

Udderlicious
With sites in Islington and Covent Garden, Udderlicious is a popular haunt for vegans (the vegan Oreo flavour is eternally popular) and non-vegans alike. All freshly made in store, visitors can also vote for which flavours they'd like to eat each month (this month's combinations include blueberry and cherry sorbet, and vegan rocky road). The team, led by husband and wife Raj and Raj, can also make ice-cream cakes for birthdays and celebrations. Ice-creams are currently available to buy in store only.
Visit Udderlicious.co.uk
Grom
This Piccadilly branch of Italian gelato purveyors Grom was the first to land in the UK. Specialising in naturally sourced, traditional gelato, the team only use carob flour as a thickener, ensuring that the gelato is as authentic as possible. Popular flavours include 'Crema di Grom' (pastry cream gelato with corn biscuits and chocolate chips) and 'Gianduia' (made with Venezuelan chocolate and hazelnut chips). Takeaway tubs are available to buy in store. 
Visit Grom.it
Nonna's Gelato
The inspiration behind Nonna's Gelato is owner Sophia's Italian grandmother. From their family-run kitchen in Highbury, the team infuses, pasteurises, ages and churns all of its batches by hand. Our favourite flavours include Five Points porter and chocolate ripple; blackberry and vanilla crumble; and chocolate and Sicilian blood orange marmalade sorbet – all of which are currently available to buy in tubs at Yardarm, The Blackheath Pantry and De Beauvoir Deli. New for lockdown is the team's cocktail and sorbet delivery service, where visitors can buy a gin-flavoured sorbet and mixers to create authentic sgroppino at home.
Visit NonnasGelato.com
Mamason's
Filipino ice-cream parlour Mamason's introduced its street-style "dirty" ice-cream to the streets of Chinatown in 2018. The site sells a range of Instagrammable pan-Asian puds, including its signature sell-out dessert, the 'Bilog': a traditional Filipino milk bun (pandesal) filled with ice-cream, toasted in a hot press and dusted with icing sugar. Its Chinatown and Kentish Town stores are currently operating via a same-day click-and-collect service.
Visit DirtyIceCream.co.uk
Chin Chin
Chin Chin, which opened Europe's first liquid nitrogen ice-cream parlour in 2010, has now launched the UK's first ice-cream-in-the-post service. The new concept sees the team use liquid nitrogen to ensure the ice-cream remains frozen for up to 32 hours, to enable nationwide postal delivery. We like the look of the selection box, which features three nitro ice-creams in seasonal flavours such as burnt butter caramel, lychee and rose, and 'childhood strawberry milk'.
Visit ChinChinIceCream.com
Happy Endings
Founded in 2014 by Young British Foodie award-winner Terri Mercieca, Happy Endings has turned the London dessert scene on its head. Its ice-cream sandwiches and soft-serves combine modern and traditional techniques to create desserts that are bold in flavour and temper sweetness with savoury. Of the five flavours, we love the malted milk parfait, which comes sandwiched between oat biscuits and malt crumbs, and half-dipped in Original Beans Femmes de Virunga 55% milk chocolate.
Visit HappyEndingsLDN.com
Ice Cream Union
For the past 12 years, Ice Cream Union has produced ice-creams and sorbets for many of London's top restaurants, as well as some of the city's most influential chefs. To get its flavours just right, the team focuses on ingredients, hand-selecting the best Sicilian blood oranges at peak season, making their own honeycomb, sourcing milk direct from The Estate Dairy for its fior di latte and making their own nut pastes. Now you can enjoy this high-quality ice-cream via delivery: there are 36 ice-creams, 13 sorbets and 3 vegan options to choose from, all available for next-day delivery.
Visit IceCreamUnion.com
Snowflake Gelato
Snowflake Gelato is open for home delivery or collection in store. Of all its offerings, we love the brand's ice-cream bundles, such as the 'Movie Night Kit', which includes half a kilo of sea salted caramel and chocolate gelato, popcorn, wafer sticks, mini cones, salted caramel sauce and crisp peals; and the 'Garden Party Kit', which comes with 1kg of strawberry and peach gelato, wafer baskets, sprinkles, wafers, freeze dried raspberries, fresh summer berries and strawberry compote.
Visit SnowFlakeGelato.co.uk
Freezecakes
Cheesecake purveyor Pleesecakes has created Freezecakes – frozen cheesecake in a tub. Made using artisan cream cheese dressed up with biscuit crumbs, pockets of soft ganache, oozing caramel, chocolate shards, popcorn and fruit swirls, the tubs are available in three flavours: butterscotch and caramel; frozen chocolate; and lemon and raspberry. Priced at £6.50 for an individual tub (480ml) or £19.50 for the trio, Freezecakes is available for nationwide delivery. Individual tubs are also available via UberEats, Just Eat and Deliveroo across London, Leeds, Manchester, Nottingham and Brighton & Hove.
Visit Freezecake.com
Bears
Bears uses Jersey milk – and rice, oat and soy options for vegans – and the freshest ingredients available at any given time to make its popular ice-cream. Its two shops – located in Brook Green and Shepherd's Bush – have recently reopened, but delivery is also available to W3, W4, W6, W12 and W14 postcodes. Order more than two tubs, and you'll get free delivery. If you do opt to head to one of the Soft Serve Shops, expect your ice-cream to be dipped, rolled or smashed into various toppings, allowing for endless combinations of flavours and textures.
Visit BearsIceCream.co.uk
Blush
South London-based Blush makes each tub of ice-cream as orders come in, to ensure total freshness and the best-quality ingredients. The end result is a rich, creamy ice-cream that's packed full of flavour – our current picks are peshawari (made using pandan leaves), butter pecan, orange blossom and malted milk and chocolate truffles. Order more than two tubs online, and delivery is free.
Visit BlushIceCream.com
DISCLAIMER: We endeavour to always credit the correct original source of every image we use. If you think a credit may be incorrect, please contact us at info@sheerluxe.com.