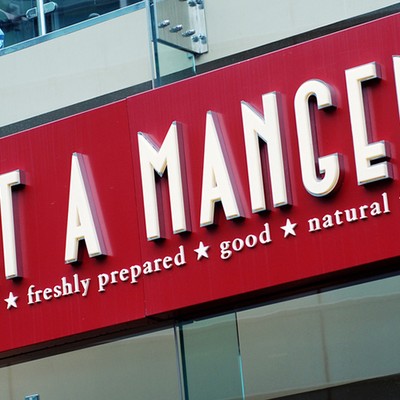 What To Eat At Pret A Manger According To A Nutritionist

For a quick, middle-of-the-week lunch, there aren't many places more convenient than Pret A Manger. Naturally some of the options are healthier than others, so to help you make the best choice possible, we asked nutritionist Lucy Delius for her expert analysis of the menu...

THE GOOD:
Pret's Protein Box
What It Is: Chargrilled British chicken breast, free-range eggs, sliced avocado, long-stem broccoli and baby leaf spinach. Finished with an ancho chilli dressing.
Calories: 322
Verdict: The best way to stay healthy when eating out is to keep it simple. The more ingredients, the more likely you are to find additives and preservatives. This salad is high in protein from the chicken and egg.  Chicken is high in B3 which boosts brain function and is found to reduce cholesterol. It's also high in selenium, B6, B5 and has some B12 too making it a good broad nutrient source. Eating protein will help to stabilise your blood sugar and should help you to feel full for longer, reducing the need to snack. Avocado is full of healthy fats, which also contributes to the feeling of satiety and will help to regulate blood sugar – avocado is also high in fibre, vitamin K, folate. Spinach and broccoli are fantastic greens providing broad vitamin and nutrient support. Squeezing lemon juice on your spinach will help to boost the absorption of iron. Spinach has lutein and zeaxanthin which promotes eye health and vitamin K which supports bone health. Cruciferous vegetables like broccoli aid detoxification. Broccoli is also high in fibre.
Available now at Pret
Pret's Greek Salad
What It Is: Tomatoes, chargrilled red peppers, feta cheese, cucumber, black kalamata olives, pickled onions and fresh dill. Finished with a pot of Pret's French dressing.
Calories: 463
Verdict: Cos lettuce is a much overlooked, hugely nutritious vegetable and should definitely be your salad leaf of choice. Nutrient rich across the board, it provides antioxidant support, improves cardiovascular health and is a concentrated source of vitamin K, which is essential for bone health.  Tomatoes are high in lycopene, a rich antioxidant as well as being high in vitamin C and vitamin A. Olives are rich in phytonutrients and are rich in mono-unsaturated fats. They are also anti-inflammatory and anti-oxidants. Feta provides a source of protein and the pickled onions include gut-friendly prebiotics from the fermentation process.
Available now at Pret 
Salmon & Smashed Avo Pot
What It Is: Smashed avocado topped with smoked salmon, diced mango, pickled cabbage, carrot and edamame soya beans. Finished with a sprinkle of mixed sesame seeds and served with a wedge of lime.
Calories: 315
Verdict: This pot packs a punch – it's low in calories, but high in healthy fats making it a great choice. Salmon is a key source of omega 3s, and red cabbage is high in nutrients and low in calories. It is a great source of fibre, high in vitamin K and C. Edamame is another great source of vegetable protein, as well as having good levels of iron and contributes to your RDA of fibre, which most of us struggle to meet. Sesame seeds are a great source of iron.
Available at Pret 
Crayfish & Avo No Bread
What It Is: Wild crayfish and sliced avocado on a bed of mixed salad leaves. Served with a separate pot of Pret's French dressing.
Calories: 352
Verdict: This is a great choice, with the lettuce mix providing nutrients and antioxidants. Red chard is part of the beet family and is an excellent source of folate, which supports our body's natural detoxification process. Crayfish is a fantastic source of protein, containing zinc which is essential for our skin health and immune system, as well as being a source of B12. The mix of protein and healthy fats will help you to stay full for longer and balance blood sugar.
Available at Pret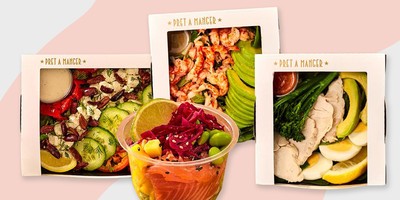 Chicken, Broccoli & Brown Rice Soup
What It Is: British chicken broth simmered with vegetables, baby broccoli florets and brown rice.
Calories: 355
Verdict: This is a perfect complete meal to grab on the go – chicken provides protein, broccoli is a great all-rounder providing multiple nutrients and vitamins, and brown rice provides fibre and a good assortment of B vitamins. This dish contains complex carbohydrates, which ensures a steady release of energy throughout the day. The water content hydrates and will also make you feel full for longer. It's low calorie too.
Available At Pret 

Butternut & Lentil Dahl
What It Is: Butternut squash and lentil dhal cooked with cumin, coriander, black onion seeds and a vegetable stock. Finished with a little coconut milk.
Calories: 199
Verdict: For those avoiding animal products, this is an excellent choice and another complete meal in one go. Lentils are great vegetable protein sources as well as being high in fibre and folate, squash is high in vitamins A (essential for cell growth and repair) and C, and is also an excellent antioxidant. Coconut cream provides a great healthy fat source, tomato puree offers lycopene, and spinach contains iron, calcium and antioxidants. The mix of butternut and lentils means it's high in complex carbs, which means a steady energy source.
Available At Pret 

THE BAD:
Sausage & Egg Brioche
What It Is: A grilled breakfast sausage wrapped in omelette. Served in a buttery brioche with a dab of butter.
Calories: 585
Verdict: At 585 calories for one sandwich and with little-to-no nutritional value, this isn't a balanced option. It's also high in saturated fat and preservatives, as well as being highly processed.
Available At Pret

Hoisin Duck Wrap
What It Is: British shredded roast duck with a hoisin sauce, made from soy sauce, Chinese five spice and white miso. Served with cucumber, sliced spring onions, baby-leaf spinach and free-range mayo.
Calories: 459
Verdict: A hugely popular item on the menu at Pret, this wrap is full of additives and preservatives (raising agents, emulsifiers, mono and diglycerides, as well as gelling agents) not to mention sugar and salt. It's also low in fibre and has very few nutrients in it – spinach is probably the only thing it has going for it.
Available At Pret
DISCLAIMER: We endeavour to always credit the correct original source of every image we use. If you think a credit may be incorrect, please contact us at info@sheerluxe.com.