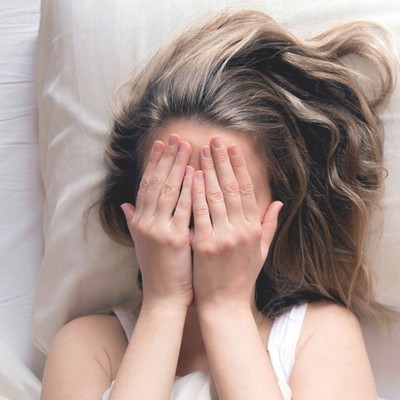 Are Your Beauty Products Messing With Your Hormones?

Between cosmetics, fragrances and personal care products, the average woman applies 168 chemicals to her face and body every day. And while some of these toxins are harmless, research has found others can disrupt hormones and affect the nervous system, with the majority of chemicals having not been independently reviewed for safety before hitting our shelves…

But with demand for organic, natural products continuing its upward trajectory, coupled with new research and improved formulas, going green has never been easier. If you want to detox your beauty routine but aren't sure where to start, follow the tips of beauty guru Imelda Burke, whose book The Nature of Beauty explains the ingredients to avoid in order to move towards a cleaner regime…
AVOID: Sulphates
WHAT ARE THEY?
Primarily used as a foaming agent or detergent, sulphates (which come under the guise of sodium laurate, lauryl sulphate or SLS) can be found in shampoos, facial cleansers and bath products, as well as household detergents such as washing up liquid.
WHY COULD THEY BE HARMFUL?
As Burke explains, "Foaming agents in general can be tough on the skin as they upset the protective layer of oils and make the skin itself more permeable to other ingredients, some of which will be welcome and some not. Sulphates are often associated with outbreaks of eczema and people with dry skin should avoid this ingredient." Research also shows that, when combined with other chemicals, sulphates can become carcinogenic (cancer-causing) and trigger depression.
AVOID: Parabens
What are they?
Parabens are a group of compounds widely used as antifungal agents, preservatives and antimicrobials in creams, lotions and other cosmetics, including deodorants. On labels, look out for methyl-, ethyl-, propyl-, butyl- or isobutyl-.
Why could they be harmful?
"Parabens have been found to disrupt physiologically important functions and have a mildly oestrogenic effect on the body, which can affect hormone production," explains Burke. It's worth noting that the amount of parabens in beauty products is currently capped by law at 1%, which has been deemed 'completely safe' by government bodies – however, many clean beauty lovers still avoid the ingredient as some tests have found that parabens can be present in our bodies at high concentrations (they have even been detected in human breast cancer tissues, although more research into the subject is needed).
AVOID: Formaldehyde
What is it? 
"While it may not be knowingly added to your skincare products and you may not find it listed on the label," says Burke, "it's important to note that some synthetic preservatives have been found to combine with other ingredients to release formaldehyde into the end product." Longer storage times and exposure to high temperatures (such as in a warm bathroom) can increase the likelihood of the chemical being released. You'll most likely only see formaldehyde listed as an ingredient in nail hardening products; however, it's worth watching out for ingredients that may release formaldehyde – such as sodium hydroxymethylglycinate, DMDM hydantoin and quaternium-15, all found in shampoos, hair products, baby wipes and lotions.
Why is it harmful? 
Formaldehyde is classed as a CMR (carcinogenic/mutagenic/toxic for reproduction) and has a long list of adverse health effects, including immune system toxicity and respiratory irritation. A maximum allowed concentration in beauty products is currently restricted to 5%, despite concentrations as low as 0.006% known for causing irritation, or an allergic effect, in sensitised skin.
AVOID: Fragrance
What is it?
Fragrance or 'parfum' is a catch-all term for around 4,000 different ingredients and can be found in most shampoos, deodorants, sun creams, skincare and body products.
Why is it harmful?
Widely used in cosmetics to make fragrances linger, certain toxins can interfere with our hormones, causing reproductive and developmental problems. Exposure can trigger allergies, migraines and asthma symptoms, and research has also found certain fragrance ingredients to be associated with cancer and neurotoxicity. And if you have sensitive skin, it's most definitely worth avoiding fragrance in the form of synthetic scents and essential oils, as both contain allergens and can weaken the skin barrier, leading to inflammation and even acne.
AVOID: Phthalates
What are they?
Phthalates (pronounced thal-ate) are mainly used in nail products as a solvent for dyes and as a plasticiser to prevent nail polishes from becoming brittle. These chemicals are also used in everything from household cleaners to food packaging. Keep an eye out for ingredients such as dibutyl phthalate (DBP), diethylhexyl phthalate (DEHP) and diethyl phthalate (DEP).
Why are they harmful? 
Phthalates are endocrine disruptors (meaning they can interfere with your hormones), have been associated with birth defects and are proven to be harmful to the metabolism. In the past few years, researchers have also linked phthalates to asthma, attention-deficit hyperactivity disorder (ADHD), breast cancer, obesity and type II diabetes, low IQ, neurodevelopmental issues, behavioural issues, autism spectrum disorders, altered reproductive development and male fertility issues.
 
Information taken from The Nature Of Beauty by Imelda Burke, available now on Amazon, priced £15.99
DISCLAIMER: We endeavour to always credit the correct original source of every image we use. If you think a credit may be incorrect, please contact us at info@sheerluxe.com.