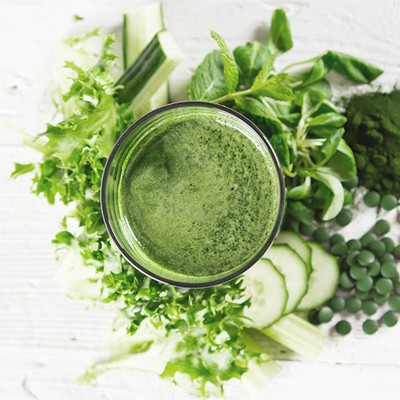 Is Chlorophyll Water The New Celery Juice?

The green drink on everyone's lips right now is chlorophyll water. Popping up in smoothies and tonics in a yoga studio near you, it's said to be an antioxidant powerhouse that encourages detoxification and boosts flagging energy levels. SL contributor Tor Cardona investigates…

What exactly is chlorophyll again?
Let us refresh your memory from year-nine biology: chlorophyll is a green pigment found in plants and algae. It absorbs energy from light in the process of photosynthesis. This energy is what enables plants to grow and flourish. Any time you eat a green veggie, you're getting a hit of chlorophyll without even trying – rich sources include spinach, parsley and watercress. However, unless you're eating huge amounts of raw greens at every meal, it's unlikely you'll absorb the same quantity as you could via a supplement. 
And that's where chlorophyll water comes in?
Exactly. Most chlorophyll supplements contain a derivative called chlorophyllin, which is water-soluble and allegedly better absorbed by the body. Hence the proliferation of liquid chlorophyll supplements, which can be added to water. 
What are the benefits supposed to be?
Chlorophyll's molecular structure is almost identical to that of hemoglobin, the substance our bodies use to build and transport red blood cells. Chlorophyll can, therefore, increase the quantity and quality of red blood cells in the body, naturally boosting energy and vitality. It's believed that, because of its blood health-improving powers, it can also cleanse and detox the body at a cellular level. As a strong source of antioxidants, others claim it can promote health and fight disease. Plus, unlike other green drinks, there's no need for pricy blenders or ingredients – liquid chlorophyll is relatively affordable and simply added to water.
Does it really work?
The jury's out. Nutritionist Lily Soutter says there simply isn't enough research to suggest chlorophyll water really does anything. "This green drink is far from a magic cure-all," she says. "Wild health claims have been made around these supplements, from stimulating the immune system to cleaning the intestine, but there's little evidence to support any of these benefits." Lily also explains that liquid chlorophyll may be no better than simply taking the nutrient in capsule form. "Liquid chlorophyll has historically been used as a topical treatment for wounds, but there's no clear research to suggest it's more 'bioavailable' in liquid form."
So the bottom line…?
Like celery juice, the promise of chlorophyll may be too good to be true. Both celery and chlorophyll boast a strong nutrient profile, but there's no scientific proof that concentrating it into a juice cures or treats anything. If you like the taste of chlorophyll water, it can be a good addition to a well-rounded diet, but don't rely on it for any magical health powers.
DISCLAIMER: We endeavour to always credit the correct original source of every image we use. If you think a credit may be incorrect, please contact us at info@sheerluxe.com.