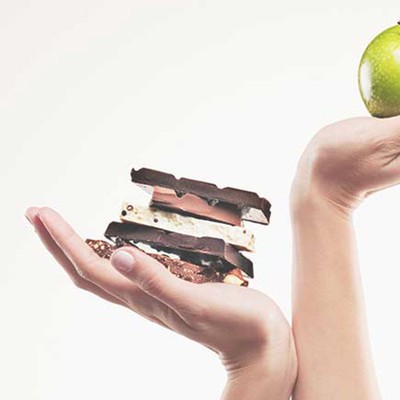 The Clever Hack For Cutting Carbs

Keeping an eye on your blood sugar levels isn't just for those with diabetes or dedicated low-carbers (although if you are one, you'll most definitely want to keep reading). Not only is type 2 diabetes and pre-diabetes on the rise – even amongst those at healthy weights – Silicon Valley's most innovative entrepreneurs believe it's the secret to having more energy. Here's what you need to know…

As Business Insider reported last year, in San Francisco, a growing number of entrepreneurs and biohackers are using a piece of wearable tech called a continuous glucose monitor (or CGM), in order to learn more about how glucose affects their mood, alertness and work output – allowing them to 'hack' their bodies and maximise productivity. Describing CGMs as a vital step on the road to "human enhancement", Paul Benigeri, an engineer at cognitive enhancement supplement startup Nootrobox, said they've helped him both lose weight and increase his focus in the office.
His CGM of choice is FreeStyle Libre, a device created by created by UK diabetes care developer Abbott. As of November 2017, it's been offered to people with diabetes types 1 and 2 on the NHS, but is now available for anyone to buy online – and countless low-carbers and health hackers like Benigeri are reaping the benefits.
Unlike typical pin-prick testing, FreeStyle Libre is non-invasive and completely painless. The patch – roughly the size of a £2 coin and worn on the upper arm – monitors glucose levels through a sensor. Simply attach it directly to your skin, download the accompanying app and you can check your blood sugar levels in as little as a second by 'scanning' the sensor with a hand-held, portable reader (which uses near-field communication – so no wifi required – and is around the same size as a GPS).
With every scan, users get a current glucose reading, a trend arrow indicating whether their blood sugar level is rising or falling and a graph showing their levels over the last eight hours. The device can also provide an 'Ambulatory Glucose Profile' – a snapshot of a user's levels over a typical 24-hours, allowing them to identify times they're most at risk.
It's an ingenious way of finding out exactly how certain foods and activities are affecting your body. Because when it comes to insulin response, there's no one-size-fits-all.
If all that sounds familiar, you may have spotted FreeStyle Libre in the headlines earlier this month. Despite being described as a "game-changer" and "life-saving" in independent studies, thousands of UK diabetes sufferers are being denied access on the NHS, leading to a number of "post-code lottery" complaints. As Clinical Commissioning Groups (CCGs) make the decision locally, not all NHS doctors are able to prescribe it – it's available in Westminster, but not in Staffordshire, for example.
At around £80 a month for year-round use, the device doesn't come cheap. And while it goes without saying those who need it most should of course be granted access, people without diabetes could still reap the benefits without the hefty cost by trialling the brand's starter pack – a 14-day programme designed for first-timers.
Detailing their two-week 'experiments' with the FreeStyle Libre as otherwise healthy users, masters student Azure Grant said she discovered bananas spiked her blood sugar far more than a couple of biscuits, while entrepreneur Bob Troia noted his was much higher after long-haul flights, which he attributed to the stress of travelling. Both credited the technology for helping them improve their diets, and there are dozens more accounts with the same main takeaway – it's an ingenious way of finding out exactly how certain foods and activities are affecting your body. Because, as is the case with most things, when it comes to insulin response there's no one-size-fits-all.
At the start of this month, it was also announced that the latest version – the FreeStyle Libre 2 – is due to launch on a rolling basis throughout Europe in November (keep your eyes peeled for the UK release date). It boasts upgraded Bluetooth technology and an optional alert feature, which works through a sound of vibration. According to the experts, this will give diabetes patients "even more freedom in managing their condition" and is sure to save countless more lives.
 
FreeStyle Libre Starter Pack, £159.95
DISCLAIMER: We endeavour to always credit the correct original source of every image we use. If you think a credit may be incorrect, please contact us at info@sheerluxe.com.