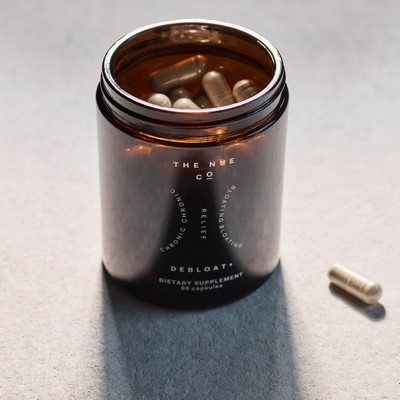 The Expert-Approved Supplement To Ease Bloating

If you're prone to bloating and indigestion, you'll know how unsettling tummy issues can be. Whether your bloat is triggered by sweet treats, a hangover, or a Sunday roast, forward-thinking supplement brand The Nue Co. has you covered with its genius Debloat+ formula. A cocktail of gut-supporting digestive enzymes and Ayurvedic herbs, here's why it could be worth a try…

CREATED IN PARTNERSHIP WITH THE NUE CO.
What makes it different? 
The Nue Co. has long been our go-to for clean, organic, science-backed supplements that actually do what they say, and it's clever Debloat+ supplement is no exception. A blend of anti-inflammatory ingredients, natural digestive enzymes and gut-feeding probiotics, it's your shortcut to a more balanced gut. It works instantly to soothe a sore tummy and provides long-term relief from symptoms of IBS, bloating and frequent heartburn. Plus, every Nue Co. product is made without toxic preservatives, additives, flavourings or sweeteners, and ingredients are responsibly sourced, so it ticks all the boxes on the quality front, too.
What's in it? 
Taking learnings from Ayurvedic medicine, the intelligent gastro-protective formula fuses ancient ingredients with modern science to create a unique supplement. As well as 17 digestive enzymes – which kick-start digestion and help break down your food into usable nutrients – each capsule is also packed with liquorice root, which has been used for digestive issues for thousands of years, working to reduce cramps and heal ulcers, and turmeric, a natural anti-inflammatory and antispasmodic. In fact, studies show the daily supplementation of turmeric can be beneficial for IBS symptoms, helping to ease both bloating and abdominal pain. Moreover, increasing research shows digestive enzymes can help your body break down sugars, fats and proteins, making them the ideal companion for a heavy meal, and that supplementing with enzymes will ensure you're deriving the maximum nutritional value from your food.
How should you take it? 
Take one capsule twice daily with food, ideally with your heaviest meals. Taking the formula with food is essential so its magic can metabolise properly. Unlike many gut-focused supplements, Debloat+ doesn't need to be kept in the fridge either, making it perfect for travelling or popping in your bag when heading out to dinner.
How quickly can you see results? 
We saw results pretty much straight away, especially when taken with a heavy meal, but the formula works over the long-term, too, and the results are impressive. In a third-party clinical trial, the ingredients in Debloat+ were proven to reduce bloating, upper abdominal pain, gas and heartburn by 51% in 30 days. 
Who's it for? 
If you suffer from any form of bloating or indigestion after eating, Debloat+ comes highly recommended. Debloat+ was created out of The Nue Co. founder and CEO Jules Miller's own experience with IBS. Struggling to find an effective solution to treat her symptoms, Debloat+ was developed as a supercharged supplement that works quickly to help relieve bloating and heartburn. It could also be worth trying the supplement if you're burning the candle at both ends, as research shows stress, poor eating habits, rushing meals, inadequate vitamin and mineral levels, and exposure to artificial colours and preservatives can take their toll on the production of digestive enzymes. 
What other products does it work well with?
While Debloat+ works to support overall gut health, a healthy microbiome can also be supported with The Nue Co.'s PREBIOTIC + PROBIOTIC. Since it contains both a pre and a probiotic (known as a synbiotic) it helps cultivate existing good bacteria in the gut, delivering more bacteria. Rather than using live strains of bacteria which tend to die off, the formula works with bacteria spores, which lie dormant until they reach the small intestine where they multiply and activate. Acting as a way of priming the gut, prebiotics are also used across several of The Nue Co.'s products including DEBLOAT FOOD + PREBIOTIC, ENERGY FOOD + PREBIOTIC with probiotics used in PROBIOTIC PROTEIN - PLANT.
How can you get started? 
Debloat+ is available from The Nue Co. and SheerLuxe readers can get an exclusive 30% OFF by entering SHEERLUXE30 at checkout. If you're keen to get to the bottom of your bloating, it could be worth setting up a subscription – your first order will come in a glass jar and subsequent orders packaged in refill pouches. These cut the average packaging weight by 75%, resulting in a reduced carbon footprint and less waste – a win for your tummy and the planet.
DISCLAIMER: Features published by SheerLuxe are not intended to treat, diagnose, cure or prevent any disease. Always seek the advice of your GP or another qualified healthcare provider for any questions you have regarding a medical condition, and before undertaking any diet, exercise or other health-related programme.
DISCLAIMER: We endeavour to always credit the correct original source of every image we use. If you think a credit may be incorrect, please contact us at info@sheerluxe.com.