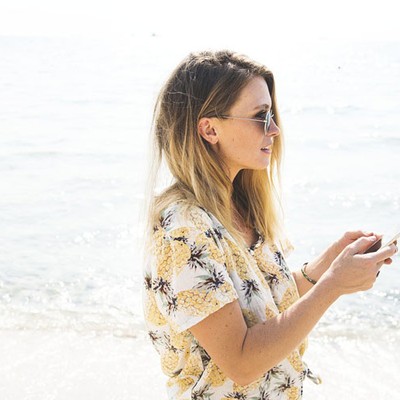 Is Having A 'Digital Detox' On Holiday Really A Good Idea?

Building scientific research is suggesting turning our phones off, or leaving them at home, when we're on holiday is a wise move when it comes to reducing stress and promoting positive mental health – but actually putting a digital detox in practice is another matter altogether. Debating whether to go phone-free on your next vacay? Two SL team members share their very different stories...

PRO: Digital Detoxes
Heather Steele, Lifestyle Editor
If you'd have asked me a year ago whether I'd be tapping away on my iPhone whilst on holiday this month, I'd have looked up from my Afterlight photo-editing app and have given you a wholehearted 'yes'. From snap-worthy dishes through to artful clusters of cacti and girls' night out shots, usually I'd have spent much of my time away roaming for the perfect digital memento. But this January, I decided to take a digital detox for one month. Realising I didn't miss social media at all, I'm now eight months in – but I did wonder whether road-tripping around California with my best friends might prove the unravelling of my plan.
Without an Instagram or Facebook following to entertain, I found I felt less compelled to take photos on the trip, save for the occasional silly group shot or spontaneous moment. If I'd been on my own, perhaps it would have been different, however – with five friends all armed with smartphones and digital cameras – my contributions felt superfluous. Soon, we had a ritual of sharing the day's images via WhatsApp each night: I quickly realised we didn't need six photos of the same tourist hotspots, and instead focused on putting my memories on paper.
Another reason my phone became so bound to my bag is that data roaming isn't included in my package. Keen to avoid a hefty bill, we became reliant on wifi at our Airbnbs, hotels and various shopping centres. This meant that most activities and car journeys were spent interacting with each other (during one nine-hour drive, we even rewrote the lyrics to 'Party in the USA'), rather than being glued to our phones, messaging away when boredom struck. Given the eight-hour time difference, we were rarely in sync with those back at home anyway, but this intense face-to-face time with one another meant that I got to know my friends of 12-years even better than I did before.
While I deleted Facebook and Instagram back in January, I have kept my Twitter account, mainly for work purposes. But when my friends wrangled with the wifi password and updated their Instagram accounts daily, I rarely looked at Twitter – I found it so freeing to have two weeks off from Brexit negotiations and how crap the current exchange rate is (believe me, I already knew).
Yes, there were moments where my phone would have been of use – we missed the Love Island final (sob), Uber proved invaluable in Las Vegas, and we got lost in San Francisco more than once. But then there's something to be said for wandering unknown streets in search of the best under-the-radar tacos in town. Instagram might be a great source of travel inspiration, but it will never beat a local, word-of-mouth recommendation.
PRO: Uninhibited Screen Time
Rosy Cherrington, Features Editor
Look, everyone. I'm not going to tell you how to live your lives. If you want to take a digital detox, then by all means, go ahead. Be one of those people I am regrettably not. The people capable of putting things like 'health', 'financial stability' and 'not feeling awful tomorrow' over today's base desires. Venture off, into milky skies, content in the knowledge you're a fully-functioning adult without a shitpile of chores to return to.
But if that's not you either, don't beat yourself up. I know for a blue-tick-verified fact that should I set myself a screen time limit on holiday, I'd break it (cue feelings of guilt), and God forbid I ever leave my phone at home, let alone on my way to the airport (can you imagine the panic?). Why put yourself through it (unless you're Heather and have very smartly gone through the cold turkey stage in advance).
Vacations aren't about bettering yourself, they're a time of pure indulgence – playing not working; spontaneous decision-making; waking up when you please; spending what would be a completely unfeasible amount of money long-term on a few nights in a very big bed a lot of other people have paid equally large sums to sleep in. The fact you, and I, have enough self-restraint not to live like this year-round, driving ourselves into bankruptcy and type 2 diabetes, is a feat to be celebrated. And how? By having, what I believe they refer to as, a holiday.
Yes, social media can do the dirty on your mental health, but what better time to mindlessly scroll, post and double tap than when you're already on a high? Far better than experiencing Insta-envy on your morning commute. Plus, the moment you step one Castañer-clad foot on a plane, the script flips: now you're the one making everyone else back at home feel bad. And that feels good.
On a slightly less Calibanian level, I like to think of my holiday posts as small squares of inspiration. Needed that final push to book a last-minute mini break? Seeing me reach 99% blood Aperol Spritz content in Ibiza could just be it. Want to know where to get the best smoothies in Barca? I got you. Haven't text me back in two days? Oh, do I have just the bikini shot for that.
Then there's the logistics of it all. My phone is my lifeline – a means of booking transportation and staying in touch with fellow travellers, it's a translator, a compass; my north, my south, my east and my Kim Kardashian West gossip. Once again, I'll reiterate: I am not a proper person. Take my phone away in a foreign country and I most likely won't make it back.
So choose your phone. Choose sending your friends memes when they're sat on the sun-lounger next to you, choose scrolling through your ex-co-worker's Instagram feed instead of reading a book, choose posting so many Instagram photos at least five people unfollow you. Who gives a f**k, you're on holiday.
DISCLAIMER: We endeavour to always credit the correct original source of every image we use. If you think a credit may be incorrect, please contact us at info@sheerluxe.com.