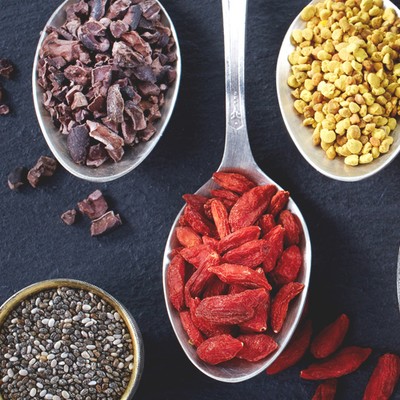 This High Street Health Brand Has Had A Major Revamp & You Need To Check It Out

Change is afoot at Holland & Barrett. Thanks to a major overhaul the high street favourite is THE place to shop for all your health and wellbeing essentials under one roof, with teas, supplements, frozen food and a vegan beauty range all available in-store. If you're remotely health-conscious, then this is your new place to shop. We spoke to Holland & Barrett's Chief Marketing Officer Caroline Hipperson about what we can expect from the brand this year…

CREATED IN PARTNERSHIP WITH HOLLAND & BARRETT
You're back with a new brand image – how is it different to the Holland & Barrett we all know?
Holland & Barrett are well-known on the high street for selling herbal remedies, vitamins and supplements. But the rise of a health-conscious consumer base and the popularity of veganism have been the catalyst for change over the course of the last 12 months. In this day and age, it's so important to be agile as a business and constantly innovate, which is why we're branching out and trying things we haven't before – with our 'More' stores, we're now offering a healthy Pick 'n' Mix station, while beauty fans can also enjoy getting stuck into the 'Make your own body scrub' station from the new Beauty Kitchen. .
Who are your customers & what do they want from you?
We're appealing to a younger, more ethically conscious crowd; there's never been more of a focus on clean living and self-care. Essentially, we identified this gap in the market for health-conscious people who care not only about what they put in their bodies, but on it too. So while we still offer our usual supplements, it's the launch of our new beauty line that is free from unnecessary chemicals like parabens and SLS [sodium lauryl sulphate] that is very much meeting a demand.
Our ethical buying ethos stands us in good stead with our customers, so they're able to put their faith in us and the work we're doing to improve the sustainability of our products.
You're known for your great savings and offers. Can we still expect to see that?
Yes, you can. We know our customers love our Penny Sale. In 2019 we are looking to make our offers even more relevant for our existing and new customers, so watch this space.
What do you think are going to be the big Health & Wellness trends in 2019?
We're expecting to see a rise in 'flexitarianism' next year, which takes less of an all-or-nothing approach to a vegan diet and instead adopts elements of veganism for a more flexible approach to ethical eating. Sleep optimisation, mindful drinking and nutrition plans are all set to take centre stage too – and we fully anticipate consumers demanding more from brands like us when it comes to environmental responsibility – we're definitely up for embracing the challenge.
What new lines have you introduced? What are some of the new brands you'll be stocking?
We've got loads of new lines. Dr Wills is a big one for us – they create really flavoursome, natural condiments free from refined sugar, additives and preservatives. Eat Real make amazing chips from quinoa and lentils and are so popular at the moment – they're all gluten free and vegan. We also stock Deliciously Ella's granola, museli and snacks which have had an incredible response.Then there are our new Holland & Barrett products – people often associate us with just selling supplements, but we actually have some really tasty sweet treats, a huge range of nuts, essential oils, skincare and even the very on-trend CBD oil. If you're yet to try the much talked about product we stock a wide selection, from capsules and oils to body washes and soothing balms, all of which can treat ailments from stress to sore muscles and problem skin. 
What are your best-sellers?
The Eat Real Hummus Sea Salt Chips do extremely well and are loved by those who aren't even vegan or gluten free; Engevita Yeast Flakes, which are great on soups and stews; H&B Vegan Multivitamin (a great supplement for vegans and vegetarians); and Violife Cheddar Slices, which are perfect for vegans who miss the taste of cheese.
A love of milk alternatives is on the up, so we sell a lot of Provamel Soya Sweetened and our own-brand, unsweetened soya; Hippeas Cheese & Love are a dairy and gluten alternative to Wotsits; Vegan eggs from Follow Your Heart; Captain Kombucha Original is the beverage of choice; and Fry's Beef Style Strips are perfect for meat-free meals.
People often don't realise we also have a frozen food section, which has a great selection of meat-free dinner alternatives like Fry's chicken style burgers, Vbites bacon and the Oumph! range (the thyme and garlic Oumph! is a real treat).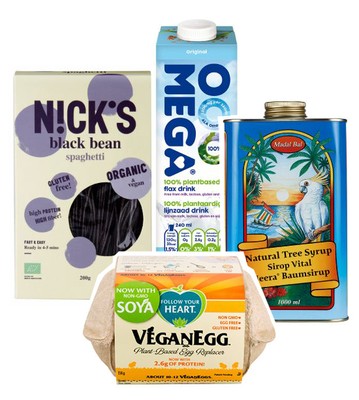 What other healthy 'swaps' do you offer?
 And finally, give us some fun facts and figures about Holland & Barrett…
You would have to run a tap for 1,203 hours / 50 days / seven weeks to use up all the Bragg Organic Apple Cider Vinegar that we have sold in the past year. 
-
If you were to make a tower of all the boxes of Bootea we've sold in the past year, it'd be the height of over 85 Eiffel towers.
-
We have sold enough Meridian nut butters to cover 10,204,973 pieces of toast. That's enough to feed the entire population of London!
-
If you were to line up every Pukka teabag we have sold in the past 12 months, it would cover the length of over 12,082 swimming pools.
-
Over 300,000 litres of coconut oil have been purchased from H&B within the past year. That equates to over 6 million coconuts.
-
 We sell over 38 tonnes of almonds in a year.
Shop some of our favourite products below.
DISCLAIMER: We endeavour to always credit the correct original source of every image we use. If you think a credit may be incorrect, please contact us at info@sheerluxe.com.