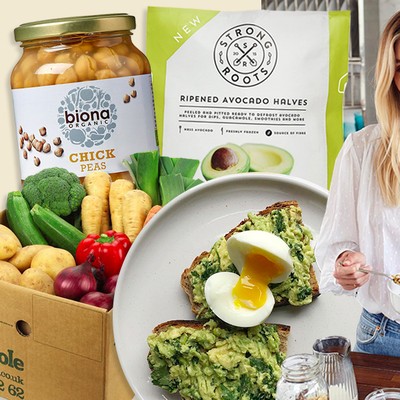 How To Keep Your Nutrition On Track

Nutritional therapist Frances Phillips is renowned for her holistic approach to wellness. Having spent over a decade working as a model, while struggling with eczema, Frances now runs her own nutritional practice, where she helps clients discover the root causes of skin issues via diet, supplementation and lifestyle advice. Here, she shares her golden rules for staying healthy right now...

Fill The Freezer
"Frozen vegetables are a great alternative if you're struggling to find fresh. I stock up on things like frozen peas, sweetcorn and spinach as they can really save a meal if you haven't been to the shops in a while. I also freeze fruits like bananas, mango, berries and avocado for smoothies. Frozen grapes are also nice as a healthy after dinner sweet treat. As with fresh, having a wide variety of different colours is key to making sure you're getting a range of nutrients. I also recommend buying organic if possible, especially for the berries, grapes and spinach as these are on the 'Dirty Dozen' list. I also like to keep sliced sourdough bread in the freezer as well as ginger, chillis and turmeric - they are just as good frozen and stay fresh for longer."

Try A Veg Box
"I get a regular organic fruit and veg delivery from Riverford so that has been such a help during this time. I'm also a fan of Abel & Cole, Potage and Spring Green who are all still doing deliveries. Getting a box like this is a great way of eating seasonally, making sure you are getting plenty of variety in your diet and reducing plastic usage." 

Mix Up Your Protein
"There are plenty of vegetarian protein sources that are easy to get hold of at the moment. Legumes (lentils, beans and chickpeas) are fantastic, as are nuts, seeds, eggs and vegan protein powders. Even many vegetables contain moderate levels of protein. I always encourage my clients to incorporate these sources of protein anyway, so it's a great time to experiment with them."

Use Google
"At a time when we all need to be more creative with our cooking, Google is your friend. I often find myself Googling an ingredient and just going from there. However, I love my cookbooks, too – Riverford's book is fantastic for recipes using seasonal ingredients while anything from Jamie Oliver is great for easy midweek meals using minimal ingredients. I also love Isaac Carew's Dirty Dishes for impressive meals, and nutritionists Amelia Freer and Eve Kalinik's books are fantastic, too."
Try Batch Cooking
"I'm batch cooking a lot more than usual at the moment to use up ingredients and minimise food waste. My current favourite recipes are my Immune & Skin Boosting Soup and Three Bean Chilli. I've also been baking a lot more than usual, and just attempted my first ever sourdough starter. I also just made a delicious chocolate torte using ground almonds instead of flour and coconut sugar instead of refined white sugar. These ingredients offer more in terms of nutrients but it's important to remember it doesn't necessarily mean it's a free pass to eat chocolate torte every day. Essentially, all sugar is sugar. Also, sometimes only the real deal will do so better to have what you really want as an occasional treat as opposed to daily 'healthy alternative' options."
Don't Fixate On Calories
"Try to avoid strict calorie counting if you're watching your weight. Solely looking at calories doesn't account for what you're actually eating and doesn't reflect how satiating or nutritious that food might be. Start by looking at how you feel when you're eating – are you actually hungry? Or are you just bored? Cutting back on snacking and focusing on main meals can help, and try to prioritise protein and healthy fats while reducing refined carbs. However, don't make the mistake of avoiding carbs completely, just opt for good-quality, slow-release carbs, such as root vegetables and wholegrains."
Think About Your Plate
"I try not to impose strict rules when it comes to nutrition but I do advise eating a wide variety of wholefoods, with fresh fruit and vegetables making up the bulk of meals. In an ideal world 60-70% of your plate would be made up of vegetables, with the rest either wholegrains, legumes, or a small amount of dairy or fish."
Stick To a Routine
"I advise sticking to meal times as much as possible. It's really important to maintain some kind of structure at the moment, and for many people that may just be meal times. Three meals a day with minimal snacking, or only snacking when you are actually hungry is best."

Switch Up Your Supplements
"As we're spending more time inside, it makes sense to take a vitamin D3 supplement daily. I am also currently taking a multivitamin, probiotics and ashwagandha, an adaptogenic herb that can help the body cope with stress. However, it's really important to get advice from a registered nutritional therapist before starting a supplement regime, as we are all so unique. You can find one via the BANT website. When it comes to supplements, you really get what you pay for, so buy the best you can afford."
*Features published by SheerLuxe are not intended to treat, diagnose, cure or prevent any disease. Always seek the advice of your GP or another qualified healthcare provider for any questions you have regarding a medical condition, and before undertaking any diet, exercise or other health-related programmes.
 
Shop our edit below to boost your nutrition...