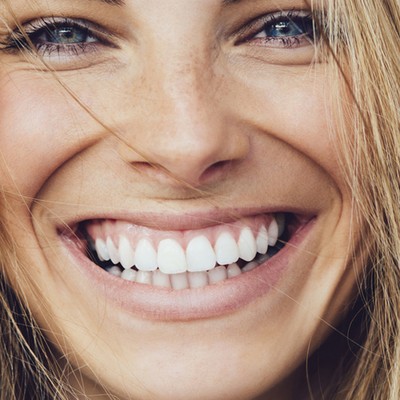 How To Protect Your Smile During Party Season

We're all guilty of indulging a little (or, let's face it, a lot) more than usual during the festive season, and whilst the effects are instantly apparent on the likes of our complexions, it's dangerously easy to cause serious damage to our teeth without noticing – damage that's invisible now, but can be detrimental later down the line. Calendar jam-packed full of parties? Here are the dos and don'ts for looking after your smile…

CREATED IN PARTNERSHIP WITH REGENERATE
What to avoid...
Prosecco
It may be the nation's favourite bubbly, but the bubbles in prosecco have been proven to erode teeth due to their high concentration of phosphoric, malic, citric and tartaric acids that literally 'melt' away enamel, explains Dr Richard Marques from Wimple Street Dental. To make matters worse, prosecco has more sugar per glass than champagne; with around one teaspoon of sugar per serving, it could cause tooth decay too.

White & Red Wine
Red wine has long had a bad rap for discolouring teeth but don't let white wine fool you either. Whether yours is a Pinot Grigio or Chardonnay, the majority of white wines are highly acidic, and that acid can erode the hard outer shell of your teeth (enamel), leaving them more prone to sensitivity and staining. Don't want to give up your favourite tipple? Pair wine with a slice of cheese, which studies suggest can help minimise the damage caused by acid.

Fizzy Drinks
It's no surprise the combination of sugar, acids and carbonation in fizzy drinks is a death sentence for our teeth, with countless studies linking soda consumption with tooth erosion and decay, but did you know diet varieties are just as bad? Most contain an acid that can weaken enamel, but if you can't kick your Diet Coke habit quite yet, be sure to drink it through a straw to limit contact with the teeth.

Ice
Hear us out on this one – ice may just be frozen water, meaning it's 100% sugar-free, but if you tend to chew on your cubes once you've finished your G&T, they can cause damage. Dentists say nibbling on ice is a major no-no as it can easily crack or break teeth, especially if you have veneers.

Multitasking Whilst Brushing
Party season often means a busier than usual schedule, but it's important you don't try to save time on your oral health routine. According to Dr Marques, trying to multitask whilst brushing your teeth can mean they don't get the full cleaning they need. "Make sure you brush for two minutes in front of a mirror so nothing gets missed," he advises. "Any more and you can wear the teeth away, but any less the teeth and gums may suffer."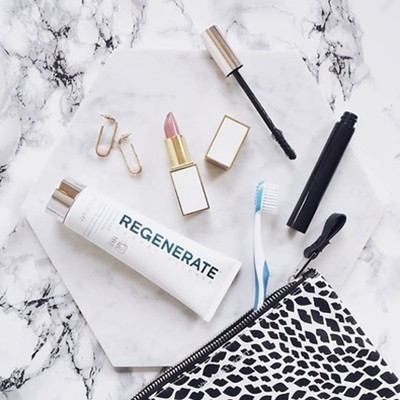 ALL IMAGES: INSTAGRAM.COM/REGENERATE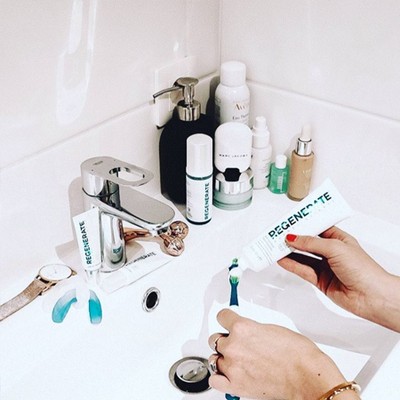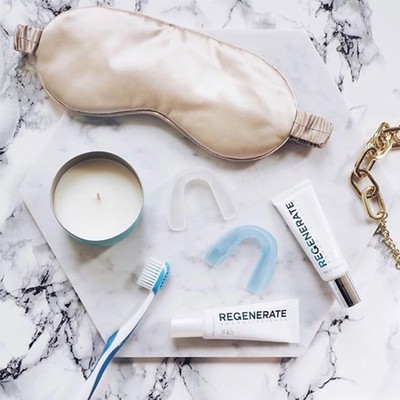 What to do...
Stay Hydrated
When you're dehydrated, your mouth becomes dry and creates a haven for bacteria to multiply rapidly, so take heed of Dr Marques and drink plenty of water throughout the day to keep your oral health tip-top. His top tip? "Make sure you drink through a straw: by doing so the liquid will bypass the teeth, giving you a better chance at avoiding both damage and sensitivity."
Schedule A Check-Up
"No matter how good care you take of your teeth, you should still visit the dentist every six months," Dr Marques tells us. "They can detect problems you might not be aware of and treat them before they become an issue." Even if that six-month mark falls right in the middle of December – don't skip it, as discovering problems, and treating them, early is key to minimising damage.
Use An Enamel-Boosting Toothpaste
Enamel erosion happens to everyone, at all ages – and not just during party season when our prosecco consumption amps up, seeing as even healthy food and drinks can trigger acid attacks (one of the main causes of enamel erosion). Here at SL, we're long-time fans of Regenerate's Enamel Science Advanced Toothpaste, which is clinically proven to regenerate enamel mineral to reverse the early erosion process, along with protecting against cavities, acid and decay. It also leaves breath minty fresh and helps restore teeth to their original whiteness.

Switch Up Your Mouth Wash
This next product has to be one of our favourite recent finds, so if, like us, you're always on-the-go, you'll want to pay attention… Regenerate's Advanced Foaming Mouthwash is seriously innovative – it may be tiny, at just 50ml, but thanks to the new-gen foaming formula, the portable bottle houses up to 50 rinses (that's as many as a regular 500ml bottle of mouthwash!). Keep at your desk or pop in your handbag for freshening up before after-work events. Not only does it deliver fresh breath that lasts, it's also proven to restore enamel mineral and reverse enamel erosion caused by acid attacks.

Try A Targeted Treatment
Have sensitive teeth? Or has your dentist already warned you your enamel is thinning? Regenerate's Enamel Science Boosting Serum Kit is a gamechanger. Use for just three minutes, for three days in a row, once a month to help reverse enamel erosion and strengthen teeth – when used alongside the Advanced Toothpaste, it boosts results by up to 43%. As for how it works, the kit comes with a two custom-fit mouth trays, plus a serum and activator gel – when mixed together, the two products form a fresh supply of enamel mineral (the exact same mineral tooth enamel is made of) which wraps and integrates onto the teeth.
For more information, visit Regeneratenr5.co.uk, and for a chance to win a Regenerate bundle worth over £500, enter our competition now (closes Monday 7th January 2019)
DISCLAIMER: We endeavour to always credit the correct original source of every image we use. If you think a credit may be incorrect, please contact us at info@sheerluxe.com.