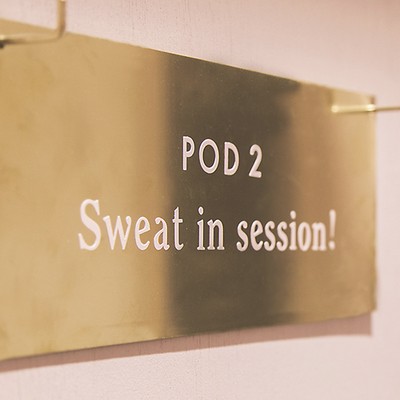 The Instagram-Friendly Wellness Trend That Deserves The Hype

Promising glowing skin, an immune system boost and a rush of endorphins, infrared saunas are having a moment. SL contributor Elizabeth Bennett visited cool new London wellness destination Glow Bar to see what the fuss is all about.

Chances are you've likely spotted Glow Bar on your Instagram feed as of late. With marble coffee tables, blush pink sofas and more plants than your average greenhouse, this wellness destination is perfect double-tap bait. However, this little slice of California tucked behind Oxford Circus is much more than just a photogenic aesthetic.
 
Upstairs you'll find an edit of natural beauty products and wellbeing treats – think crystals and Meghan Markle's favourite adaptogenic powders – and a cafe serving moon milk, acai bowls and raw snacks. But the real highlight? The downstairs spa area with infrared saunas.
 
Tipped as a top trend for 2018 and promising skin, mind and body benefits, I decided to put the infrared sauna to the test.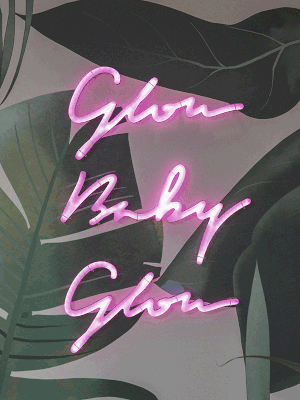 The Experience
Forget the traditional sauna you might find at your local gym; an infrared sauna is a whole different ball game. While a regular sauna uses heat to warm the air, this sauna warms the body directly using a special infrared heater. These rays penetrate the body deeply, raising your core temperature, so prepare to get very hot and very sweaty. However, as the infrared sauna isn't as hot as the original style, you can stay inside longer and reap even more wellbeing benefits.
After eyeing up the decor - and, of course, taking a few snaps – you're led to the cosy changing rooms. Here you change into your robe, slippers and extremely stylish sweatband before being shown to your pod. Once you're in the sauna you can sit or lie down while sipping on your charcoal-infused water (to encourage detoxification) and listening to music or a podcast (pop your phone in the heat protected box). While most people go alone, you can bring a friend or partner and request the bigger sauna.
The session lasts 45 minutes and during this time it gets increasingly hotter until it reaches a scorching 67 degrees. Fear not though, each sauna is in its own private pod, so you can simply open the door or step out for a few moments if it all gets too much. When your time is up, you can make your way to the changing area for a much-needed cooling shower, where Austin Austin shampoo and conditioner, R&Co styling products and hairdryers are on standby. Afterwards, carry on your day as normal but remember to drink lots of water and stay clear of the booze.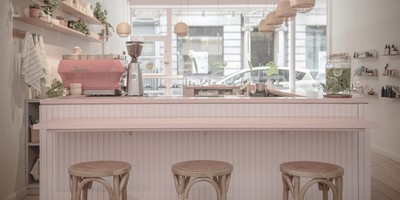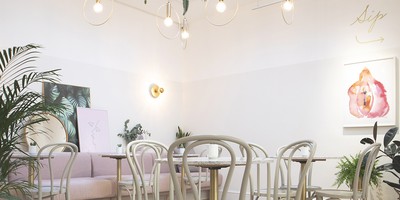 The Benefits
The process of sweating has been used for centuries in cultures from South America to India as a means of healing and the multitude of benefits are pretty impressive. Firstly, this level of sweating increases circulation, detoxification and boosts the immune system – ideal ahead of cold and flu season. Infrared saunas have also been proven to release endorphins in your brain helping to lower cortisol levels (the stress hormone). Yep, you're likely to experience that buzz you get after an intense hot yoga class or hardcore HIIT workout.
It's also a fast track to achieving that glowing complexion we all crave. Infrared therapy stimulates collagen production which means you can expect plumper, smoother and more youthful-looking skin from the get-go. Plus, the 45-minute session helps relax muscles, calm the mind and encourage peaceful sleep for the nights that follow – perfect for the stressed-out Londoner.
The Verdict
Don't underestimate the heat. I was warned that I might struggle as it was my first time, and I certainly ended up having a few breaks during my session. Afterwards you might feel a little light-headed but just keep drinking water and have a cool shower and soon the endorphins will kick in – in fact, I found myself floating through the crowds to the tube (nothing short of a miracle).
Much like I was promised, my skin looked immediately brighter and glowing, an effect that lasted for a good few days. Plus, the night following the session I experienced the best night's sleep I'd had in weeks, bounding out of bed the next morning despite the drizzly weather and impending deadlines.
A great treatment to book in the week before a big event and an ideal way to escape the cold in the coming winter months – I'll definitely be back.
A 45-minute sauna session costs £40, with £15 extra if you want to add on a friend. Visit GlowBarLdn.com for more information
DISCLAIMER: We endeavour to always credit the correct original source of every image we use. If you think a credit may be incorrect, please contact us at info@sheerluxe.com.