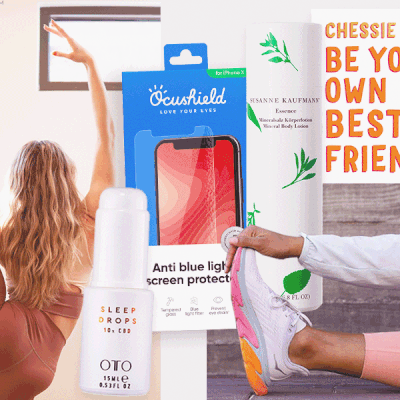 What's New In The Wellness World This Month

From the supplements worthy of a space on your bathroom shelf to the must-try treatment, workout or alternative therapy, here's what you need to know about in the world of health and wellbeing this month…

Bulldog Online Yoga
If the mind-clearing, strength-building aspects of yoga appeal, but the chanting, oms and incense less so, then Bulldog Online Yoga is for you. The latest fitness trend from the US (Gwyneth is reportedly a fan), this is yoga for non-yogis, offering a 'couch to 5k' model equivalent. Unlike traditional yoga, expect dynamic and varied classes with upbeat playlists. Plus, all classes are live, offering a fully immersive experience. Making yoga approachable and accessible, Bulldog is unlike anything you've tried before.
Visit BulldogOnline.com
Kettleboobs
If you're looking for a chic addition to your at-home gym, look no further than Kettleboobs. Offering custom-designed and hand-painted kettlebells ranging from 2kg to 16kg, your workout will never be the same again. Unlike traditional clunky weights, these stylish pieces of kit not only look good, but will also provide endless fitness inspiration, building strength, power and endurance as you go. 
Visit Kettleboobs.co.uk 
Buzzbike
With more of us keen to find an alternative to public transport, Buzzbike is making cycling in the capital easier than ever. From just £29.99 per month, you'll get your very own bike, complete with insurance and on-demand maintenance. If that wasn't enough, membership also gives you significant discounts on essential kit like helmets and weekly rewards such as free coffee for riding your first Monday to Friday commute. Unlike other cycle subscriptions, Buzzbikes' wheels are genuinely stylish and cost-effective, working out at around £1 per day for two 30-minute cycles.
Visit Buzzbike.cc
Be Your Own Best Friend
Refreshingly honest, uplifting and empowering, Chessie King's hotly-anticipated book brings all the positive vibes. Delving into her own battles with mental health, anorexia, partial hearing loss and an undiagnosed heart condition, Chessie shares her story and words of wisdom. A breath of fresh air, this book is for anyone who's ever struggled with their body image, self-confidence, and everything in between. 
Available at Waterstones.com
OTO CBD Sleep Drops
Whether it's the stress of looming deadlines, home-schooling or soaring temperatures that are keeping you awake at night, OTO's game-changing CBD Sleep Drops guarantee a blissful night's sleep. Combining high-strength CBD with functional botanicals such as lavender and chamomile, just half a pipette serves up a bliss-inducing 50mg of CBD, calming even the most frazzled of minds, ensuring a restorative slumber. Take it just before bed for best results.
Visit OTOCBD.com
Ocushield
Did you know the light emitted by screens and lightbulbs is wreaking havoc with your body clock, affecting everything from sleep to weight, mood and immunity? Developed by an optometrist and medically approved by the UK government, Ocushield's screen protectors are a game-changer. Available for your phone, tablet, computers and monitors, the tech will limit blue light exposure by an impressive 90%. 
Visit Ocushield.com 
Susanne Kaufmann Mineral Body Lotion
It's not often a body lotion gets us this excited, but Austrian herbalist Susanne Kaufmann's latest drop is worthy of the hype. Packed with seven mineral salts to detoxify deep muscles, increase cell energy and activate lymphatic flow, this intelligent formula will aid muscle recovery, soothe inflammation and stimulate collagen. Apply to calves and quads after a tough workout and you'll feel the difference. Clever stuff. 
Visit SusanneKaufmann.com
Ki Kefir
Kefir, a fermented milk drink, is prized for its probiotic properties, but not all products are created equal. Made in small batches from 100% grass fed cows in East Sussex, Ki Kefir's produce is organic, sustainable and seriously delicious. Use it as an alternative to yoghurt or in dressings and smoothies for a hefty dose of good bacteria to boost gut health, supercharge the immune system and ease symptoms of everything from IBS to rosacea and arthritis. Either buy a one-off bundle or subscribe for weekly deliveries (London only).
Visit KiKefir.com
Hoka Clifton Edge
If you're in the market for a new pair of trainers, Hoka's latest design won't disappoint. A culmination of the brand's innovation to date, the Clifton Edge will knock a few seconds off your 5K PB thanks to a super cushioned base and cutting-edge tech. Surprisingly light and seriously supportive, this may well be the most exciting pair of running shoes to hit the shelves this year. 
Available from 15th July
Visit HokaOneOne.Eu 
The Grief Gang
Something that's guaranteed to affect everyone at some point in their lives, grief has long been unchartered emotional territory. Fortunately, grief is finally taking up space in the mental health conversation and nowhere more so than the world of podcasts. Hosted by 22-year-old Amber Jeffrey, who lost her mum when she was 19, The Grief Gang aims to normalise the conversation of grief among millennials. A timely collection of heart-hitting interviews offering advice and support, tune in wherever you usually get your podcasts.
Follow @TheGriefGang
*Features published by SheerLuxe are not intended to treat, diagnose, cure or prevent any disease. Always seek the advice of your GP or another qualified healthcare provider for any questions you have regarding a medical condition, and before undertaking any diet, exercise or other health-related programmes.