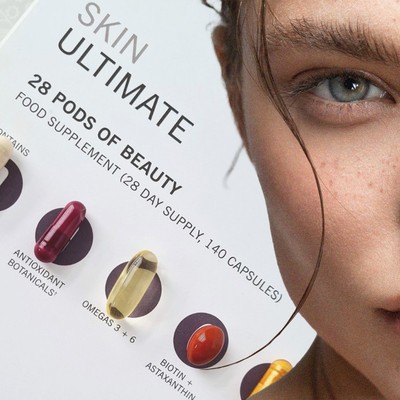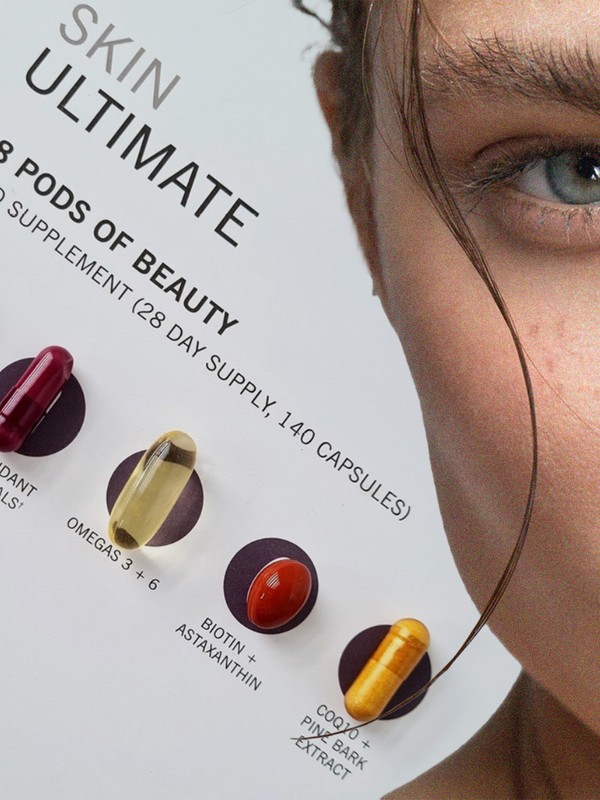 Your Daily Anti-Ageing Facial In A Pod

There's no disputing the fact that good skin comes from within. And, while consuming a balanced and nutritious diet is important, sometimes we all need a bit of extra help. That's exactly what Advanced Nutrition Programme™ offers: its award-winning skin supplement system combines five scientifically developed supplements into a daily programme for brighter, glowing skin. Here's why it's worth a try…

Created in partnership with ADVANCED NUTRITION PROGRAMME™
What's The Smart Supplement All About?
When it comes to supplements, it doesn't get better than Advanced Nutrition Programme™. Its formulas not only use premium ingredients that are backed by clinical trials conducted at their Skin Health Research Centre, but ones that are also highly rated by beauty editors across the globe. Skin Ultimate is no exception. Years in the making, it contains five innovative supplements, including a total of 18 ingredients in one convenient daily dose.
Supplements aren't new, but the latest technology and innovation going into their development is. A unique blend of nutrients, Skin Ultimate targets dull, lacklustre skin, as well as brittle nails, dry hair*** and even the first signs of ageing. First up is the antioxidant capsule, which brings together seven phytonutrients – think green tea, turmeric, grapeseed and lycopene, amongst others – to support the skin's collagen and elastin. There's also a capsule containing vitamins A* and D** with various health and skin benefits, including immune support; Skin Asta-Boost, which combines the power of biotin and astaxanthin; and Skin CoQ10 to supercharge radiance. There's also a dose of omega oils to nourish the skin from within – ideal if you're prone to redness, and dryness. Omegas act like an internal moisturiser for the skin.
By ticking all the health and beauty boxes, Skin Ultimate is the modern vitamin supplement to use for better, healthier skin*. If you're not eating or sleeping as well as you should, chances are it will show up in your skin, and this 360° formula has your back. Plus, if you're someone who loves the idea of supplements but can never remember to take them, Skin Ultimate is one to try. The handy tear-off pods make staying on top of your daily dose easier than ever – simply tear off one of the pods and pop it in your bag. They're great for travelling and busy modern lifestyles. Plus, by providing the complete dose for you, it eliminates the guesswork around what to have and when. Simply take one pop out pod per day with a meal.
I've honestly never had better, clearer or healthier skin and nails.

Advanced Nutrition Programme™ is renowned for its eco-conscious credentials, making it good for the environment and good for your skin. All its packaging is recyclable, and every ingredient used can be fully traced back to its origins. Advanced Nutrition Programme™ also ensures quality. For example, the fish oils used in its omega supplements are rigorously screened for pollutants to ensure only the purest ingredients make it into the final product. In addition, the range is free from any sugars, gluten, artificial sweeteners, or artificial flavours.
For a 28-day supply (totalling 140 supplements), Skin Ultimate is a £72 investment, which works out at just over £2.50 a day. As consistency is key for skin health, there's also the option to set up a subscription, meaning your monthly dose will be sent straight to your door – subscription plans are fully flexible with no fixed contract, and you'll enjoy a saving of 10%.
Want in? Visit AdvancedNutritionProgramme.com
*Vitamin A contributes to the maintenance of normal skin and contributes to the normal function of the immune system
**Vitamin D has a role in the process of cell division and contributes to the normal function of the immune system 
***Biotin contributes to the maintenance of normal hair
DISCLAIMER: Features published by SheerLuxe are not intended to treat, diagnose, cure or prevent any disease. Always seek the advice of your GP or another qualified healthcare provider for any questions you have regarding a medical condition, and before undertaking any diet, exercise or other health-related programme.
DISCLAIMER: We endeavour to always credit the correct original source of every image we use. If you think a credit may be incorrect, please contact us at info@sheerluxe.com.