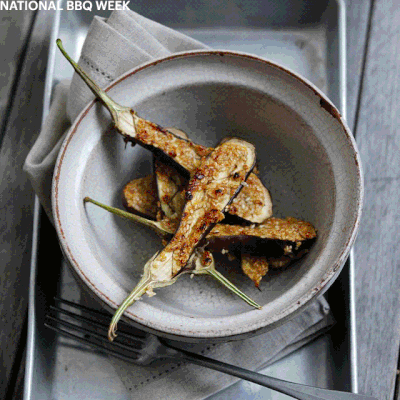 How To Put Together A Delicious Veggie BBQ

BBQ season is in full swing – but if you're not a meat eater, vegetable kebabs can sometimes start to get a bit tedious. From charred asparagus with feta to a grilled peach salad, here's how some of our favourite chefs make their BBQs a little more veggie friendly…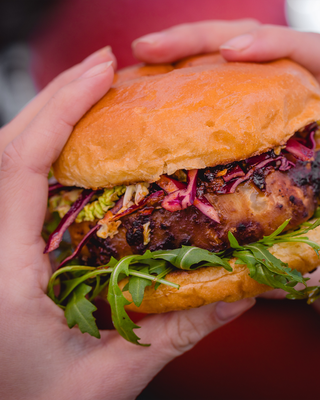 Miso-Glazed Celeriac Burger With Asian-Inspired Slaw: Ben Forte, Kamado Joe
Ingredients
●

1

whole celeriac, peeled
●

1

tbsp

of vegetable oil
For the slaw:

●

¼

red cabbage, finely sliced
●

¼

savoy cabbage, finely sliced
●

½

tsp

of Chinese five spice
To finish:

●

1

tbsp

of Laogonma Chinese crispy chilli (optional, but incredible)
Method
Step 1
1. Mix together the white miso and vegetable oil and smother it all over the whole celeriac, saving a little bit of extra marinade for later. Wrap it in tin foil and allow to sit for at least 2 hours.
Step 2
2. Fire up your charcoal grill until it reaches about 180°C and roast the celeriac in tin foil over an indirect heat for about 1 ½ hours until it has softened throughout.
Step 3
3. In the meantime, make the slaw. Whisk together the dressing ingredients until thoroughly mixed and toss through the finely sliced cabbages.
Step 4
4. When the celeriac has cooked, increase the heat of the barbecue to a searing temperature and set it up for direct cooking. Slice the celeriac into thick steaks and glaze with the remaining marinade. Grill on each side until crispy all over.
Step 5
5. Grill the brioche bun and assemble with the chilli, rocket and your favourite condiments.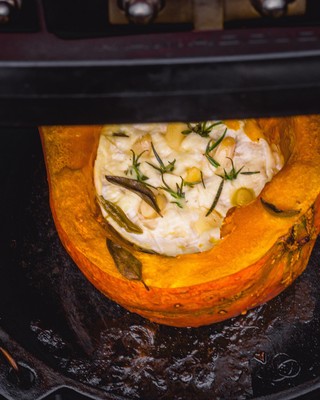 Ingredients
●

1

whole squash or pumpkin
●

4

cloves of garlic, sliced
●

1

small bunch hardy herbs, such as rosemary, sage or thyme
Method
Step 1
1. Set your BBQ to 170°C. Prepare your pumpkin by halving it and scooping out the seeds.
Step 2
2. Pierce slits into the camembert and stuff with garlic slivers and herbs. Drizzle with olive oil. Place inside a dutch oven to prevent the pumpkin from breaking up.
Step 3
3. Cook indirect for about an hour, or until the pumpkin is cooked through and the cheese is melted and bubbling. Eat with toasted crusty bread or your hands – scooping out the soft roasted pumpkin with melted cheese.
Step 4
4. Tip – save a few spoonfuls of pumpkin and cheese to stir through pasta. Along with a little of the pasta cooking water, it will transform into a silky, rich sauce.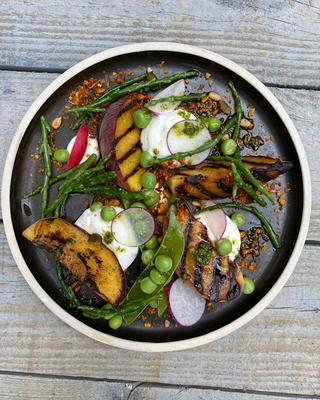 Grilled Peach Salad: Jimmy Garcia, Jimmy's Pop Up
Ingredients
●

1

ripe peach, stone removed and cut into wedges
●

1

small handful of samphire, placed on the BBQ for one minute to soften
For the smoked almond dukkah:

●

100g

of smoked almonds, roughly chopped
●

1

tsp

coriander seeds, bruised in a pestle and mortar
●

1

tsp

cumin seeds, bruised in a mortar and pestle
For the lemon and mint dressing:

●

2

tbsp

of extra virgin olive oil
●

10g

of fresh mint, finely chopped
Method
Step 1
1. Place peaches flesh side down on a BBQ for 2 minutes until blistered.

Step 2
2. Then place all the dukkah ingredients together in a frying pan, and toast until golden and fragrant, but not burnt.
Step 3
3. Transfer the ingredients to a pestle and mortar and grind, but still allowing some texture, not a powder.
Step 4
4. Mix all the dressing ingredients together.
Step 5
5. Top the peaches with the dressing and dukkah and serve.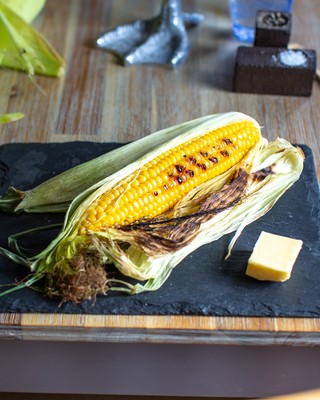 Ultimate BBQed Corn: Mark Hartstone: La Fosse at Cranborne
Method
Step 1
1. For corn that you've peeled or corn on the cob bought from a supermarket, quickly place them in a pan of water first. Blanch the peeled corns in boiling unsalted water for 1 minute, then refresh afterwards in cold water.
Step 2
2. Before cooking them on the BBQ, put the corn neatly in a rack.
Step 3
3. To cook in a rustic manner, leave the skin on and cook on the grill till the outer leaves are well and truly charred. The inside will be juicy with a hint of smoke. Finish with a good dollop of butter and sprinkling of Dorset chilli sea salt for a slight kick.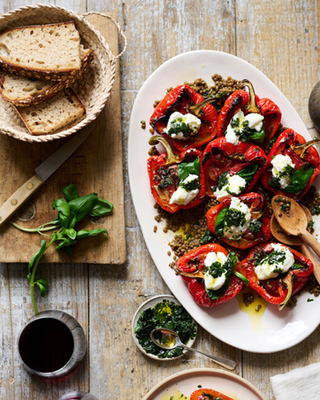 Pepper Piedmontese: Skye Gyngell, Spring
Ingredients
● Sea salt and freshly ground pepper
●

4

garlic cloves, peeled and finely sliced
●

6

good-quality tinned anchovies in oil, drained and finely chopped
●

2

tbsp

of extra virgin olive oil
● Mozzarella or goats' cheese (optional)
To make the basil oil:

●

100ml

of extra virgin olive oil
Method
Step 1
1. Place a large pot of salted water onto boil. Using a small paring knife, remove the core from each tomato and mark a small cross on the base. Drop the tomatoes into the boiling water. The skin will quickly curl back at which point remove them from the water and set aside until they are cool enough to handle.
Step 2
2. Pre-heat the oven to 180°C. Halve the peppers lengthwise and remove the core, seeds and white pith. Lay the pepper halves skin side down in a shallow baking tray that will hold them comfortably.
Step 3
3. When the tomatoes are cool enough to peel, cut in half and remove the skin and seeds. Roughly chop the flesh. Tear the basil leaves into pieces.
Step 4
4. Fill the pepper halves with the pieces of tomato, garlic slices, basil and anchovies. They should be generously filled. Drizzle with olive oil. Season lightly with salt and pepper and bake on the middle shelf of your pre heated oven for 35 minutes or until the peppers are soft and slightly blackened around the edges but still holding their shape.
Step 5
5. Remove from the oven and allow to cool to room temperature.
Step 6
6. To make the basil oil, remove the basil leaves from their stalks and place in a food processor, add a good pinch of salt and drizzle the olive oil in through the funnel at the top. It should be sludgy, very green and aromatic.
Step 7
7. Simply arrange the peppers on a big serving plate and spoon over the basil oil. For a heartier dish, serve the peppers on a bed of lentils.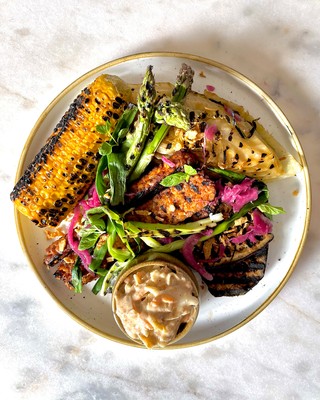 BBQ Platter: Zak Carey, Erpingham House
Ingredients
For the aubergine:

●

2tbsp

of black miso paste
For the asparagus:

●

1

large bunch of asparagus
For the jerk slaw:

●

1

large carrot, finely sliced
●

1

tbsp

of jerk seasoning
For the smokey tempeh ribs:

●

1

tbsp

of smoked paprika
●

2

cloves of minced garlic
●

250g

of tempeh, cut into strips
Method
Step 1
1. To make the aubergine, mix the black miso and agave. Slice the aubergine, score the slices of aubergine on both sides and rub into the miso. On a hot griddle, char the aubergine for 90 seconds per side.
Step 2
2. Click the woody ends from the asparagus and cook in boiling salted water for no longer than 45 seconds. Drain and put immediately into a bowl of cold water (a few ice cubes will help). Dry the asparagus off and place onto a hot griddle for 20 seconds a side, or until you get some nice dark charring.
Step 3
3. Cut the hispi cabbage into 4. Cover each piece with butter, fresh garlic and salt and pepper. Place in a roasting tin and cover half-way with apple juice then cover with tin foil. Cook for 25 minutes on 200°C, then remove the tin foil and baste with the apple juice. Return to the oven for a further 15 minutes so the apple juice starts to reduce and turn into a syrupy glaze. Remove from the oven and give the quarters one final baste with the syrup. Place the quarters onto the hot griddle to achieve nice char marks all over.
Step 4
4. In a mixing bowl, grate the carrot, onion and white cabbage. Add 1 tbsp of jerk seasoning and 1 ½ tbsp of mayo. Mix together thoroughly.
Step 5
5. Char the pre-cooked corn on all sides of the griddle, then brush with melted garlic butter.
Step 6
6. In a bowl, all the ingredients for the tempeh marinade, then coat the tempeh with the marinade. Leave to marinate in the fridge for a minimum of an hour. Once done, cook in the oven on 180ºC for 15-20 minutes. When you're ready to serve, finish them on the griddle.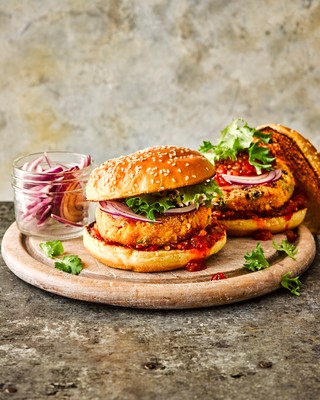 Sweet Potato Burger With Sweet Pepper Relish: Tracklements
Ingredients
●

3

tbsp

of Tracklements Sweet Pepper Relish
●

½

tbsp

of ground coriander
●

170g

of tinned sweetcorn, drained
●

1

small bunch of coriander, roughly chopped
● Sea salt and black pepper, freshly ground
● Lettuce, as much or as little as you wish
Method
Step 1
1. Heat the oven to 200°C/Gas Mark 6. Pierce the sweet potatoes, place on a baking tray and bake for 45 minutes until really soft. Remove from the oven and leave to cool.
Step 2
2. Scoop out the flesh of the potato and put in a bowl. Add 3 tbsp of the relish. Mash together with the cumin and ground coriander, sweetcorn, fresh coriander and half of the polenta and season to taste.
Step 3
3. Shape the mixture into 10 burgers. The mixture will be quite soft. Carefully dip each one into the remaining polenta and dust off any excess. Place burgers on oiled baking trays and chill for at least 30 minutes.
Step 4
4. When the flames on the BBQ have died down to white embers, place a large, well-oiled non-stick frying pan or sturdy baking tray on top of the bars. Cook the burgers in the pan or on the tray for 10 mins each side until nicely browned.
Step 5
5. Serve in buns halved and warmed on the barbie just to add a bit of smoky flavour, pop a burger into the bun, top with relish, a slice of red onion and lettuce.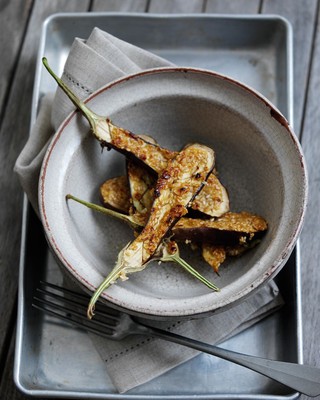 Miso, Mustard & Sesame Aubergines: Brian George, Founder of National BBQ Week
Ingredients
●

1

garlic clove, crushed
●

1

tbsp

of soy sauce and cider vinegar, mixed together
●

20g

of toasted sesame seeds
Method
Step 1
1. Mix the miso paste, honey, mustard, ginger, garlic, soy, vinegar and half the sesame seeds.
Step 2
2. Cut aubergines length-wise then cross-cut flesh; brush the scored side with half the miso mix.
Step 3
3. Place on a medium grill, cut face-down to sear then turn and baste with remaining miso mix, turn frequently until charred all over, about 15 minutes.
Step 4
4. Set aside to cool for around 5-10 minutes, then serve.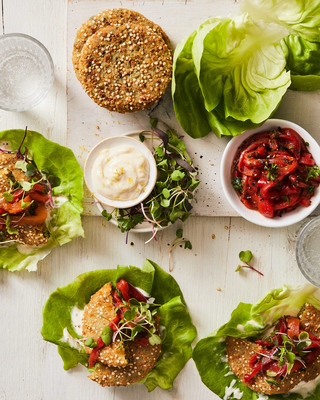 Pumpkin & Spinach Burgers, Strong Roots
Ingredients
●

4

Strong Roots Pumpkin & Spinach burgers
●

1

jar of roasted red pepper, sliced.
●

4

small handfuls or

4

large kale leaves; massage with some olive oil for a couple of minutes to soften.
●

1

small red onion, thinly sliced.
Method
Step 1
1. Preheat your oven to 200°C and cook the burgers according to packet instructions.
Step 2
2. Assemble burgers with kale on the bottom, tzatziki, red pepper and red onion on top.
Step 3
3. You can whip up your own tzatziki using dairy-free yogurt, diced cucumber, a little garlic and olive oil. Season to your own taste with salt and pepper.
Step 4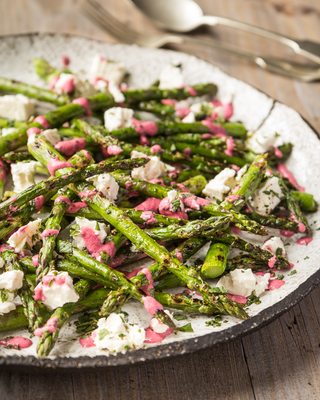 BBQ Asparagus With Feta & Beetroot Dressing: British Asparagus
Ingredients
●

125g

of cooked beetroot
●

2

tbsp

of crème fraîche
●

1

small clove garlic, roughly chopped
●

2

bunches of asparagus, trimmed
● Salt and freshly ground black pepper
●

100g

of feta cheese, crumbled
●

1

handful of mint leaves, chopped
Method
Step 1
1. To make the dressing, add the beetroot, yogurt, creme fraiche and garlic to a deep jug and pulse to a smooth sauce with a stick blender. Season to taste with a little salt and freshly ground black pepper.
Step 2
2. Tip the asparagus into a mixing bowl and drizzle over the olive oil, seasoning with a little salt and freshly ground black pepper. Spread out on the BBQ and cook for about 5-6 minutes, turning regularly until lightly charred and just tender.
Step 3
3. Scatter the asparagus over a serving platter and drizzle over the dressing. Sprinkle over the feta and the mint and serve straight away.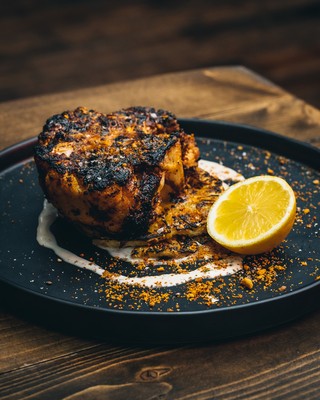 Jerk Cauliflower & Pineapple Salsa: Lewis Spencer, Hotbox
Ingredients
For the pineapple salsa:

●

1

pineapple, sliced and grilled
●

1

cup of cashews, toasted and crushed
●

¼

cup of coriander, chopped
For the coconut yoghurt:

●

1

cups of coconut yoghurt
For the fresh jerk:

●

1

cup of pineapple juice
●

1

cup of apple cider vinegar
●

¼

cup of toasted cumin seed
●

¼

cup of toasted coriander seeds
Method
Step 1
1. Remove the outer leaves of the cauliflower and slice it in half down the middle. Then cap the top of each half to make two steak looking pieces
Step 2
2. Mix the jerk marinade with the yoghurt and smear half the mixture over each steak making sure to get it in all the cracks of the florets
Step 3
3. Place the steaks on a medium-heat BBQ and allow the steaks to slowly roast and cook over the coals approximately 10-15 minutes a side. Then baste with more yogurt, give a squeeze of lime and allow to rest in a warm area of the BBQ.
Step 4
4. Make your salsa: toast your cashews in a pan on the BBQ. Slice your pineapple into 1cm slices and grill on the BBQ until charred, then dice into 1cm cubes. Chop up your cashews along with coriander, ginger and garlic and chillies and mix up with the other ingredients allowing, 5 minutes to let the flavours gel together
Step 5
5. Assemble your steak on the plate accompanied with a dollop of yoghurt and a pile of pineapple salsa.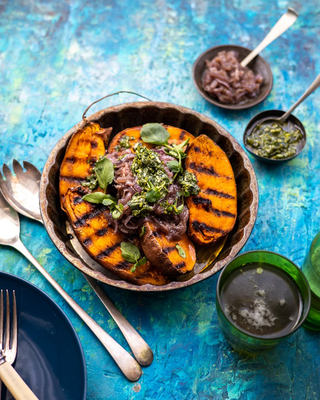 Charred Sweet Potatoes With Caramelised Onions: Watercress.co.uk
Ingredients
●

4

medium sweet potatoes, sliced in half lengthways
●

½

tsp

of cracked black pepper
For the caramelised onions:

●

6

medium brown onions, finely sliced
For the watercress chutney:

●

4

tbsp

of cider vinegar
To serve:

● Crème fraiche and chilli flakes
Method
Step 1
1. Preheat the BBQ. Cut slashes in the cut sides of the potatoes and rub with the olive oil before sprinkling with salt and pepper.
Step 2
2. Lay cut side down, on the opposite side of the BBQ from the coals and cover with a lid. Allow to smoke for 1 hour before turning and cooking for 30-45 minutes more or until completely tender and smoky.
Step 3
3. Meanwhile place the onions and the butter in a large saucepan. Set the heat to medium and cover with a lid. Allow to cook, stirring every 5 minutes for 30-40 minutes. The onions will release their own juices and begin to caramelise. If they begin to stick, add a little of the measured beer.
Step 4
4. Add the beer and increase the heat. Allow to bubble and reduce for 20 minutes or so, until the beer has evaporated, and the onions are sticky. Set aside.
Step 5
5. For the chutney, blitz all the ingredients in a food processor until combined with some texture.
Step 6
6. Serve the potatoes, covered in the sticky onions, a drizzle of chutney and some crème fraiche and chilli flakes if liked.
DISCLAIMER: We endeavour to always credit the correct original source of every image we use. If you think a credit may be incorrect, please contact us at info@sheerluxe.com.