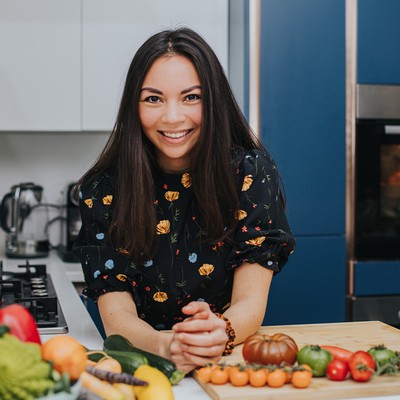 My Week On A Plate: Natasha Evans

Natasha Evans's struggles with gut health as a teenager led her to train as a nutritionist. Today she's one of London's go-to experts for sensible, fad-free nutritional advice, and a specialist in IBS and the gut microbiome. From savoury breakfasts to curries and creative ways with veg, here's what she eats in a week. 

MONDAY
BREAKFAST: Every morning starts with getting outside – it's the most impactful thing you can do for your health. Exposing your eyes and skin to daylight supports your circadian rhythm, encourages vitamin D production and primes your mood and energy levels. I wait until mid-morning to eat breakfast – an organic egg with celeriac remoulade and crispy Parma ham. It's important to give your breakfast some thought as what you eat sets your blood sugar response for the rest of the day, thereby influencing your appetite, cravings, energy levels and focus. Try to incorporate healthy protein and fats – and great if it's plant based. I also enjoy a cortado – my favourite type of coffee.
LUNCH: Most weeks, I buy a whole organic chicken and dice it up to use for various meals throughout the week. I start the week by using some of the meat for a green curry, which I make with aubergine, sugar snap peas, mange tout and baby sweetcorn. My mum is Thai, so I grew up with proper Thai food, which I love. I serve the curry with wholegrain rice and some prik nam pla on the side – a tangy, sweet, salty and spicy traditional Thai dipping sauce. I only learnt how to make it recently and it reminded me how emotive food is – it takes me back to holidays in Thailand as a child. Even as a nutritionist, I believe food isn't just for nourishment – it's for pleasure, connection and making memories. 
SUPPER: Dinner is a bowl of dhal leftover from the weekend, which I serve with roasted sweet potato, grilled mushrooms and shallots and a coriander and lime gremolata. I aim to eat at least 30 different plant varieties every week, as research shows this is the secret to a healthy and balanced gut microbiome. I also have a glass of lemongrass kombucha (I love L.A. Kombucha) and Montezuma's mint dark chocolate for pudding.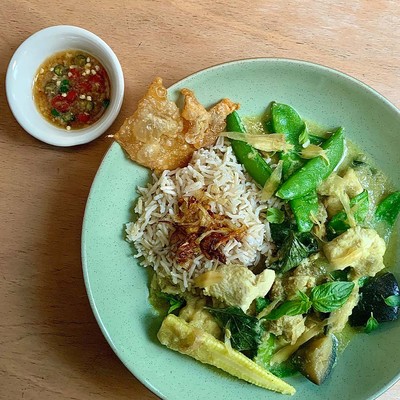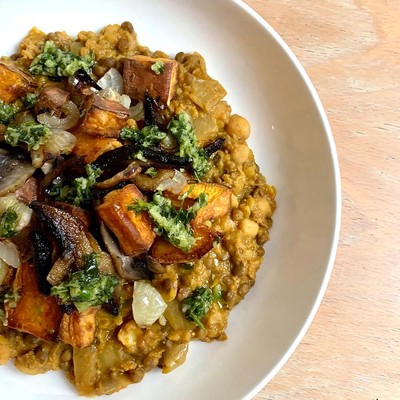 TUESDAY
BREAKFAST: It's eggs and celeriac remoulade again this morning. Celeriac is in season, and I have lots to get through after a recent trip to my local farmers' market. I use live yoghurt, rather than mayonnaise, when making remoulade, which provides a boost of bacteria. Meanwhile, Parma ham is the healthiest option of all of the deli meats – it's always free from nitrates and preservatives as the Parma ham producers made a collective decision in 1993 to only cure their meats using salt.
LUNCH: There is still quite a bit of curry leftover from last night, so I have a bowl of that as well as a madeleine from Gail's as I fancy a sweet treat.
SUPPER: A bone broth has been bubbling away all day on the hob using the carcass and bones from the chicken, and I use this to make a miso ramen, a dish which works particularly well with homemade stock. I serve this with a soft-boiled Clarence Court egg, bamboo shoots, brown rice noodles, nori seaweed, enoki and shiitake mushrooms, sweetcorn, spring onion, pak choi and toasted sesame seeds. Miso is a fantastic, fermented food and I try to use unpasteurised miso where possible, which means all the live bacteria are still intact.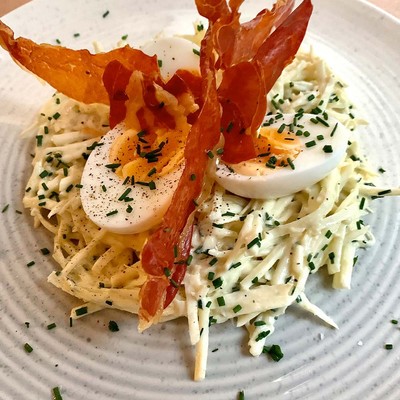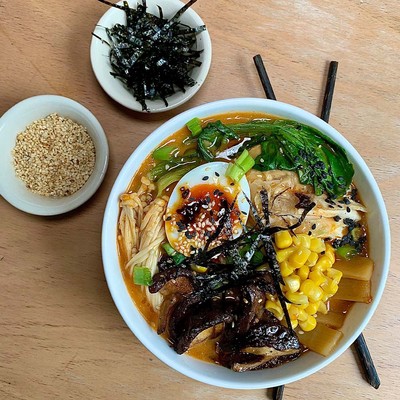 WEDNESDAY
BREAKFAST: I switch things up and have a bowl of porridge this morning. Porridge isn't something I tend to have often; when it's not prepared correctly it can spike blood sugar. To reduce the blood sugar spike, try adding healthy fats and protein to your porridge, such as ground flaxseed, chia seeds and nut butter, or live yoghurt or a good-quality protein powder. You can even add an egg to your porridge during the final minutes of cooking – don't knock it till you've tried it. I serve my porridge with stewed organic British apples. Stewing apples releases a fibre called pectin that can be beneficial for gut health.
LUNCH: Another bowl of Thai green curry. I stir through some additional green vegetables for more nutrients.
SUPPER: I cook my fiancé James and myself organic salmon with roasted Hokkaido squash and Brussels sprouts, baked celeriac fries and sauteed, garlicky rainbow chard. I top all the vegetables with tahini, lemon juice, extra virgin olive oil, black sesame seeds, red chilli and spring onion. I try to eat two to three portions of oily fish per week to get my omega-3s in, which are so important for brain, eye, heart and bone health as well as being a wonderful anti-inflammatory. I do love wild salmon, but it can be expensive, so often have mackerel or tinned sardines, which are much more affordable and still just as healthy.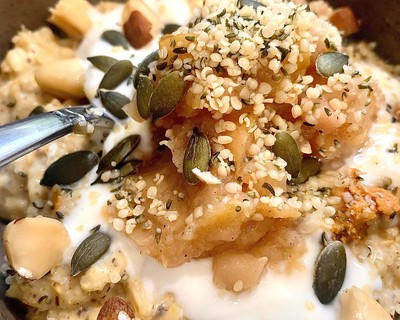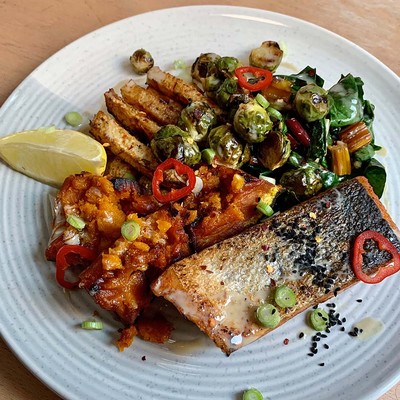 THURSDAY
BREAKFAST: Breakfast today is sourdough with eggs, kimchi, avocado and some leftover vegetables. This combination provides plenty of healthy fats and protein to keep me going until lunch. Avocado is a fantastic source of monounsaturated fat and emerging research is highlighting its benefits for gut health. I've scaled back my avocado consumption after learning about the issues with its farming, but there are retailers that put more effort into sustainable and ethical sourcing, such as Riverford.
LUNCH: I am in Soho for meetings this afternoon so I pick up something on-the-go – a fish finger wrap from Leon. After my meetings, I head to the pub to meet friends for a glass of wine.
SUPPER: James was on dinner duty tonight, so I come home to his world-class carbonara. We also have sticky toffee pudding and custard for dessert.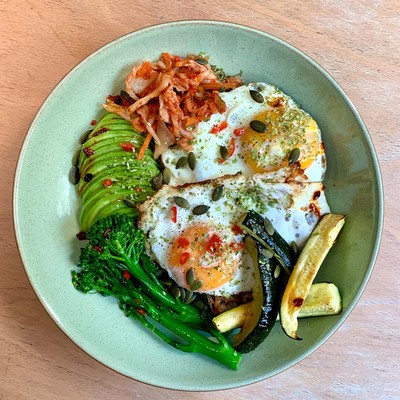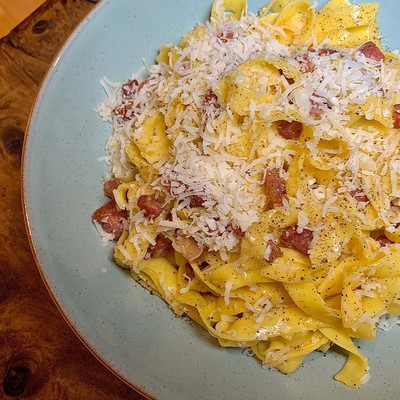 FRIDAY
BREAKFAST: I have a busy day today of discovery calls, client catch-ups and research, so I head out first thing to buy a pastry. I have a pastry every week – it's one of my non-negotiables. I'm always on a quest to find the best pastries in London. I'm currently obsessed with Popham's. 
LUNCH: In general, I eat warm food in the winter and cooler foods in the summer – it's what our bodies naturally want. Today, however, I fancy picking at a few things for lunch, so rustle up a spread – steamed artichoke with homemade garlic butter, crudites (including in-season red chicory and British Chantenay carrots) with homemade hummus, tinned Fish4Ever sardines and some olives.
SUPPER: I head to a girlfriend's house for the evening and it's cheese and red wine on the menu. I'm a big fan of red wine – it's my tipple of choice, and I'm enjoying the wide range of biodynamic natural wines that are available these days. I also love traditional, unpasteurised cheese. Both red wine and traditional cheeses can support gut health so long as they are in the right quantity.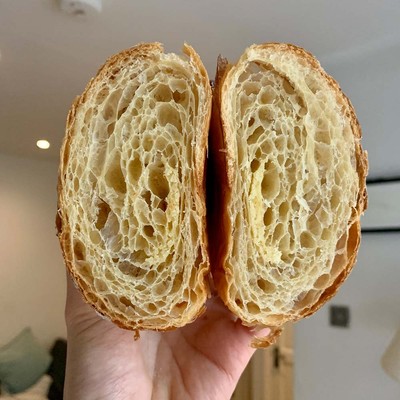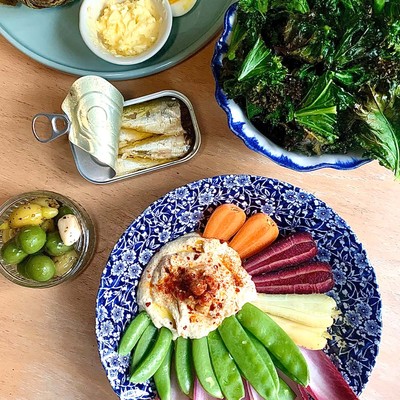 SATURDAY
BREAKFAST: I quickly fry an egg and serve it with Eaten Alive kimchi and Clearspring Nori Flakes before my final client calls of the week. After my calls, I make my three-ingredient gluten-free banana pancakes using up over-ripe bananas, oats and eggs. 
LUNCH: I meet a friend for lunch at Mangal II in Dalston. I've been meaning to come here for ages, and it doesn't disappoint. We have Cornish shrimps, a brown crab pide, turbot with butter beans, a wild mushroom borek and a bitter green salad. My favourite dish is a cold grilled onion salad – it was delicious. For pudding, we share a tahini tart with hazelnut cream.
SUPPER: I'm really into squash this year – there are so many different varieties, and the options are endless when it comes to recipes. I have a kabocha squash in the kitchen so use this to make a Penang noodle squash curry. It's delicious, nutritious, surprisingly easy and very filling.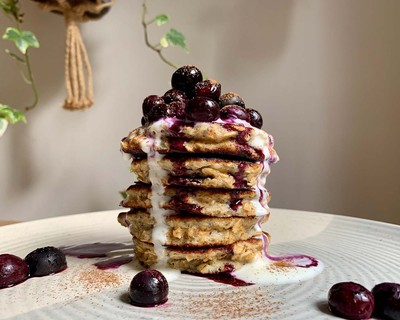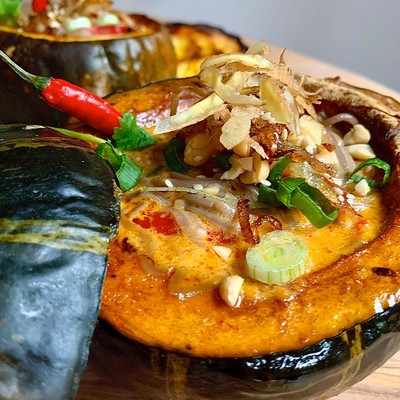 SUNDAY
BRUNCH: Every weekend, I visit a local farmers' market to set myself up for the week. We stock up on eggs, seasonal veg, squash, meat, yoghurt, sourdough and microgreens. I like to make sure the majority of my diet is seasonal, as that's how our bodies were designed to eat. A lazy Sunday is perfect for rustling up a full English, which is what I do today. I buy the best quality sausages I can find, and serve these with nitrate-free bacon, Clarence Court eggs, and a nice selection of good quality veg.
SUPPER: James is in charge of dinner this evening and he grills some delicious grass-fed steaks. Unprocessed red meat is packed with bioavailable nutrients such as iron, B12 and zinc. Grass-fed meat is even better for you as it contains considerably more omega-3s. We have our steaks with roasted vegetable ratatouille – a big batch to provide us with lunches for the new week.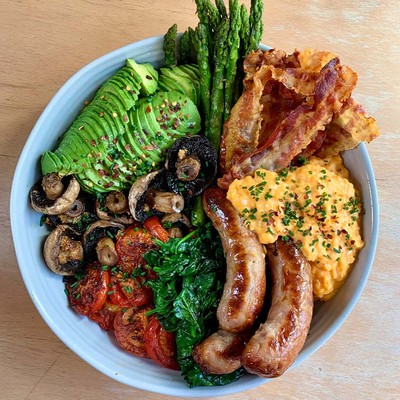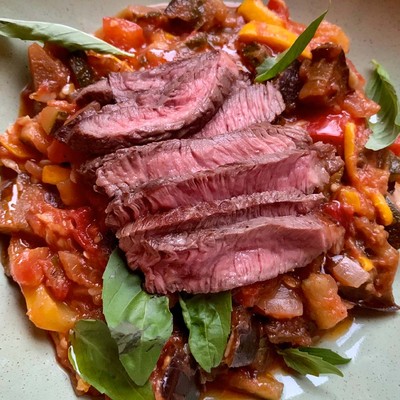 For more, visit NeNutrition.co.uk and follow @NeNutrition.
DISCLAIMER: Features published by SheerLuxe are not intended to treat, diagnose, cure or prevent any disease. Always seek the advice of your GP or another qualified healthcare provider for any questions you have regarding a medical condition, and before undertaking any diet, exercise or other health-related programme.
DISCLAIMER: We endeavour to always credit the correct original source of every image we use. If you think a credit may be incorrect, please contact us at info@sheerluxe.com.