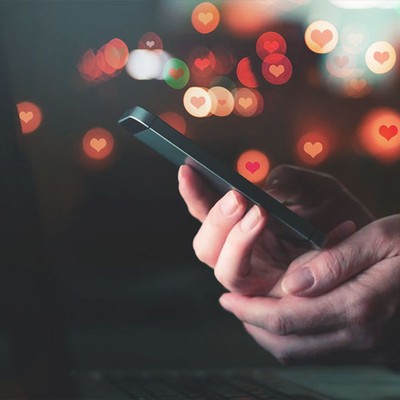 This Dating App Is 'Tinder For Threesomes'

With a third of men stating a threesome with their girlfriend is their ultimate sexual fantasy (in a recent study by Cosmo, that is), it's no wonder apps that help couples hook up are on the rise. The most popular, Feeld, has over 2m members – but what may come as a surprise is that almost half of its users are women…

Dubbed 'Tinder for threesomes', Feeld was the first dating platform allowing couples and singles to match up with one another. But it wasn't only the swiping interface that led to comparisons – the British app originally launched in 2014 under the name 3nder (pronounced 'Thrinder') which led to a lawsuit from Tinder, who claimed they had violated their trademark.
The legal dispute didn't hamper Feeld's success, however – after a name change in August 2016, the app has continued to grow at a rate of around 65% year-on-year, and now has over 2m members worldwide. It's also ditched the swiping feature, for what Founder and CEO Dimo Trifonov describes as a "smarter", "boutique"-style alternative – perhaps best compared to the likes of new-gen dating app Hinge, which swapped out 'superficial' swiping for comments and likes.
"Swiping is dead," Trifonov told Yahoo Finance last year. He believes due to the glut of liking-and-disliking dating apps on the market, which he describes as "judgemental", people are now looking for a "more human way of connecting".
To give users even more of a 'personal' experience, Trifonov recently launched Feeld Social – real-life dating events held in exclusive London hotels and members' clubs. They're open to couples, 'throuples' (people in a three-way relationship) and singles, and involve quick-fire speed dating rounds and games of truth or dare. Then there's Feeld Experiences – a series of talks examining sexuality, gender and race. So far transgender model and activist Munroe Bergdorf, psychotherapist and bestselling psychosexual author Adam Phillips and Janet W Hardy, the provocative American sex educator and BDSM purveyor, have all hosted evenings.
It's all part of Feeld's mission to create an "inclusive space" where the curious and open-minded can come together in a "non-judgemental" and "responsible" environment – most likely the reason its userbase is so female-heavy. Unlike other dating apps, where male users massively outweigh the opposite sex, Feeld boasts 40% active women users – many of which are singles (couples make up just over 25% of all members).
So what's it like using the app? Beth*, a 28-year-old masters student living in London, told SL she's had an "amazing" experience so far – meeting up with two couples since she joined Feeld as a 'single' member this summer, one of which she now has a regular relationship with.
"I used to find couples to join for threesomes through Tinder – quite a lot of people on there have 'couple' profiles, which technically isn't allowed, but that doesn't stop them," she said. "But Feeld makes it so much easier – you don't have to swipe through hundreds of photos to find people wanting the same thing as you."
Beth also reveals the app allows users to add their 'interests' and 'desires' to their profiles. "It's ideal," she said. "You can find out if people are into the same things as you before you match – it saves you so much time, and those awkward initial conversations. I'm into bondage – but nothing extreme, so it feels safer knowing the couples I'm meeting are on the same page."
With the sextech industry now worth over $30bn and growing 30% per year – outpacing even high-growth tech sectors like drone manufacturing – Feeld is keen to cash in. Championing transparency, the app isn't affiliated with a third party or larger corporation, but has launched a new paid membership option. Similarly to Tinder Gold and Bumble Boost, Feeld's Majestic Membership allows users to see when someone wants to connect with them – before they match. Majestic members can also check when other users were last online, and hide their profile from any Facebook friends who might happen to be on Feeld too.
Jessica*, a 36-year-old legal professional from South Carolina, told US publication Vox that she wouldn't have joined the app if not for the discretion the paid-for service provides. Due to her field of work and the fact that she lives in a small town in a conservative state, she didn't want her precise sexual desires to be public knowledge.
She revealed the freedom of using the app without fear of being exposed introduced her to people and experiences she never would have had otherwise: "I hooked up with two guys separately that were younger than my age range, so I would not have seen them if I had not paid for the app and saw that they liked me first – they were fun times."
And she also discovered a few surprises about the people in her town... "Lots of guys that I would not think were into kink were on the app," she said. "It just goes to show you don't know what goes on in other people's bedrooms and not to judge a book by its cover. It has made me more open and exploratory in my own sex life."
 
*Names have been changed
 
DISCLAIMER: We endeavour to always credit the correct original source of every image we use. If you think a credit may be incorrect, please contact us at info@sheerluxe.com.