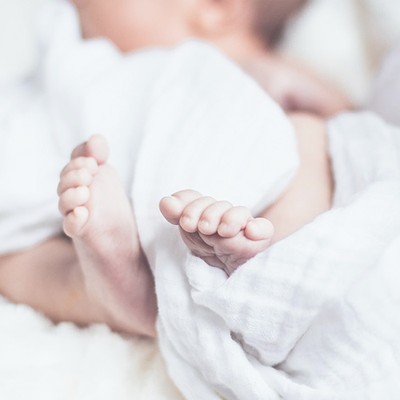 These Are The Most Popular Baby Names In The UK

An official list of the UK's most popular baby names of 2017 has been released, and – no surprises here – Oliver and Olivia are still topping the boys' and girls' charts. More noteworthy is that traditional names like Sarah have dropped out of the top 100 for the first time in over a decade, with the likes of Hunter and Aurora taking their place…

The Office for National Statistics has revealed the names most commonly given to babies born in Britain last year – so has yours made the list?
Oliver is still the most popular first name for baby boys born in England and Wales, a position held since 2013; while Harry and George (both royal favourites) have remained in second and third places respectively since 2016.
Leo replaced Thomas in the top ten for boys (its first ever appearance in the top ten), whilst Hunter (appearing for the first time in the top 100 since records began) and Ralph (which last appeared in 1944) replaced Aaron and Jasper in the top 100.
 
The top 10 baby names for boys in 2017…
1. Oliver
2. Harry
3. George
4. Noah
5. Jack
6. Jacob
7. Leo
8. Oscar
9. Charlie
10. Muhammad
 
And when it comes to baby girls, Olivia remained the most popular first name in 2017, a position held since 2016; Amelia remained in second place and Isla moved up to third.
Poppy replaced Jessica in the top ten for girls; whilst Aurora, Orla, Edith, Bonnie, Lyla and Hallie replaced Lexi, Zoe, Maddison, Sarah, Felicity and Lydia in the top 100. This is the first time these names have made it into the top 100 girls' names, except Edith (which last appeared in 1934).
For girls, names ending with the letter 'a' are incredibly popular right now (with 70% of the top ten names ending with the letter 'a').
The top 10 baby names for girls in 2017…
1. Olivia
2. Amelia
3. Isla
4. Ava
5. Emily
6. Isabella
7. Mia
8. Poppy
9. Ella
10. Lily
 
While Olivia was the most popular girls' name throughout the whole of England and in Wales, for baby boys Oliver was beaten by Muhammad in London, the West Midlands, and Yorkshire and The Humber, with Harry the most popular name in the North East.
Unusual names are also proving more popular than ever – with over 9% of babies born in Britain last year (63,000 out of 679,106) being given completely unique monikers. But the trend for uncommon names isn't stopping parents calling their children the same thing as their pets – Poppy and Charlie feature in both top ten baby names and top ten dog name lists (give it a few years and we're predicting a lot of confusion at the park).
And when it comes to names declining in popularity, most of the top ten baby names from the past ten years have all dropped down the chart, with the monikers Thomas, Daniel, Ruby, Grace, Jessica and Chloe all given to at least 50% fewer babies in 2017 than in 2007.
New research from parenting resource Bounty, released last month, has also revealed a list of 20 formerly popular names that are set to disappear from the chart altogether by next year.
The girls' names likely to become extinct are…
1. Cecelia
2. Bridie
3. Bonny
4. Cecily
5. Mimi
6. Aubrie
7. Mika
8. Roxanne
9. Alora
10. Kourtney
 
And the boys' names…
1. Jago
2. Macauley
3. Leroy
4. Guy
5. Fabio
6. Soren
7. Arnold
8. Carl
9. Ivor
10. Marcos
 
If you really want a unique name for your child (without going down the 'Apple' route), then these are the ones to go for.
 
DISCLAIMER: We endeavour to always credit the correct original source of every image we use. If you think a credit may be incorrect, please contact us at info@sheerluxe.com.