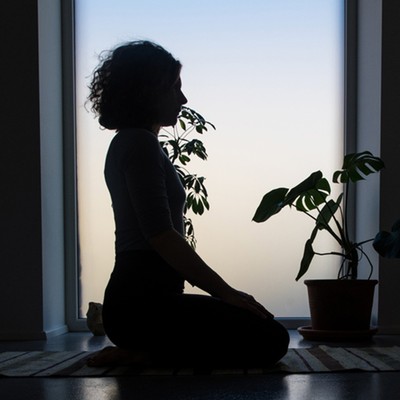 Yoga For Sleep: 7 Bedtime Tips To Try

Do the right kind of yoga at the right time and you can calm a busy mind, improve the quality of your sleep or even combat insomnia. We went to five of the wellness world's most revered names to discover their top tips for evening yoga – try some of these tonight for a blissful eight hours…

All products on this page have been selected by our editorial team, however we may make commission on some products.
Swap Vinyasa For Yin
If you're looking to wind down after a busy day, try yin yoga, says Laura Dodd, certified yoga and meditation teacher and founder of The Yoga Class. "Yin yoga – or restorative yoga – can be a powerful antidote to our busy lives, as well as stress and anxiety, which impact the parasympathetic nervous system that's responsible for rest, energy conservation and slowing the heart rate. Getting into a bedtime routine that includes this style of yoga can signal to the body that it's time to relax, let go of the day and promote conscious rest, deep relaxation and a more meditative state." In a vinyasa class, you'll hold a pose for around five breaths, but when doing yin, you can hold a posture for three to five minutes – the perfect amount of time to engage the parasympathetic nervous system, Laura says.
Avoid Certain Poses
It makes sense that a fiery HIIT class done too close to bedtime will keep you awake, but the same goes for certain yoga poses, says Laura. "It's all well and good wanting to do yoga in the evening, but avoid anything dynamic or fast-paced. At the same time, try to avoid energising backbends and heart openers, as these can raise the heart rate and trick your body into thinking it's waking up, not trying to wind down."
Master Your Breathing
"The breath is such a huge part of yoga and one that's often overlooked when it comes to relaxation," adds yoga teacher Minnie Samengo. "The breath helps you to go deeper into a pose and acts as a vehicle to bring you into the present. Things like stress, worry and anxiety live in the past or future (basically things that have either happened or things we can't control), and we often miss the precious things in front of us. Breathing deeply will give you the chance to slow down, feel grounded and connected after a busy day, allowing you to unwind both physically and mentally. So many of my clients say how much deep breathing has improved their quality of sleep." If you struggle to fall asleep, Minnie also recommends trying a forward fold. "Remember, you are only ever five conscious breaths away from calm. A forward fold helps you switch into your parasympathetic nervous system – so try it if you can't sleep. Use a pillow for support between your legs and torso for even more support."
Try Yoga Nidra
If you have a spare 20 minutes, consider yoga nidra. Like a supercharged savasana, it can even be done under the duvet. Yoga nidra is a meditative state in which the body is deeply relaxed and the mind is calm but awake – a kind of sleep with awareness. It combines mindfulness, breathwork and body scanning to lull the body into this state of deep relaxation, and is suitable for beginners. "Just one 20-minute practice can make all the difference to how you sleep," explains Dot Zacharias, COO of The Nourish App. "Think of it as the difference between the groggy, grumpy feeling you have when you've slept badly, and the calm and clarity you have when well rested." 
Ease Tension With The Pigeon Pose
If you only have five minutes and need to release tension after a day hunched over your laptop, try the classic pigeon pose, recommends Alexandra Baldi, founder of Compass Chelsea. "Start in a downward facing dog and lift your right leg into the air, drawing your right ankle to your left wrist, allowing yourself to fall forward and release the right hip. Breathing will help you surrender into the hip opener, while bringing more oxygen to the muscles and allowing you to go slightly deeper. Try to stay like this for one minute and then switch sides." If this sounds too energetic and you need something even more soothing, put your legs up against the wall for five minutes, Alexandra adds. "This is an incredible way to relax the body and reduce tension in the neck, back and shoulders."
"Like a supercharged savasana, yoga nidra combines mindfulness, breathwork and body scanning to lull the body into a state of deep relaxation."

Create An Atmosphere
While dimmed lighting and your favourite candle will help transition your bedroom from WFH to bedtime, enlist the support of essential oils to further ease relaxation, says massage therapist Sarah Jane Watson. "One of the simplest ways to create a beautifully conducive atmosphere for an evening yoga session is to vaporise essential oils either in an oil burner or electric diffuser. Look to vetiver, jasmine, patchouli and neroli, all of which have calming and grounding properties. If your evening practice includes pranayama (breathing exercises), try pouring a couple of drops of frankincense oil onto a tissue and inhaling for a few moments before starting. This beautifully scented oil can relax the diaphragm to enable deeper breathing as well as having a soothing effect on the mind and emotions." If you want to maximise a yoga nidra session or enhance your savasana, Sarah Jane recommends pouring a couple of drops of lavender and cedarwood onto a tissue, placing it on your chest and inhaling the oils as you rest. "With natural sedative properties, cedarwood helps release melatonin, is emotionally grounding and promotes feelings of safety and tranquillity," she says.
Use A Body Scan On Sleepless Nights
If you're prone to waking up in the middle of the night and struggling to get back to sleep, Minnie recommends trying a simple body scan. "Start at your feet and work all the way up to the crown of your head. As you arrive at each body part, tell it to relax a little and visualise the space being created in the muscle or joint. So often, we tense without realising. As you do this, inhale for three and exhale for five. This lengthening of the exhale will shift your body into a relaxed state of mind, helping you to sleep."
Drift Off Into Sleep With One Of These SL-Approved Classes…
Psycle: Psycle may be known for its high-energy spin classes but its on-demand content is the perfect antidote to a busy day. Try Alana's 20-minute destress flow or a 45-minute grounding yin session, both of which are set to a blissful soundtrack.
Visit PsycleLondon.com
 
Deliciously Ella: Wellness authority Ella Mills's app is a veritable hub of content and her yoga flows get our vote. Whether you're after a 30-minute restorative yin yoga class, or a 15-minute evening relaxation flow, there's something for every mood. Your first seven days are free.
Visit DelicouslyElla.com
 
Yoga With Adriene: Chances are you've already tried one of Adriene Mishler's much-loved yoga classes, but she comes into her own when it comes to stress-busting asanas. Her 20-minute Bedtime Yoga is gentle enough to be done from the comfort of your bed.
Visit YogaWithAdriene.com
 
Fly LDN: Fly LDN's yoga classes are worth doing IRL, but on dark, wintry evenings, tune into its on-demand service, and enjoy everything from self-massage to yin yoga and more. Using a block to soften areas that hold tension throughout the day, Helen's 20-minute class is the ultimate evening wind-down.
Visit FlyLDN-Online.com
 
Compass Chelsea: If you haven't yet tried yoga nidra, head to Compass Chelsea on a Monday evening. An hour of deep relaxation, this class is the perfect way to unwind after a hectic day.
Visit CompassChelsea.com
 
Re:Mind in Eccleston Yards is the definition of an urban sanctuary. It's yin classes guarantee peak relaxation and are worth every penny.
Visit RemindStudio.com
Shop Our Product Edit Below...
For more information, visit TheYogaClass.co, CompassChelsea.com, MinnieSamengoYoga.com, TheNourishApp.com and SarahJWatson.com
 
DISCLAIMER: Features published by SheerLuxe are not intended to treat, diagnose, cure or prevent any disease. Always seek the advice of your GP or another qualified healthcare provider for any questions you have regarding a medical condition, and before undertaking any diet, exercise or other health-related programme.
DISCLAIMER: We endeavour to always credit the correct original source of every image we use. If you think a credit may be incorrect, please contact us at info@sheerluxe.com.