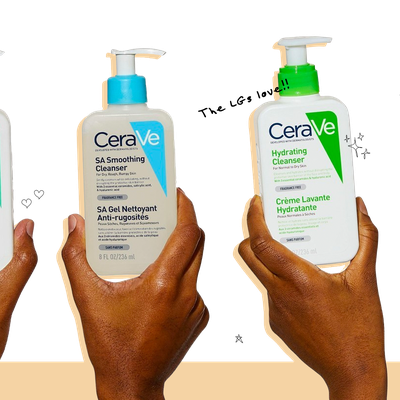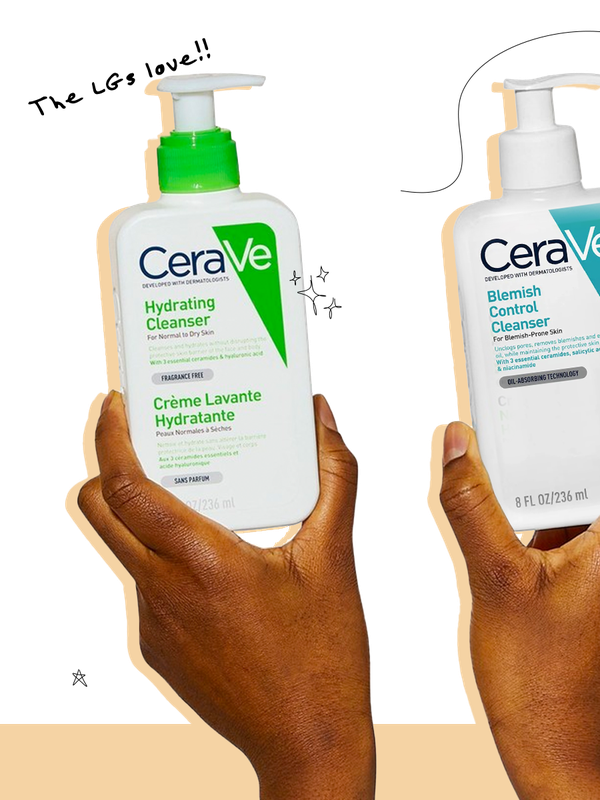 The LGs Share Their Favourite Cleansers

A cleanser is an essential first step in any skincare routine, but any of us can react badly to one if it isn't suited to our skin type. Luckily, CeraVe's affordable, hardworking cleansers are developed with dermatologists and there are options for everyone. To help you find the right one, we put them to the test...

Created in partnership with Cerave
CeraVe is known for taking a scientific approach to skincare by focusing on healthy barrier function and essential ingredients that can restore, hydrate and improve the skin – think ceramides, niacinamide, salicylic acid and hyaluronic acid. You're guaranteed to find something in its ranges suited to your skin type – plus, you can't beat how affordable and easy-to-use these products are.
Understanding Your Skin Type…
For best results, it's essential to choose products with your own skin concerns in mind. For example, if your skin often feels parched, looks flaky and make-up sometimes looks patchy, then you probably have dry skin in need of moisture and nourishment. Look out for products that contain salicylic acid and hyaluronic acid.  Alternatively, if you get shiny or greasy easily, then this is a sign you're on the oilier side. When you cleanse, you still want to focus on maintaining the healthy oils without disrupting your skin barrier, so ingredients to look out for would be niacinamide, hyaluronic acid and ceramides. Finally, if you sit somewhere in between, you have combination skin. Choose hydrating products that keep the skin barrier intact – so again, hyaluronic acid and ceramides are key. And if you suffer from redness, irritation, breakouts or acne scarring, try a blend of salicylic acid, niacinamide and clays to draw out impurities, fade marks and purge your pores.
---
Here, The LGs Share Their Favourite CeraVe Cleaners…
The Blemish Cleanser, £13
"It's often difficult to find a cleanser that is potent enough to remove my make-up and keep my skin fresh – but that also doesn't break me out. This one has been my favourite for a while. Not only does it contain all the right ingredients – including salicylic acid, niacinamide and hectorite clay – it keeps my pores clean and hydration locked in to heal existing blemishes and stop new ones from cropping up. Plus, I love how lightweight it is."
Shop here.
The Foaming Cleanser, £11.50
"I'm often hesitant to switch up my routine as my skin takes a while to adjust to new products, but CeraVe has always come highly recommended. My skin type is normal to oily, so I like a cleanser that isn't too heavy. This foaming cleanser leaves my skin feeling fresh and clean without disrupting its natural barrier. Plus, it's full of essential ceramides, niacinamide and hyaluronic acid to give my skin a lasting glow."
Shop here.
The Salicylic Acid Cleanser, £14
"As a dry skin girly, it's hard to find a cleanser that doesn't dry my skin out further – or leave too much of a residue behind. This gel formula always gives my skin a fresh and clean feel, leaving it with a natural glow. I love how supple and smooth my complexion feels after I use it."
Shop here.
The Hydrating Cleanser, £11.50
"This cleanser has been a key component of my everyday skincare routine for years. After going on a skincare journey that involved using Roaccutane during my teenage years, I've become very cautious about the products I choose. I only experience occasional breakouts now, as my skin tends to be dry to normal, and this Hydrating Cleanser has proven effective at keeping my skin hydrated and balanced. Its main ingredient, hyaluronic acid, also keeps my skin plump and happy."
Shop here.