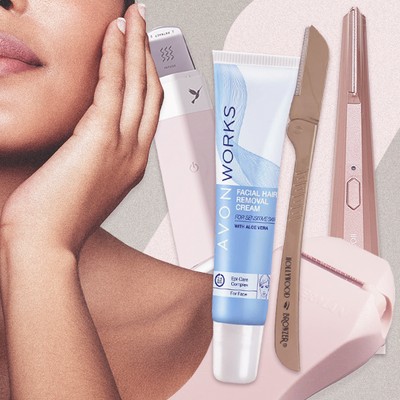 How To Deal With Facial Hair At Home

Statistics show one in ten of us have unwanted facial hair. With no access to professional help right now, it's not so easily dealt with. To find out if you can minimise hair's growth and prevent its appearance at home, we asked Lucy Dawe – skincare expert and senior consultant at the Pulse Light Clinic – for her dos and don'ts, including the DIY options that are safe and effective…

Steer Clear Of Tweezers
People often think a quick tweeze here and there won't do any harm, but plucking will result in thicker hair growth – it's not a myth. Using tweezers also increases the risk of ingrown hairs and bumps on the face, which in turn raise the risk of infection and scarring.
Be Careful With Razors
Thankfully, there are now many razors designed specifically to remove facial hair – look to ones that say they are formulated for brow and facial hair. These tools are also good to use 24 hours prior to laser hair removal because they remove hair directly from the root; the laser then targets the hair bulb and the pigment, thereby preventing a thicker hair from developing right at the root and the pigment from darkening. However you should never, ever take a normal razor blade to your face. They are associated with risks like razor burn, which stings, and if you're not a dab hand, you can inadvertently razor off some skin cells, which can cause scarring.
Consider Dermaplaning Kits
For soft, facial hair ('peach fuzz'), DIY dermaplaning is a great option. It's a relatively new method but it's effective – though it doesn't last very long because it just skims off the hair and dead skin cells, without addressing the root at all. That may sound pointless, but actually it means you don't get any permanent results, just a temporary smooth result that has little to no side effects. The tools are now widely available, easy to use and inexpensive. You might develop some white heads after use – don't be alarmed, it's usually your skin adjusting, but do seek out a professional should you suffer from any irritation.
Know The Best Hair Removal Creams
They can cause an allergic reaction, so it's important you know what to look for in a hair removal cream. While some are effective, they often contain alcohol, which will result in dry, flaking skin once the skin's barrier has 'sealed' again post-removal. You'll see this most commonly before the hair regrows. With this in mind, use them, but ensure you're looking for products that omit alcohol and are specifically suited to sensitive skin types. That way you know you'll gain a smoother result without any irritation. However, always do a patch test, and speak to your pharmacist if you have any concerns. 
Don't Forget Old-Fashioned Wax
It's not the chicest of techniques, but waxing strips remain one of the safest solutions for DIY hair removal – for both face and body. Strips are ideal because they're cleaner than heating up the wax, you don't have to worry about ensuring you have the right temperature, and they're relatively pain-free. You can also try sugaring, which is a better option for sensitive skin. This is because the sugar solution has a higher affinity for the hair, making it less painful. In both scenarios, facial hair needs to be approximately 1/4-inch long for the best results. Always do a patch test first, and be prepared for a little mess.
Avoid The Sun If You Go DIY 
All forms of facial hair removal will leave the skin somewhat irritated and inflamed – even if it doesn't show it. This makes the pigment containing cells prone to stimulation if they are exposed to sunlight. Any form of tanning after hair removal increases the potential for hyperpigmentation. So, if you're planning on going DIY, keep your face out of the sun to avoid any dark spots occurring over time. 
The Bottom Line...
If possible, it's best to leave facial hair removal to the professionals post-lockdown. If you can't, and feel it's affecting your confidence, try the tips mentioned above. Once the lockdown eases, look to laser hair removal or professional electrolysis, which is especially suitable for those with darker hair. Now is a good time to book up some affordable offers and packages that are available – just ensure they're with a reputable clinic.
  
Shop our edit of facial hair removal buys below…
 
DISCLAIMER: We endeavour to always credit the correct original source of every image we use. If you think a credit may be incorrect, please contact us at info@sheerluxe.com.