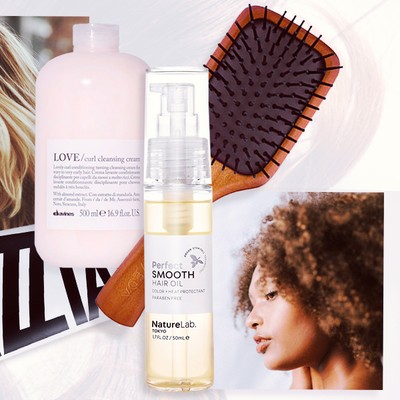 12 Maintenance Tips For All Hair Types & Textures

We all want healthier-looking hair, no matter the texture or condition. Luckily, you can easily enhance shine and appearance with a few simple tricks – whether it be mixing up your routine or adopting some new styling hacks. We asked Aveda's Global Artistic Director, Renée Gadar, what rules everyone should follow for good hair.

Know Your Hair Type 
The more you know your hair type, the better equipped you'll be to care for it. There are four in total – type 1s are straight, type 2s are wavy, type 3s are curly and type 4s are coily. Then there are sub-classifications of A to C which are based on the diameter of your wave or coil pattern. Typically, As have a wider pattern size, Bs medium (thicker in diameter) and Cs are the smallest (thick and susceptible to frizzing). This may sound complex but the pairing of the number and letter are the key to understanding what works best for you. 
Brush Up On Technique
When it comes to brushing your hair, there is a correct way to do it to minimise damage. Start from the bottom of your strands and work your way up using a paddle brush for minimal snagging. Hold one upright to detangle and then use it on its side when you're ready to blow-dry the hair straight.
Don't Neglect A Trim
It's not been possible in lockdown, but regular trims are essential – quarterly at least. Split ends don't go anywhere; some products may help to seal them down, but it's only hiding them. If the hair is split at the ends, it'll continue to split up the shaft, so to maintain 'good hair' you need to stay ahead. 
Wash Accordingly To Your Needs
Curl patterns 1A through to C should be shampooing up to two to three times a week. As for 2s, once a week, and if you feel like you need an extra cleanse, supplement your shampoo with a co-wash formula (aka conditioner-only washing), like Aveda's Be Curly. It's sulphate-free formulation conditions and removes build-up without over-drying the hair. Types 3A should stick to shampooing every two weeks – that's all that is needed. You can use a co-wash whenever, but actual cleaning with shampoo should be scheduled. 
Never Brush Hair Wet
Brushing wet hair without conditioner can cause breakage. You need 'slip' when you brush, and this is especially the case for drier, afro textures. Those with fine hair (1-3A) are less likely to suffer breakage, but you should still be brushing through with a conditioner to minimise damage. 
Invest In Treatments 
All hair types can easily integrate conditioning treatments into their regimes. My advice? Don't sleep in them and follow the directions. Rinse them all the way out then, if you have a drier hair type, use a leave-in conditioner. Oil treatments are great, but only if they are natural. These are especially useful as a protective aid to stop scalps drying out, but everyone can benefit no matter their hair texture. Finer hair types will need to wash them out – so use them on your shampoo day. If your hair is thick or textured, invest in a wide afro comb. This will help to distribute and target product where you need it most.  
Avoid Silicones 
This goes for everyone – avoid buying any products that contain silicones. They don't break down off your hair naturally, which can create a false barrier so moisture can't penetrate, in turn, drying out your strands. 
Always Use Conditioner
It's key to find the right conditioner for your hair type – but everyone should use one. Hair should always be replenished after you wash it, especially if your hair is coloured. If you suffer from dry, brittle strands, add an oil to your conditioner and place your hair in a shower cap. The heat from your scalp will help lift the cuticle up, so more nutrients can penetrate.
Dry Your Hair With A T-Shirt
Use a micro fibre towel or a T-shirt to dry your hair. It just works so well. The thickness of a normal bathroom towel can cause friction and frizz, whereas the finer fabric of the former can give you that control when you dry wet hair fresh from the shower. 
Keep Dry Shampoo To A Minimum
Dry shampoo can be a great tool, but not for hair textures in the 4th category. If, however, your hair is in the 3s, then you're fine to use one, occasionally. What you don't want to do is use it every single day. This can cause build-up, which can clog the follicle so oils can't come through and down the shaft. Stick to using it once or twice a week where possible.
Use Your Cold Shot
Most hairdryers have a cold shot function, so give yours a go. Quick blasts of cold air are so beneficial to the hair. They help to create more shine as you're sealing the cuticle down, so try doing this at the end of your blow-dry, or asking your stylist to. 
Stock Up On Heat Protectors
Everyone should be using heat protection on their hair. There are two different types – UV and thermal. Using a formula that contains UV protection will help to safeguard your hair from the sun. Think of it as an SPF for your hair, while a thermal spray will help protect from heat tool damage – often, you can get products that contain both. To keep heat to a minimum, try speeding up your blow-dry. Finer hair won't need a high heat; you can use a medium setting to get optimum results. For those with thicker, longer hair that does need a high heat, try to keep drying to a minimum – the very act of blow-drying daily will cause damage. 
DISCLAIMER: We endeavour to always credit the correct original source of every image we use. If you think a credit may be incorrect, please contact us at info@sheerluxe.com.