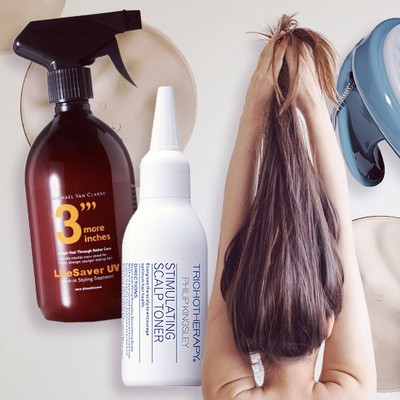 Hair Growth: The Products & Remedies That Actually Work

Hair growth doesn't happen overnight, but that doesn't mean you can't help things along with the use of certain treatments. From why you shouldn't always rely on supplements, to the best boosters on the market, we break down the easiest way to stimulate growth and healthier strands with this expert advice...

Three Things To Note On Hair Regrowth: 
Pay Attention To Your Diet
"Those who are 100% plant-based tend to be at a higher risk of iron deficiency, and in turn, hair loss. This is because plant sources of iron aren't as well-absorbed by the body, but it's still possible to get your recommended intake from whole food," explains Dr Megan Rossi, nutritionist and founder of Bio&Me. "If you're relying on plant-based foods to get your iron intake, it's a good idea to add in a source of vitamin C. Combining vitamin C, for example from citrus fruits, tomatoes and peppers, with plant sources of iron, such as your legumes, wholegrains and spinach, can increase your body's ability to absorb it, in turn, promoting healthier hair."

Try Not To Rely On Supplements
"There's no doubt some targeted supplements work for hair loss, but try to get your nutrients from whole foods," adds Megan. "Iron, zinc, vitamin B and D are key for keeping hair healthy and you can get these nutrients by having a varied diet. In fact, Vitamin A and selenium when taken in excess have been linked with hair fall in some people. These 'toxic' doses can occur when people are taking multiple supplements. Unlike supplements, however, it's very difficult to get a toxic level from eating whole foods as Mother Nature has packaged these nutrients in much safer doses. When it comes to collagen supplements, which are often touted as promoting hair growth, there's no clinical evidence to support their benefit."

Don't Be Afraid Of Products
"People often think too much product is damaging, it's not," says Atoshi George, senior scientific advisor at Kérastase. "In fact, finding products that target damaged hair will prevent loss and breakage – it's not just a marketing fad. What's key is choosing your treatments carefully, and ensuring they're tailored to you. For example, if you have a perm, colour or heat style your hair regularly, look for products that counteract these effects. Maintaining and conditioning the hair will boost its health and strength, as well as having a significant impact on regrowth. Look out for antioxidant ingredients, too, like ginger root extract, edelweiss and vitamin B5, all of which help to rebuild stronger strands." Keen to invest? Shop our edit of the best regrowth buys below...
 
THE SUPPLEMENT: Viviscal Maximum Strength Supplements, £51.99
Viviscal – a dietary supplement and professional hair growth programme – is designed for those seeking thicker, longer and healthier-looking hair. Just be patient – results take a few months to come through, but it's worth the wait. The clever formula strengthens strands and decreases breakage, which will ultimately lead to thicker and visibly fuller-looking hair over time. One of the few supplements we've tried that really works. 
Available at Boots.com
THE TOOL: Briogeo Scalp Revival Stimulating Therapy Massager, £12.99 
Typically used in the shower to brush through shampoo or conditioner, this relatively new tool soothes tension and stimulates blood flow with its soft, rubber bristles. It also reportedly encourages better hair growth, thanks to the medium pressure which helps exfoliate any product build up, allowing for new hair to come through stronger. A staple for everyone.
Available at BriogeoHair.com
THE GROWTH SERUM: Grow Gorgeous Hair Growth Serum Original, £22.50 
This game-changing product is proven to boost hair density by 13% in four months – that's equivalent to 13,000 more hairs. With an impressive set of reviews, it's often referred to as 'magic drops' thanks to the bouncier, softer results it yields. Apply roughly 20 drops directly onto towel-dried hair and massage thoroughly from root to tip. 
Available at LookFantastic.com
THE NOURISHING OIL: Mauli Grow Strong Hair Oil, £32
Brimming with vitamins and minerals, this leave-in treatment stimulates both the scalp and follicles for better hydration, and healthier-looking regrowth. It leaves hair silky to the touch, and you should expect your scalp to be cleaner and product-free, thanks to its exfoliating properites. What's more, vitamin C leaves a veil on the hair that shields it from any environmental aggressors, preventing dullness and damage. Apply 2-3 drops directly onto dry, parted hair, massaging it in like you would shampoo. Leave overnight for best results. 
Available at LookFantastic.com
THE ALL-ROUNDER: Michael Van Clarke 3 More Inches Lifesaver UV, £29
A silicone-free formula, this conditioning treatment is a bestseller and can be hard to get hold of – so be quick. Use it as a pre-shampoo treatment, or simply to style and protect during the summer months, while encouraging better growth and improved hair health. Cashmere proteins penetrate the strand's shaft to repair and strengthen, meaning less thinning and splitting. With in-built UV protection, it also aims to minimise brittleness and damage, while smoothing out even the frizziest of hair. A great all-rounder. 
Available at VanClarke.com
THE SCALP SOOTHER: Philip Kingsley Stimulating Scalp Toner, £10
Loved by trichologists and hair experts alike, this clever toner absorbs excess oil and protects against bacterial overgrowth for a healthy scalp. The benefits don't end there – it also stimulates blood supply, encouraging optimum hair growth in a gentle way. It's water-based and fragrance-free, so it won't cause any irritation, and can be used daily to rehydrate, stimulate and soothe. Apply a small amount to freshly washed, damp hair and distribute evenly with your fingers. 
Available at LookFantastic.com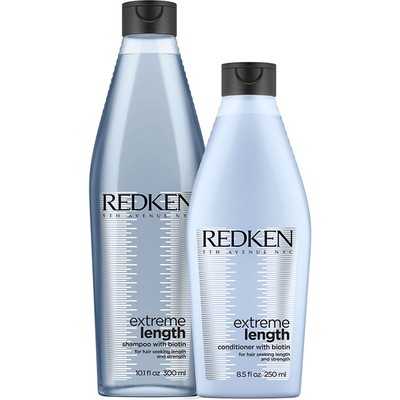 THE SHAMPOO & CONDITIONER: Redken Extreme Length Shampoo & Conditioner
A first of its kind, Redken's latest shampoo and conditioner promises longer hair, thanks to its biotin and castor oil-infused formula. Proven to strengthen and fortify strands by up to 81%, it also works to prevent breakage, giving hair the chance to grow and recuperate. It may sound too good to be true, but the reviews say otherwise. We've started trialling it and already notice a smoother, more weightless finish with far more shine. Its high-street price tag means it's affordable, too. 
 
Launching 1st September.
DISCLAIMER: We endeavour to always credit the correct original source of every image we use. If you think a credit may be incorrect, please contact us at info@sheerluxe.com.