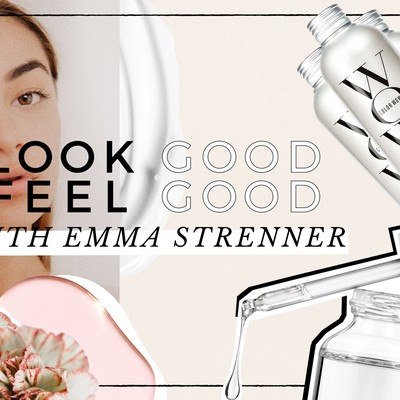 The Miracle Hair Cocktail To Appease All Your Sins

For those addicted to their monthly colour and straightening tools, SL beauty contributor Emma Strenner has the ultimate hair-repair miracle worker…

Wrecked. There's a scary word, and never more so than when used in the realm of beauty and grooming. The most frequently heard context of course is, 'I totally wrecked my hair'. With the exception of a few beauty editors I've known, with inexplicable mermaid-esque waist length hair, there are few mortals I've met who haven't sighed with regret at the state they found their tresses in after multiple treatments and colour sessions.
 
As ever, in beauty, there's no one-size-fits-all rule. And in the endless plight to looking groomed and pulled together, our hair gets the rough end of the deal. If you're prone to frizz, there's nothing more alluring than a silky soft, straight mane of hair. So, we reach for the straightening tongs. If your hair is flat and fine, you'll be seeking out volumizing treatments, and dare I say it, backcombing.
 
Furthermore, who can withstand that smattering of unkempt grey hair or dull colour coming through between visits to the salon. And once you've opened Pandora's Box of salon colour, well that's it, you have to commit. Because, let's face it, great colour will bring everything together. And of course, there's the blow-dry. Heat styling for an event or just weekly maintenance. I'd like to add a disclaimer here that colour formulas are much better than they ever were these days, and a blow-dry done well can even improve the hair's condition, but you see what I'm saying, your hair has a busy schedule and plenty to contend with.
 
I'll just lay my cards on the table now, I've never been a fan of the swishy, polished immaculate waves of a just-stepped-out-of-the-salon blow-dry. It's not my look per se, and I think there's something far more appealing about low-maintenance, 'I didn't make an effort, but still look great' attitude to hair. The French do it rather well, and Marion Cotillard is the poster girl for this. The irony however, is this does take a little more effort (sometimes a blow-dry to achieve this), and ultimately your hair has to be in good nick.
 
My hair sins come down to frequent colour, to tackle the incessant greys that crop up, and the chemical treatments I succumbed to while living in hotter climates to straighten out the frizz. A crown of unkempt crinkled hair in disarray is never a good look. Having conditioning and colour covered on the hair front is the cornerstone of looking pulled-together.  
 
Regular cuts, masks and oils will help, but you need to bring in the big guns when it comes to real damage. And frayed follicles that have been through the rungs of colour and treatments need resealing and strengthening. When I reached my low point of air misery, I came across Color Wow's Kale Cocktail Bionic Tonic. Hallelujah!
 
The formula was specifically created to address damage caused by colouring. "During the colouring process, high pH, ammonia and hydrogen peroxide attack the sulfur bonds that link the keratin proteins together in the hair – this causes irreversible damage to the cortex of hair, weakening the fibres, making them more fragile and eventually resulting in hair breakage." The VP of Product Development at Color Wow, Joe Cincotta tells me.
 
It's a leave-in protein-building treatment that – when activated by heat – works to strengthen and rebuild hair's bonds. You take a little coin-sized amount, run it through your hair from the mid-lengths down, then blow-dry as usual. Based on Color Wow's clinical trials at the Textile Research Institution in Princeton, the clever cream can improve hair strength by up to 50% after just one treatment.
 
I can vouch for this, it works. Even the first time I tried it, the difference was huge – it makes hair softer, glossier, and with a salon-quality in control finish that instantly elevates your look. I use it whenever I want to look pulled-together (which is kind of always), and it does the trick every time – even if I only rough-dry afterwards, my hair looks effortlessly good, if I do say so myself. No fancy tools, countless steps or sitting around with wet hair in a mask and towel – it's the low-maintenance girl's best friend.
 
Emma Strenner has been a beauty journalist for over fifteen years. She has written for VOGUE, Sunday Times Style, ELLE, PORTER Magazine, Conde Nast Traveller and more. She has been the Beauty Director at PORTER, ELLE UK, VOGUE Australia, Tatler and Stylist. Emma's career has taken her to beauty launches across the globe, laboratories and clinics, backstage at the shows and directing beauty shoots everywhere from Tulum to the Meatpacking District in New York.
Follow Emma on Instagram, @EmmaStrenner
DISCLAIMER: We endeavour to always credit the correct original source of every image we use. If you think a credit may be incorrect, please contact us at info@sheerluxe.com.