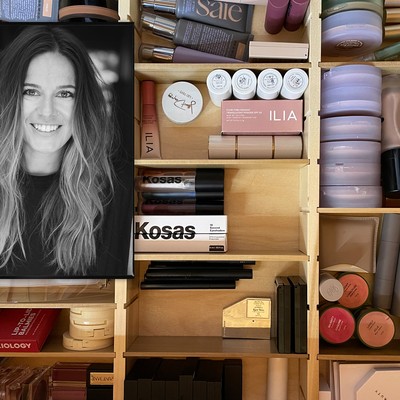 This Is How A Pro Make-Up Artist Stores Her Beauty Stash

A tidy make-up kit speaks to the Marie Condo in all of us – plus, if you can actually see what you have, you're much more likely to use it. To inspire you to get your own collection in order, we went to one of our favourite make-up artists. From the importance of regular clear-outs to the household objects you can transform into make-up holders, here's Jenna Menard's expert advice…

All products on this page have been selected by our editorial team, however we may make commission on some products.
The Importance Of Beauty Storage
"Organised make-up has been a priority for me throughout my entire career. It's so important to keep things neat and clean – you're far more likely to access your products and use them this way. I've always been told my kit is so tidy and I live for these comments because it really is my pride and joy. When you're well prepared and organised, everything just flows better."
The Organisers Jenna Swears By
"For starters, I love Rimowa's mobile suitcases. Inside they have bags which I like to categorise my products into – usually by skincare, foundation, concealer, powders and so forth. I swear by Kusshi bags too – they're brilliant because when you open them up everything is immediately accessible. Likewise, Well Insulated does some incredible vanity kits. My go-to is silver and it's so spacious inside for all your essentials – plus it looks pretty slick." 
Customisation Can Be Key
"My office make-up organisation has levelled up in the past year. It's where I do all of my social content filming, as well as one-to-one virtual sessions, so I wanted it to be neat. With that in mind, I had custom drawers built. I steer away from plastic as much as possible now, so I've tried to keep things wooden or stainless steel. I love – and recommend – having an aerial view of make-up, it means everything is at your fingertips and you will use things more frequently." 
Ceramic Jars Are Handy
"I love the brand Commune Pottery for storing my tools and for a bit of style. I keep my brushes out at all times because they look cool and I want to grab them easily. Any dirty tools are on a stainless tray next to my mirror – trays are ideal for storing what I call 'overflow' of product. Again, they make everything accessible and easy to see while still looking neat and tidy."
So Are Other Household Items
"You don't have to go and buy a whole new set of storage items. I've collected things through the years that I've come to rely on with my organisation. This includes random pencil holders for brushes and eyeliners, or clear pencil cases that you can keep tools in. It's about thinking outside the box and sometimes utilising what you already have. Kitchen and school supplies are brilliant tools for stashing things away neatly – sometimes the different shapes and sizes they offer just work nicely with everything you have." 
Set Yourself Some Rules
"I'm often asked for my top organisation tips. First and foremost, make sure you're only organising things you're going to be using and not things that are old, broken or dried out. Secondly, designate your make-up area and see what works best for the space. Some keep their make-up in drawers, others have closet shelves or medicine cabinets – assess what you have, then work off the back of this. I also advise condensing your personal make-up into palettes. This allows you to visualise what you have – for example, if you have six great lipsticks but always just grab the one in your purse, maybe it's time to repot them into a clear manageable palette. I use palettes from Artist Kit Company. My final tip is, if your make-up is in a small bathroom, make sure you protect it from the elements. Extreme heat and moisture affects make-up, which is why the Well Insulated bags I recommended above are so brilliant. They protect against moisture seeping in and keep temperature changes at bay." 
Regular Clear-Outs Are Essential
"There is no reason to hang onto product. If you aren't wearing it, get rid of it – don't let it sit around gathering bacteria. This is a motto I work on when doing my one-to-one virtual sessions. I help individuals assess what they need to buy and what they need to stop buying. It's easy to fall into the pitfalls of the beauty industry and being convinced you need the next best thing, but actually you can get by with a few key items. Just learn how to use each one to its fullest capabilities and you'll be in a much better place. This is why being organised is so beneficial – it helps you to know what you're really using and what's just waste."
 
Follow @JennaMenard
DISCLAIMER: We endeavour to always credit the correct original source of every image we use. If you think a credit may be incorrect, please contact us at info@sheerluxe.com.