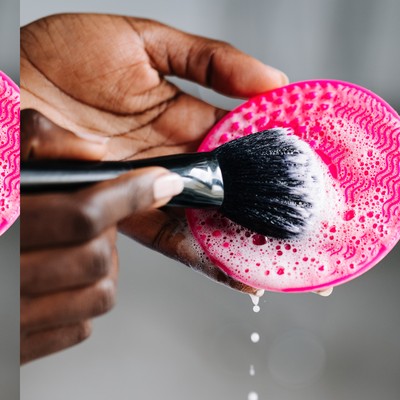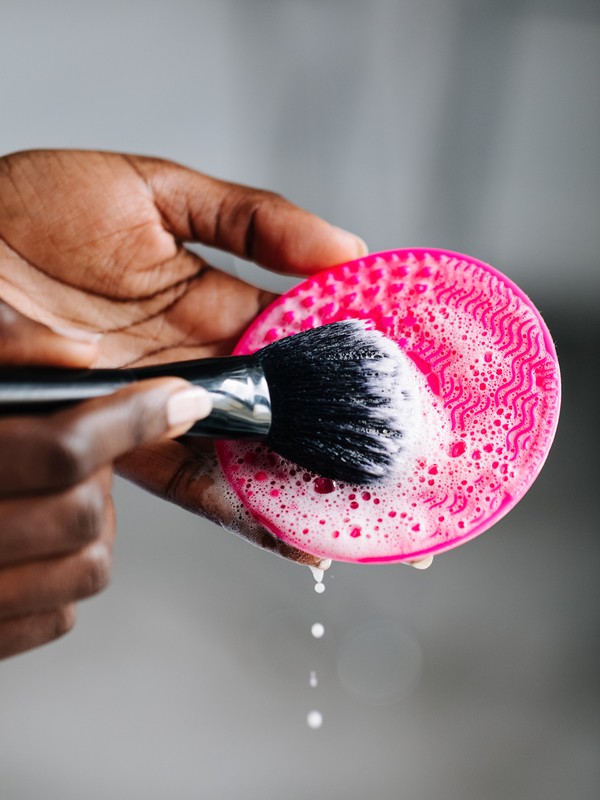 A Guide To Looking After Your Make-Up Brushes

While the right application and products are crucial, the key to flawless make-up and clear skin also lies in clean, well-maintained make-up brushes. From the best cleaning products to useful hacks, here's how the experts look after theirs.

By Sapna Rao
All products on this page have been selected by our editorial team, however we may make commission on some products.
Start By Investing In The Right Tools
"High-quality brushes will last you a lifetime if you look after them properly. I have brushes in my kit that are more than ten years old but are still like new. The brands I recommend would be Hakuhodo, SUQQU and Rae Morris. Cheaper alternatives are so readily available now – just be aware that they might wear down more easily and lose their shape faster if you don't look after them." – Jessica Kell, make-up artist
Know The Dangers Of Dirty Brushes
"Breakouts can be caused by a combination of factors, including clogged pores, excess oil production, bacterial growth, and skin irritation – and dirty brushes can introduce these factors to the skin. If your skin does break out due to dirty brushes, wash your face with a gentle cleanser, apply a soothing and non-comedogenic moisturiser, and avoid using make-up until your skin calms down. You can also use a gentle clay mask or spot treatment that contains salicylic acid to speed up the healing process." – Caroline Brooks, skin specialist & founder of The Glass House Salon & Spa
Aim For A Weekly Wash
"If you use brushes every day to apply your make-up, you should be washing them at least once a week. Make it a Sunday night ritual – then you'll be less likely to skip it. If you've only lightly used your brushes – with a little bit of powder or blush here and there – a gentle shampoo is a good first point of call. Pump a small amount into the palm of your hand and swirl the damp brushes into it. Then run them under the tap and really work the shampoo in so it gets into all the bristles, especially in the centre of the brush. Wash them with warm water until all the shampoo is rinsed out. Always use warm – not hot – water to clean your brushes as hot water can damage the bristles." – Jessica
Use The Right Cleanser
"Natural-hair brushes are best cleaned using a gentle but hardworking brush shampoo. They dissolve build-up while keeping the bristles smooth and intact. The Sigma Magic Brush Shampoo cuts through grease without affecting the integrity of the brush. With synthetic brushes, opt for something harder like a solid soap. The Kryolan Brush Soap is a great option. Massage this into the bristles but try not to get anything too deep into the brush as this can loosen the glue, which might lead to bristles dropping out. Synthetic face brushes are great for applying foundation, but they can be hard to clean – especially round buffing brushes. Try dropping the shampoo straight into the centre of the brush, letting it soak for a few minutes before massaging it through. Finally, I would avoid any sulphate-based shampoos as they can coat the bristles and affect your make-up application. Gisou's Sulphate Free Honey Shampoo and Beauty Pie's Sulphate Free Shampoo are great options. Finally, if you do condition them, do it sparingly and really get the excess product off the brush when you rinse." – Jessica 
Get Into A Routine
"I always do a classic sink wash. Start by laying down a towel and filling the sink with a small amount of warm water. Add a drop of mild shampoo or cleaning product into the palm of your hand or glove, wet the brush head and work in the shampoo in circular motions. Wash with the brush head in the sink and gently squeeze out any excess water and place on the towel. Always use your fingertips to shape the brush hairs in the correct direction so they dry in the perfect shape.
Avoid putting all your brushes in the sink to soak as this can loosen the glue that keeps the bristles together." – Cher Webb, make-up artist & beauty influencer
Take Shortcuts Where Possible
"I tend to hold a couple of similar-shaped brushes together and clean them at the same time for speed. Also, a small amount of washing-up liquid does the trick when time is of the essence. It banishes any stains and waterproof make-up in an instant – you can actually see the make-up melting away." – Cher
"To get through a stack of brushes in record time, I am never without my Sigma cleansing mitt or glove. These are incredible at foaming up the shampoo and getting right into the base of the brush – the different segments align with each different type of brush so it's much easier to get them squeaky clean." – Jessica
Leave Brushes To Dry Flat & Always Store Them Correctly
"Drying your brushes is just as important as cleaning them. After washing, never store them standing up as this can cause water to flow into the ferrule and make the bristles splay out. Dry them completely flat with the head of the brush over a table edge to ensure airflow can reach every bristle. While they are drying, you can gently pull and smooth them back into their original shape." – Jessica
"Consider investing in brush holders or pouches to keep them protected once dry and, if you're a make-up artist using the same brushes on several people, always disinfect them between uses to prevent cross-contamination." – Caroline
Here, Cher shares some of her favourite brush cleansers…
M·A·C Brush Cleanser
"I've used the M·A·C Brush Cleanser liquid for years – there's always a bottle in my kit. It's the best at removing all make-up and impurities. Just avoid tipping the liquid directly into a tissue as it's likely that most of it will end up being absorbed before the brush head gets near it. Instead, add a small amount of the liquid into a small pot and dip your brushes in individually, then wipe them on a tissue."
Clinique Makeup Brush Cleanser
"This has an effective spritz nozzle which makes the product last much longer. Plus, it's easy to use. It removes all make-up and bacteria – plus, it dries quickly, meaning your brushes are ready to use again within minutes."
Cinema Secrets Makeup Brush Cleaner
"There's a reason this took TikTok by storm and made brush cleaning go viral. Just a couple sprays of this and your brushes are squeaky clean and dry. It's game changing."
Stylpro Deep Cleaning Brush Cleanser
"This vegan-friendly formula tackles even the toughest oil-based make-up that's hard to remove. It also cleanses and conditions brush hairs, so they feel silky smooth afterwards."
Spectrum Bergamot & Pink Grapefruit Vegan Makeup Brush Soap
"A solid soap can be super effective – and this one has a coconut milk base and a textured silicone surface for a deeper clean. Simply lather the brushes into the soap, then work them into the bristled surface and rinse."
Sigma Spa Glove
"A brush cleaning mat or glove will also give you a deeper clean and they often come with different textures to speed things up. This one is a popular choice and comes in lots of colours."
---
SHOP OUR EDIT OF MAKE-UP BRUSHES BELOW
DISCLAIMER: We endeavour to always credit the correct original source of every image we use. If you think a credit may be incorrect, please contact us at info@sheerluxe.com.