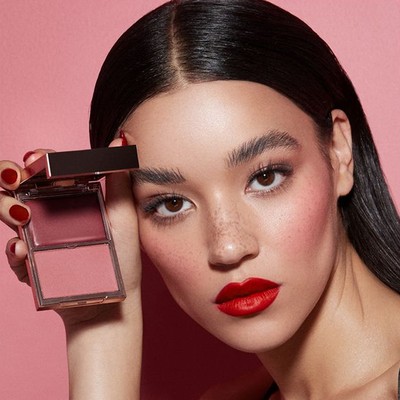 Debit/Credit: Get These Three Beauty Looks For Less

From glossy skin and high-shine lids, to fresh blush and soft, smokey eyes, we've picked three beauty looks we're loving this month. Fancy trying one out yourself? Here's how to replicate them, whatever your budget…

Kalixte, Make-Up By Lorélen Coriton
Debit
Top Tips: Parisian make-up artist Lorélen Coriton kept this look fresh, simple and sophisticated with minimal, yet impactful tones. "To replicate the pigmented flush, look for gel or cream blushers to provide the same sheen and luminosity," says Lorélen. "Use a fluffy brush to apply your formula and really push it into the apples of your cheeks. The shades from Make-Up Forever's Ultra HD Blush Palette are great for replicating this look."  
Credit
Top Tips: To keep the look soft and pared back, use a wash of pink over the eyelids like Lorélen did here. "As for the brows, try using a pencil like Anastasia Beverly Hills Perfect Brow Pencil to add in small faux hairs and bulk up what's already there. Then, to maintain the fluffed-up effect, go over the brows with a soap or wax formula. I used the classic WBCo Soap Brows, but there are so many on the market that give the same look." 
Alison McNamara, Make-Up By Dana Vaughan
Debit
Top Tips: The exact shade used on the lids here was Stila's Glitter & Glow Liquid Eyeshadow in Diamond Dust. "To create these glossy eyes, I layered it onto the lids, before following up with MAC Glitter + Pigment for extra density and dimension," says make-up artist Dana Vaughan. Sweep Stila's shade, or a similar one, directly onto lids and smudge in with your finger for even coverage, taking the pigment right up to the crease of your eye. Keep layering it up for a more intense finish, or mute it down with a single layer – the beauty of this look is you can tailor it to your preference, and even just wear a smattering along the lash line.
Credit
Top Tips: This look was all about the eyes, so skin was kept as fresh as possible. "There was a lot of prep work for a dewy, fresh-looking complexion. I used Go-To Face Hero Oil to plump up the skin and keep it hydrated and radiant," adds Dana. "For a look like this, it's key to stick to cream and liquid products. I also used Westman Atelier Lit From Within Highlighter to give a super glossy finish all over the face."
 
Sydney Harper, Hair & Make-Up By Sophia Porter
Debit
Top Tips: Match this soft, smokey eye with burnished tones over black. "For this look, I used brown and burgundy colours which help to add depth to the eyes, while using golds and deep bronzes to highlight and diffuse the whole eye look," explains make-up artist Sophia Porter. Do the eyes first, then go in with your foundation. That way, any eye make-up that slips or falls down the face can be cleaned up with your base.
 
Credit
Top Tips: This sultry look is as much about the brows as it is the soft, smokey eyes. Keep them sculpted by brushing them through into your desired shape, before applying a cream, or gel textured product. "Here I used WBCo SoapBrows for the fluffed-up effect – it works wonders to set brow hairs into place. As for the lips, I kept them natural with a neutral/golden brown shade and a tinted balm on top," adds Sophia.