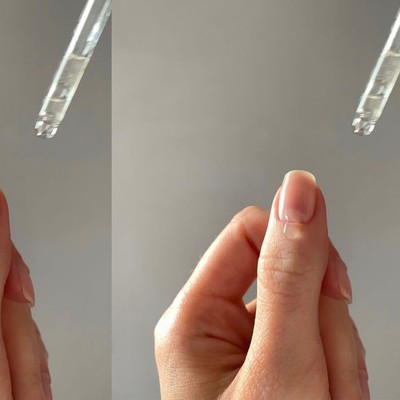 A Manicurist Shares Her Top Nail Rules

Her chic and delicate nail art has helped make Georgia Rae one of the leading manicurists in the beauty industry. From the products she wouldn't be without to the common nail mistakes to avoid, we asked her for some tips…

All products on this page have been selected by our editorial team, however we may make commission on some products.
Get The Shape Right
"My favourite nail shape – which I think suits most hands – is the 'soft square'. To start, get your nails filed to a length you're happy with, ensuring they're all even. A good tip is to hold your hand with your palm facing toward you to ensure they are the same length. Then, take the file down the sides of the nail to shape ever so slightly. This will give the illusion of a longer nail bed. Finally, gently take the file along the free edge of your nail and over the corners. Try to use strokes in the same direction as opposed to a sawing motion, stopping and assessing from different angles until you have the desired shape. There are plenty of emery boards on the market, but try to use a very thin one to get right down the sides for a cleaner shape." 
Know These Hacks
"Clients often ask me why I perform the skincare part of my manicure after I apply the colour. When it comes to caring for the cuticles, it's important to work on the skin while it's dry. It makes it easier to differentiate the dead skin that's safe to nip away from the living tissue you must never touch. So, skincare always comes second. Once you've applied the first coat of regular nail polish, decant a little onto a palette and use a thin nail art brush to touch up any small areas you might have missed. Wait for this to dry, then apply your second coat of colour and topcoat. It's an easy way to perfect the look without the need for loading up on unnecessary layers." 
Hydrate, Hydrate, Hydrate
"I really wish people would moisturise more. I can't say it enough, but you need to  keep your nails – and the skin around it – smooth and supple. Nails tend to break when they are brittle and dry, but when they're nourished, they are more flexible and less prone to breakage. Keep your nails filed to a length and shape that suits you and always wear gloves when handling any harsh cleaning products – they do more damage than you think." 
Keep The Pressure Light 
"I am often asked how to stop nail colours from streaking – especially lighter shades. Try to wait 10-15 minutes between coats to let everything settle. Likewise, it's important to use a light pressure with your brush, gliding it over gently as opposed to dragging it and causing streaks." 
Invest In The Right Products
"The list of products in my kit is ever growing, but there are a few essentials everyone should own for healthy, groomed nails. The first two are a thin emery board and a gentle buffer. Like so many manicurists, I love the 'Doris' tool and 'Katey' nippers from Navy Professional . The Chanel La Base is also worth every penny and Jo Malone's Vitamin E Body Treatment Scrub and Nourishing Hand Treatment are essential for supple skin – they're luxurious, but so worth it – as is the Diptyque Satin Oil. 
 
The Bio Sculpture Round 6 Brush is what I use to apply gel. It gets into those hard-to-reach areas and achieves a smooth, flawless finish. Meanwhile, buffing the nail plate removes surface oils and debris from the nail which allows for better adhesion of nail colour – plus it gives naked nails a more natural sheen. The key is using a buffer with a high grit – the higher the grit, the less abrasive it is. Navy Professional does an amazing 'Nail File Trio' which is designed for use on the natural nail. There's one for shaping, one for buffing and one for refining."
Never Pick 
"If you can see visible dead skin, it usually means your nails and hands are dehydrated. Try getting into the habit of exfoliating your hands, then follow up with a moisturiser and cuticle oil. This will make the skin less visible in the meantime, so you're less tempted to pick. It should also minimise dry skin going forward. Never peel off your gels either. If you do, the colour will take a layer of your natural nail with it and any damage is irreversible until a new, healthy nail grows in. It takes six months on average, so always have them removed professionally." 
Establish A Routine 
"A nailcare routine, just like skincare, is essential. Once a fortnight, I'll lift any dead skin from my nail plate using the 'Doris' tool from Navy Professional. This creates a nice, clean shape around the cuticles. After that, if there is any obvious dead skin around the nail, I'll nip it away using my 'Katey' cuticle nippers. I also love to dry body brush my nails with the Dr Barbara Sturm 'Soft' Body Brush. I'll then use the Jo Malone Scrub and follow up with a hyaluronic serum to lock in some moisture. Everything you apply should be thoroughly massaged in to stimulate blood flow and nail growth. It takes time to get into the habit, but it's a great way to wind down. The L'Occitane Shea Nail & Cuticle Nourishing Oil is brilliant, too. The brush applicator makes it easy to top up throughout the day." 
Avoid Acetone & Nail Clippers 
"Try to avoid nail polish removers that contain acetone. It's harsh and abrasive, so look for one that will be a lot gentler on the natural nail and the surrounding skin. Likewise, steer clear of clippers – especially if you can maintain your nails at a length that works for you and your lifestyle by filing them regularly. However, if your nails have got too long, they're safe to use, just make sure you get the technique right. Clip from one edge of the nail, then the other and meet in the middle. This prevents unnecessary stress to the centre of your nail plate." 
Pick Up These Suits-All Shades
"I like to keep a range of sheer shades in my kit to suit every skin tone. I am always asked for a 'natural but still done' effect, and that's precisely why you need a lot of neutral colours to hand. Chanel's La Base comes everywhere with me. It's essential if you like that clean, effortless look. It has a very slight tint which blurs imperfections and it also nourishes, protects and strengthens. Some other staples include Opi's Bubble Bath, Put It In Neutral and Funny Bunny. I also love Rose, Crème and Sweet Candy Breath by Bio Sculpture."
 
 
 
Follow @RaeLondonNails
Discover Rae's Top Nail Picks...
DISCLAIMER: We endeavour to always credit the correct original source of every image we use. If you think a credit may be incorrect, please contact us at info@sheerluxe.com.