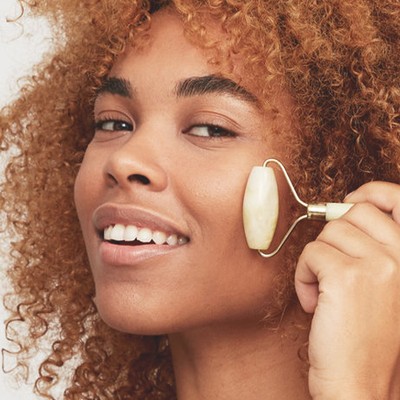 How To Get Facial Results At Home, By Skincare Guru Michaella Bolder

There are many things we have to make time for – work events, the school run, food shopping – but beauty treatments isn't one of them. Of course, we would love to pamper our faces daily, but the reality is, with our ever-increasing to-dos, we barely have time to read a book, let alone fit in a facial.

However, according to celebrity facialist Michaella Bolder, you really can make your skin smoother, softer and calmer by recreating a good at-home routine. Not to mention saving money and time. Follow her simple steps for flawless skin…
Routine is key
To get the results of a facial at home you need to stick to a daily routine both for morning and evening – skin loves monotony. I love to use Time Bomb's Peace and Quiet Cleansing Oil because it's so light and has the beautiful scent of holidays, rather than strong essential oils. I'll use that to remove all traces of make-up, SPF, dirt and grime, knowing it doesn't sting my eyes or dry my complexion out. Then I'll use my trusty Sisley Black Rose Mask, which for me, is the most legendary face mask for its dual powers. Doubling as an overnight mask or a rich day cream, it quickly sinks in while delivering that post-facial glow we all crave. 

Keep adding
I recommend adding a different product to your regime or facial once a week, such as one that exfoliates deeply. Glycolic peels are great for boosting your other products while giving the skin some extra nourishment, so try using one after your cleanser. The Ordinary AHA 30% is a fast game-changer for brighter skin. A blast of this acid will whip dead and unwanted cells away, leaving your skin clearer, tighter and fresher.
DIY Massage
Massaging your face daily using your own fingertips for five minutes can stimulate blood circulation, lymphatic drainage, activate muscle movements and sculpt the facial contour. Gently press your fingertips underneath your collar bone, pulsing from the centre to the outer edge three times, followed by the same movement inside the collar bone, repeating three times. Better still, invest in a jade roller. When using one of these, make sure you apply enough product to your skin, whether that's a facial cream or oil, to allow the flow of movement around the face without any dragging. Use it with a deep pressure, working from the centre of the face outwards. For best results use your jade roller for 3-5 minutes each day, morning or evening is fine – you'll become obsessed.
Keep Hydration Up
A top tip I always follow is to layer up hyaluronic acid at least two or three times before applying day cream or night oil. It's so much better than just one layer as it packs a hydrating punch like no other, therefore locking in your glowing, dewy results for days. I also recommend using a rich balm like Weleda's cult Skin Food. Wear it overnight to give skin an extra level of moisture. It's loved by make-up artists and facialists for very good reason – no one should be without one during winter. 
Teaspoon Trick
Keep two teaspoons in the freezer at all times for those tired mornings when you need a quick eye fix. They'll reduce puffiness, dark circles and soothe blood shot eyes in no time. Afterwards, tap a little of DCL's C Scape Eye Treatment on top. It's a light, airy brightening balm that feels cool and tingly. Suffering from a puffy, inflamed face? Pop a piece of ice into a cool flannel and move around your skin until your face is cool and visibly calm.

Make Your Own
Mix up your own face mask with Avocado, manuka honey, oats and natural yoghurt. It may sound a bit hippy-dippy but it will give your complexion a real overhaul of goodness, vitamins and minerals, and if nothing else, it's super fun.

Try Silk
Sleeping on a silk pillow case may sound gimmicky but they have been reported to reduce skin's puffiness, redness and prevent bacteria from spreading – hence they're often recommended to those with acne-prone skin. Worth a try!
DISCLAIMER: We endeavour to always credit the correct original source of every image we use. If you think a credit may be incorrect, please contact us at info@sheerluxe.com.