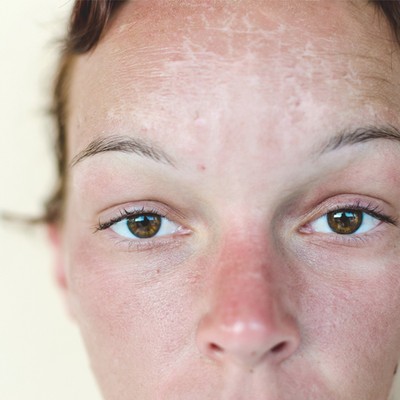 Sun Damage: How To Treat It

If, like us you've spent the past few months lounging in the sun, you've probably accrued some damage to your skin. Even the savviest shade-seekers have been guilty of going out unprotected and – especially with it being one of the hottest summers on record – it all adds up. Feeling concerned? We spoke to consultant dermatologist & British Skin Foundation spokesperson, Dr Anjali Mahto, to find out how to get your complexion back to its former glory...

What does sun damage look like on the skin? 
Ultraviolet radiation from the sun is responsible for many of the features we associate with ageing - think fine lines, wrinkles, and blotchy, pigmented skin. Dark spots are flat brown marks that commonly appear on sun-exposed sites such as the face, neck, and hands. They most commonly develop in those with a fair complexion but can be seen in olive skin types also. They're the result of excess skin pigmentation or melanin and are quite common in those aged over 40. 
What can I do about dark spots and pigmentation? 
These can be helped with certain skincare ingredients such as vitamin C, retinoids, kojic acid, niacinamide, arbutin, azelaic acid and alpha hydroxyl acids. Failing this, there are clinic-based treatments which can be carried out be a dermatologist. 
What should I be using? 
Different ages should be using different products, as your skins needs change over time. 
IN YOUR 20S: Sunscreen 
This is the time to start wearing regular sunscreen on your face if you aren't already.  Protecting your skin from the sun will not only reduce your long-term risk of developing skin cancers (basal cell carcinomas is the most common skin cancer and the majority of these occur on the face) but will also prevent premature ageing. Using an SPF slows the ageing process down. If your skin is sensitive, opt for mineral based sunscreens which contain titanium or zinc. 
IN YOUR 30s: Antioxidant serums 
Consider adding in an antioxidant serum into your regular routine. Look for products that contain vitamin C or E, ferulic acid or resveratrol to name a few. These agents will limit the damage caused by free radicals generated by the sun and pollution. 
IN YOUR 40s: Retinoids 
By your 40s (if not earlier) you should be using a retinoid cream at night.  Retinoids are vitamin A-based products which have been proven to boost collagen production, improve fine lines and clear pigmentation in scientific studies. Be patient though – it can take up to six weeks to see effects. Look for over the counter preparations that contain a minimum of 0.1% retinol as an ingredient. Otherwise consult a cosmetic dermatologist who will be able to prescribe you a prescription strength retinoid (e.g. tretinoin 0.05%). 
IN YOUR 50s & 60s: Rich, hydrating moisturisers 
By this point you should already be regularly using all the products mentioned above. However, with the menopause many will notice that their skin has become visibly thinner and feels much drier, possibly even sensitive.  This is partly a result of falling oestrogen levels.  To tackle this, opt for rich hydrating creams to add moisture back into the skin, both morning and night if needed. 
What are my options if home treatments don't work? 
If the products do not help fade your pigmentation then chemical peels and lasers are a good solution. You'll need to visit a dermatologist to assess your skin and administer the appropriate treatment.  
How can I protect myself from further damage? 
Unfortunately, the sun is the biggest culprit in skin ageing. Prevention is easier than cure, so it is therefore imperative to wear a broad-spectrum SPF on sun-exposed sites such as the face, neck and hands. When choosing a sunscreen look for a high protection SPF (SPF30 or more) to protect against UVB, and the UVA circle logo and/or 4 or 5 UVA stars. Ensure you're applying plenty of sunscreen 15 to 30 minutes before going out in the sun, reapply every two hours and straight after swimming. 
DISCLAIMER: We endeavour to always credit the correct original source of every image we use. If you think a credit may be incorrect, please contact us at info@sheerluxe.com.