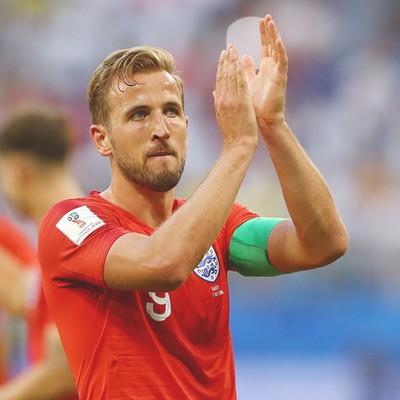 7 Things We're Loving About The World Cup

With over 20m Brits tuning in to watch England v Sweden on Saturday, it's safe to say football is well and truly coming home – and people are excited. And there were many things to love about this weekend's match besides our superb win – here are some things we're loving about the World Cup so far...

1. We Haven't Been This Close To Winning In 28 Years
As we all know, England sailed through to the semi-finals at the weekend after scoring two-nil against Sweden. Whether the boys go all the way remains to be seen, but if we did win the World Cup, it would be the first time in 52 years that we'll have raised that trophy – England haven't made it through to the semi-finals since 1990.
Harry Kane, captain for the England team this year, said after the match that he hopes their win will inspire a generation. "As a player and as a professional I know that I have a job, on and off the pitch, to inspire people and inspire kids watching this tournament," he told reporters. "It's amazing because I was one of those kids growing up who wanted to play for England. So to be here now, leading this team out, I'm so proud."

2. The Players Are Keeping It Classy
Our players have been perfect gentlemen this year. During their match against Columbia, six members of the opposing team were shown yellow cards, and Wilmar Barrios was lucky not to see a red card for headbutting Jordan Henderson. But England kept their cool – there wasn't a Zidane headbutt or David Beckham trip-up in sight. "We didn't rise to it in general, which was brilliant," England manager, Gareth Southgate, after the game. "We kept our composure in a really difficult environment. There were many, many fouls in the game and I do not think we committed anywhere near the number they did."
And the players aren't the only ones who have kept it classy – the girlfriends of the players have been a bunch to look up to as well. As 2018 is officially the year of girl power, the group have dropped their 'WAG' status, and have shunned partying like the wives and girlfriends of yore (namely 2006), instead favouring 'girl squad' dinners. In fact, Rebekah Vardy – wife of England striker Jamie Vardy – has even been home-schooling her children whilst supporting her husband in Russia.

3. The Fans Have Been Surprisingly Civil
Bar a foolish few, the camaraderie during 2018's World Cup has been something special. Videos from around the country from Saturday's match has shown a nation gone football crazy in the best way. Beer was thrown, hugs were given, songs were sung (anyone tired of hearing 'Three Lions' yet?) And, with this being 2018, there has, of course, been a whole host of great fan memes crashing through the internet. From Harry Maguire's 'mansplaining' pic to Neymar's endless roll, Dele Alli's Fortnite celebratory dance to Gareth Southgate's waistcoat, fans are delivering. It really doesn't get more 2018 than that.
And despite the world's worries of hooliganism at this year's venue, we've all been rather pleasantly surprised. Fear of violence rule most football tournaments, particularly after England Euro 2016 campaign was marred by violence in Marseille. But luckily, those fears have thus far been unfounded. British police have said that, although a few English fans are facing bans from future matches for fighting with each other, they have so far reported a "good atmosphere" between the British and supporters of rival nations.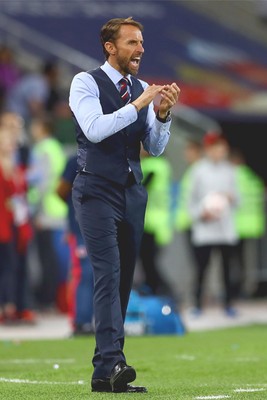 4. Gareth Southgate Is Now England's Sweetheart
Can we just take a moment to appreciate Gareth Southgate? The England manager has scored major points with fans this year for his fashion choices – Marks & Spencer have reported a 35% increase in the sale of waistcoats since the start of the World Cup – and his kind nature. After England beat Columbia on Tuesday 3rd July, Southgate was seen hugging tearful Columbian player Mateus Uribe instead of celebrating with the England team, with many drawing comparisons between the hug former England manager Terry Venables gave Southgate after he missed a spot-kick for England back in 1996, costing them a place in the Euros final.
5. The Odds Are In Our Favour
England will have their work cut out in their match with Croatia – midfielder Luka Modric – who already has a reputation for being one of the world's best midfielders – is the one to watch out for. England and Croatia have a long history, with England winning four times, losing twice and sharing a draw with the opposing team. But the odds are in our favour right now, with the current odds on Oddchecker sitting at 13/10 for and England win and 11/5 for Croatia to win. Better start placing those bets now!
6. The Weather Has Been Amazing
Is there anything better than al fresco football? Sat in a beer garden, slathered in sun cream and nursing an ice-cold Aperol Spritz, there really is no better way to watch the beautiful game on a beautiful day. With temperatures reaching over 32 degrees in some parts of the country this weekend, it was ideal football-watching weather. And the good weather is scheduled to continue the rest of the week, meaning the semi-finals and beyond are guaranteed to be cloud-free.

7. It's Not Over Yet
Kane and the squad will now play Croatia on Wednesday 11th July at 7pm. If they make it all the way to the final, that will be airing Sunday 15th July, kicking off at 4pm from Moscow's Luzhniki Stadium. And if there's one person who's feeling positive, it's England captain Harry Kane: "No-one wants to go home. Everyone wants to finish the job and we are excited to try and do that. We want to be here till the end. We are one step closer to what is the biggest game in football as a professional."
Watch England v Croatia at 7pm on Wednesday 11th July on ITV1
DISCLAIMER: We endeavour to always credit the correct original source of every image we use. If you think a credit may be incorrect, please contact us at info@sheerluxe.com.