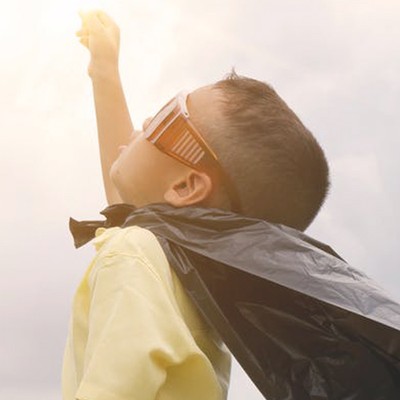 The Book Inspiring Boys To Dare To Be Different

We're currently in the midst of a female revolution with the birth of the #MeToo moment, and while we're all for raising strong women, we also need to raise modern men. Enter Ben Brooks' latest book, Stories for Boys Who Dare To Be Different – the perfect accompaniment to Good Night Stories For Rebel Girls, encourages us all to break stereotypes once and for all.

At just 25, Gloucester-born Brooks is on the brink of becoming a household name. Having already published seven novels, Stories for Boys Who Dare to Be Different marks his first foray into children's literature, and what a mark it's already had. Riffing on the runaway success of Good Night Stories for Rebel Girls – Francesca Cavallo and Elena Favilli's crowdfunded compilation of feminist fairy tales – Brooks' book features 100 famous and not-so famous men challenging the narrative around masculinity.
 
"I wanted to write this book because it's the kind of book I wish I'd had as a kid," Brooks wrote in a piece for the Telegraph. "I wish I'd known about the endless list of boys who felt out-of-place and alone, only to grow up and be embraced for the very things that once marked them out as different."
 
His beautifully illustrated series of short tales features the likes of Barack Obama and Bill Gates, Jamie Oliver and Stormzy, Beethoven and Salvador Dalí – all rule-breakers and innovators in their own unique ways. Having only sports stars to look up to as a child – people he couldn't emotionally relate to – Brooks hopes to give the next generation a more diverse cast of male role models.
 
As for why it's so vital? Telling young boys they should 'man up' is killing them, not to mention damaging the whole of society. As Robert Webb puts it in his book How Not To Be A Boy, "When we tell a boy to 'act like a man,' we're effectively saying 'Stop expressing those feelings.' And if the boy hears that often enough, it actually starts to sound uncannily like 'Stop feeling those feelings'."
 
If we want boys to be better, we have to show them what better looks like.
Brooks believes this "emotional stockpiling" is behind the male suicide rate, male violence and academic underachieving amongst young men. "Men are stoic, powerful, and courageous," he writes. "Men wear unusually large watches and bury their feelings. Men are twice as likely to kill themselves and eight times as likely to spend time in prison."
 
It's for this reason he wants to show the young male readers of his book men who aren't afraid to express themselves, who are kind and thoughtful, who treat woman equally, who pursue academics and creative arts, and who forego competition when more important concerns arise.
 
But the book, published 3rd April, has already been met with criticism. Some people claim it's cashing in on Goodnight Stories for Rebel Girls' success and making it all about men, asking angrily: "Don't boys have enough?" Considering a recent study of 5,000 children's books revealed a quarter had no female characters, and less than 20% featured a woman with a job, it's a backlash Brooks says he anticipated.
"The majority of art, music, and writing, has obviously, historically, been made by men, about men, and any and all moves to redress the imbalance are desperately needed," he wrote. "But it has become clear that, despite surface changes, many men continue to act in ways that make the world a miserable place for women and for themselves. If we want boys to be better, we have to show them what better looks like."
 
Stories for Boys Who Dare to Be Different by Ben Brooks and illustrated by Quinton Winter is out now (Quercus, £17.99)
INSPIRATION CREDITS: Happiful.com
DISCLAIMER: We endeavour to always credit the correct original source of every image we use. If you think a credit may be incorrect, please contact us at info@sheerluxe.com.