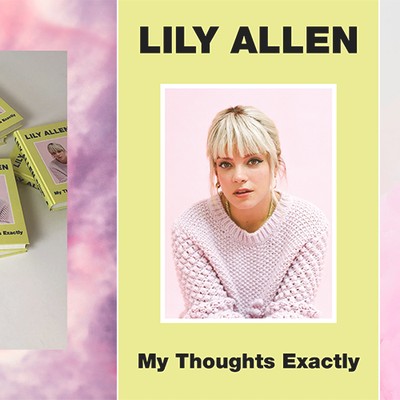 Book review: My Thoughts Exactly by Lily Allen

Award-winning singer Lily Allen is back, with her fourth album and her first book, My Thoughts Exactly – a series of personal essays that see her tackle everything from tabloid tattle and parking ticket fines through to sexual abuse and the loss of a child. It will rewrite everything you thought you knew about her…

What's it about?
In her introduction, Lily Allen declares "this isn't a normal memoir where you find out everything in the order that it happened. I'm too young to write my life story and I've got no interest in remembering event after event after event. It's not a straight memoir. It's not even a straight story. Is any?"
"It is my story" she continues. "It's entirely true to me – but I don't claim it to be the only truth". In a world filled with celebrity gossip, Twitter feuds and tabloid exposés (of which Allen has been stung many a time), it feels imperative that Allen would kick off her debut book with a commitment to straight talking. Yet it's this caveat of personal truth that interests when it comes to setting the record straight: it's this notion that allows her to be so frank and detailed about her closest relationships, whether with her ex-husband, her philandering father or her record label. As her title says, these are her thoughts.
This collection of essays might not be linear, but we do begin with a series of chapters focusing on her upbringing (or lack thereof), which detail loneliness, sibling rivalry and her experiences at the numerous schools she didn't fit into – "as a child (and often as an adult), I felt like a beating heart and pile of skin, but nothing more: nothing substantial or filled up or whole". Her parents star in individual essays. Her mother, Alison Owen, is a big-time film producer who'd often be away on location, leaving the kids behind. When she was in London, she'd often be more dedicated to doing drugs than picking up her daughter from school. Her father, comedian Keith Allen, is painted as absent, uncaring and unfaithful.
But Allen also turns the knife on herself – no one comes out of this book unscathed, least of all her. She details drug and alcohol addictions, her dependency on men and her lack of business acumen when starting out (one chapter focuses on her signing a five-album record deal for a measly total of £25,000). She reminds us of her failed fashion business Lucy in Disguise, which left her saddled with £1.5m of debt in 2009. And she talks honestly about the commercial and creative failure of her third album, Sheezus.
She also takes us back to long-forgotten celebrity feuds – one when Cheryl Cole called Allen a "chick with a dick"  is most notable. She details lies tabloids would make up (and how they did it), as well as delving into her history of drug addiction, sexual abuse and bulimia; dealing with packs of paparazzi and a seven-year stalker; and her miscarriage when she was six months pregnant (this essay in particular is a startling read). Yet it's all told with Allen's trademark wit and tell-it-like-it-is reportage. In that sense, My Thoughts Exactly is utterly refreshing.
No one comes out of this book unscathed, least of all her. She details drug and alcohol addictions, her dependency on men and her lack of business acumen.
Is it any good?
It's not poetry, but like her lyrics, you'll be caught off-guard with her honesty, and find yourself pulled into the narrative. Non-chronological essays titled simply, such as 'Money', 'Voice' and 'Sex, Part 1', allow you to dip in and out of Allen's story. Once you're a few essays in, you'll find you want to race through to discover more, especially when there are certain revelations about a fumble with The Streets' Mike Skinner, a mile-high dalliance with Liam Gallagher and tales of sex with female escorts.
Despite her celebrity and the double-edged fame she has experienced so far – remember, she's only 33 – there's much in here that's universal. Motherhood is fraught with fear (she details her post-natal depression following the birth of her second child, and the pressures and guilt of returning to work soon after giving birth). Style crops up many times, whether discussing the oft-copied prom-dress-and-trainers look of her early career (which she says was down to the fact she hated her legs and wanted to cover them up), or her much celebrated Chanel campaign. Elsewhere, she discusses debt, divorce and depression – nothing is off-limits.
Throughout the reading experience, the tendency to think of Allen as a bit of a gobshite (Allen herself describes this fiery, outspoken persona as 'Cartoon Lily') dissolves. We closed the book feeling nothing but total respect for Allen.
What are critics saying?
The Times begins: "The most shocking thing about Lily Allen's autobiography isn't that she hired female escorts for sex while on tour. But the most shocking thing about her book is how unhappy Allen is. My Thoughts Exactly is less rock 'n' roll romp than misery memoir."
The Telegraph (and SL) disagree: "She details her ordeal at the hands of a stalker, sexual assault by a record company executive, multiple addictions, post-natal depression and, in a chapter that brings the reader up short, the death of her baby. Somehow, this doesn't make for miserable reading. Like all good drama queens, Allen has a flair for storytelling."
Meanwhile, the Guardian applauds her no-holds-barred approach: "No detail is deemed too personal in the singer's affecting account of her rise to fame and being constantly under scrutiny. The book serves as a cautionary tale for young women thrust into the limelight before they have fully understood who they are. You would struggle to find a more lucid and heartfelt account of how constant press attention can warp one's sense of reality."
My Thoughts Exactly by Lily Allen is out now, £10 from Amazon.co.uk
DISCLAIMER: We endeavour to always credit the correct original source of every image we use. If you think a credit may be incorrect, please contact us at info@sheerluxe.com.