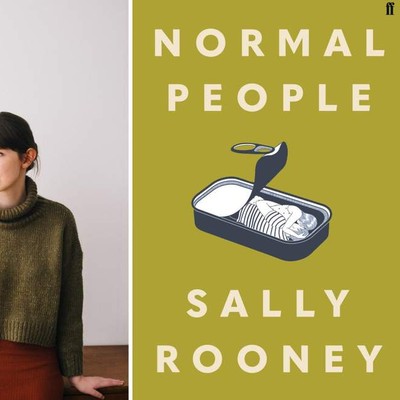 Book Review: Normal People By Sally Rooney

Man Booker prize-nominated Sally Rooney has a lot to live up to with her second novel, the follow-up to last year's sensational Conversations with Friends. We're very pleased to report that Normal People more than meets expectations – it might just be our book of the year…

What's it about?
The follow-up to her super successful debut Conversations with Friends, Irish novelist Sally Rooney's Normal People is the story of Connell and Marianne, who despite growing up in the same small town in the west of Ireland, are from very different worlds. Connell's mother works as a cleaner in Marianne's family home, a mansion in the nice part of Carricklea, where Marianne spends her summer sunning herself in the garden. Connell works in a garage at weekends while at school to help bolster his mother's pay packet.
Friendless and deprived of affection at home, studious Marianne leads a solitary existence at school. Connell is good-looking, smart and well-liked. When they strike up a conversation in Marianne's kitchen one day after school, the attraction is immediate – yet their backgrounds dictate that they can't maintain any relationship outside the confines of their clandestine after-school encounters.
When they both earn places at Trinity College in Dublin, their deep connection lasts long into the following years, as the pair navigate new relationships, strained family conflicts and finding their places in the world outside of Carricklea. Through role reversal, we're exposed to both Marianne and Connell's magnetism and flaws, as the book explores how just one person can shape the course of the rest of your life.
Will I like it?
Anyone who read and loved Conversations with Friends will find Rooney's pacey second book a joy to read. Dubbed "Salinger for the Snapchat generation" when her debut arrived (with this second Man Booker prize-nominated book under her belt, Rooney has achieved a great deal at the age of just 27) it could be easy to dismiss some of the novel's central themes (prevalent anxiety, depression, an unstable job market in post-crash Ireland) as millennial moaning. But while she might be writing about millennials, but she's not writing exclusively for them.
Indeed, Normal People speaks (often rather painfully) to anyone who's grown up feeling unsure of themselves, capturing the sensations of conflicted morality, unrequited love and blurred consent with uneasy accuracy and maturity. Absent fathers, domestic abuse, suicide, submission – the novel isn't afraid to explore a raft of taboo subjects throughout the course of its pages. Yet Rooney's skill lies in her ability to pull you back from the edge of these terrible events, and bring the focus back onto Marianne and Connell and their unusual, yet deeply felt relationship.
Do critics rate it?
The Guardian describes Normal People as "an elegant love story for a cynical age". Meanwhile the Independent said: "Normal People tells of a special, quiet romance, a rumination on the space we make for others. Rooney evokes, with dazzling simplicity, all that it is to be shaped by another person".
Writing in the New Statesman, novelist Olivia Laing said: "Rooney is miraculously astute about human relations, the best young novelist – indeed one of the best novelists – I've read in years," while the Daily Mail proclaimed: "Rooney shares with [Sylvia] Plath a knack for particularising a feminine consciousness, and this novel is the best I've read on what it means to be young and female right now."
Elsewhere, James Marriott of the Times said: "It should obviously win the Booker prize. The best novel published this year." We're inclined to agree.
And what did SL think?
Just like Conversations with Friends, we whizzed through it in a day. As per Rooney's debut, the story is heavy on dialogue – both internal and conversational – so, by the time you're a few chapters in, you feel a real connection to the characters and care about them deeply.
Set between 2011-2015, the chapters flicker between time frames and perspectives – always Marianne's and Connell's – as the 'will-they-won't-they?' narrative weaves from first words exchanged to four-year familiarity. It's a style that works, as the reader is exposed to miscommunication, confusion and things that are left unsaid, as well as the carefully chosen words the pair choose to utter to one another.
Normal People by Sally Rooney is out now; £10.49 from Amazon.co.uk 
DISCLAIMER: We endeavour to always credit the correct original source of every image we use. If you think a credit may be incorrect, please contact us at info@sheerluxe.com.