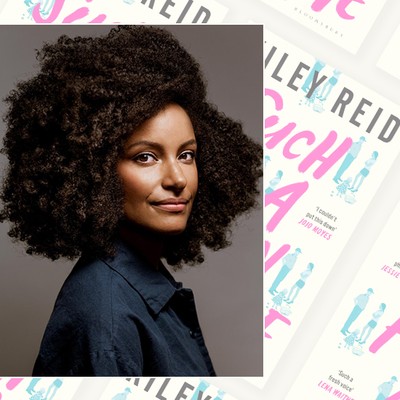 Book Review: Such A Fun Age By Kiley Reid

A powerful debut novel from Kiley Reid, Such A Fun Age is a thought-provoking story about race and privilege, set around a young black babysitter, her well-meaning employer and a surprise connection that threatens to ruin both their careers. Here's why it's this month's must-read book…

Alix Chamberlain knows how to get what she wants and has made a living – via her confidence-driven brand 'LetHer Speak' – showing other women how to do the same. It's 2015, she's just been accepted onto the Hillary Clinton campaign and has recently relocated from New York to family-friendly Philadelphia, where she and her news anchor husband have artfully redecorated a spacious townhouse in which to raise their two young daughters.
Her perfect life begins to unravel when her babysitter, Emira Tucker, is apprehended while watching the Chamberlains' toddler one night, walking the aisles of their local high-end supermarket – the type that sells "bone broth, truffle butters… and several types of nuts in bulk". The store's security guard, seeing a young black woman out late with a white child, accuses Emira of kidnapping two-year-old Briar. A small crowd gathers, a bystander films everything and Emira is humiliated. As both Emira's employer and a card-carrying feminist blogger with a brand to maintain, Alix resolves to make things right.
Given Reid's deft dialogue and all-consuming coming-of-age story, it comes as no surprise that filming rights to Such A Fun Age were snapped up by Lena Waithe.
But Emira is aimless, low on cash and wary of Alix's desire to help. At 25, she is about to lose her health insurance and has no idea what to do with her life. While her friends are climbing the corporate ladder and thinking about renting two-bed apartments in nicer parts of town, Emira is juggling two part-time jobs with no employee benefits, living in sub-standard accommodation and newly dating a 'woke' white man with a point to prove. But when the video of Emira in the supermarket unearths someone from Alix's past, both women find themselves on a path that will alter everything they think they know about themselves, each other and the dynamics of privilege.
A damning social commentary, Such A Fun Age explores the uneasiness of transactional relationships, particularly the mother/child/babysitter dynamic. Although well-intentioned Alix is distraught at Emira's experience at the supermarket, the way she deals with the fallout – slotting $1,000 extra into her pay-day envelope, sending her home with pricey food packages, attempting to get her onside over glasses of expensive wine – blurs the boundaries between employer and employee and demonstrates the unconscious bias and lack of understanding of the racial profiling that's an everyday occurrence for Emira. Throughout the novel, Reid tackles racism – in its myriad forms – tactfully, but effectively via a classic upstairs/downstairs narrative. She also dwells on the finite lifespan a nanny or babysitter has with one family and the uneven division of emotional labour between a mother and their hired help. It really makes you think.
Reid has described wanting readers to see the events of her debut as "both a gateway and a mirror". She does this best by switching each chapter between Alix and Emira's voices. This creates a pacey plot that drives the desire to find out how one will react to a conversation initiated by the other or how they'll read into the intentions of one another's increasingly erratic actions.
No one comes out of this unscathed, yet Reid is a compassionate author and makes each of her sizable cast of characters likeable and relatable in small ways. Even Emira's new boyfriend, Kelley – who feels he can causally use the N-word because he has black friends – comes across as both supportive and attractive in many of the interactions we witness between the pair. This humanising element makes for an even more disturbing reading experience, as readers grapple between right and wrong, and question their own interactions with virtue signalling, 'wokeness' and acceptance in society. So many examples of these grey areas are articulately weaved into the book – it feels powerful, sympathetic and extremely modern. And it offers a devastating final paragraph that will stay with you long after you've closed the book.
Given Reid's deft dialogue and all-consuming coming-of-age story, it comes as no surprise that filming rights to Such A Fun Age were snapped up by Lena Waithe (Master of None, Dear White People, Queen & Slim) well before the book was even published. We're already excited to see how this timely tale of miscommunication translates onto the big screen.
Such A Fun Age by Kiley Reid is out now
DISCLAIMER: We endeavour to always credit the correct original source of every image we use. If you think a credit may be incorrect, please contact us at info@sheerluxe.com.