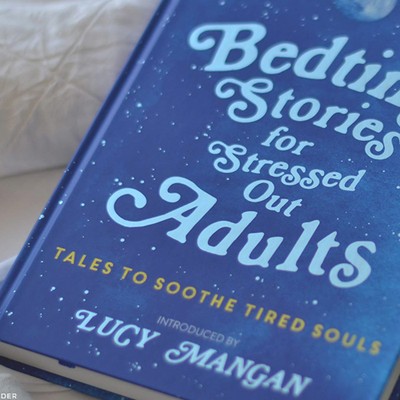 Could Adult 'Bedtime Stories' Cure Your Insomnia?

It's official, the UK is a nation of worriers – with new research revealing almost three in four Brits are suffering from stress every week, leading to anxiety, tension and (something we can all relate to) a lack of sleep. A surprising new solution to the latter? Bedtime stories just for adults. We found out more…

Earlier this week, leading insurance firm AXA released their annual Stress Index for 2018 – and the results were, for lack of a better term, pretty anxiety-inducing. The study, based on a survey of 2,000 UK adults, found that 9% of Brits feel stressed all the time, with women more likely to feel stressed out than men (78% compared to 66%). And while mindfulness is being touted as one of the most effective solutions for stress – backed by mounting neuroscience research – it's not all meditation and self-help apps. In fact, taking some time to reconnect could be as simple as reading yourself a bedtime story.
Sceptical? Scientists are on board too. "There's a paradox to sleep, in that it comes when you're not trying", explains Dr Steve Orma, a clinical psychologist and specialist in treating sleep problems. "When you try to sleep, your mind monitors your efforts, which then keeps you awake. Instead, have the intention of relaxing and letting go."
Dr Orma says that, therefore, the first step to getting a good night's sleep is ensuring you're in the right mindset when you get into bed. "If you're tired, relaxed and ready for sleep, you'll automatically fall asleep after ten to 20 minutes. This is why doing something calming before bed – such as meditating, reading or listening to a story via audio – will help prepare you for sleep."
It's why Calm – the world's leading app for meditation and sleep – launched a 'Sleep Stories' feature back in 2016, something the founders credit as a large part of their success (the app saw more than 800% revenue growth between 2015 and 2017).
"Remember when you were young how much you enjoyed listening to a bedtime story? It was comforting, relaxing and soothing," Calm Co-Founder Alex Tew said of his decision to turn short stories into audio tracks, read aloud in dulcet tones by narrators like Stephen Fry and Bob Ross.
"When you're a child, you have much less on your mind and sleep comes easily," he continued. "Sleep Stories are meant to take you back to a simpler mental state and let your brain relax and prepare for a deep rest, just as it did when you were young."
 
"It's all to do with neural pathways built during childhood – as we associated this nightly ritual with sleep, it's likely to have a similar effect now."

For those who like to keep things more traditional, a new book is offering an old-school approach… Bedtime Stories for Stressed Out Adults is designed to be a night-time companion for frazzled adults – an anthology packed with "tales to soothe tired souls", it includes childhood favourites alongside classic short stories from the likes of Oscar Wilde and Charles Dickens, and poetry that reminds us of life's simple joys.
Editor Ben Holden (the man behind the bestselling Poems That Make Grown Men Cry) says he's hoping his latest release will challenges how we think about life – one-third of which, he reminds us, is spent asleep. Within it, Holden deftly explores not only the science of sleep but also why we endlessly tell stories – to others and to ourselves, even as we dream. "There are few more precious routines than that of the bedtime story, so why do we discard this treasured ritual as grown-ups and risk sacrificing our good health and well-being?" he asks.
Journalist Lucy Mangan (who you may well recognise as the Guardian's TV critic, or from her weekly Stylist column) nails the concept in book's introduction: "Imagine reading from a book without a similar list of responsibilities crowding the words out of your brain, without a tide of anxiety pulling down the fictional world as fast as you try to build it," she says.
"This book is a small attempt to recreate these lost joys for stressed-out adults, driven mad by the demands of home, family, work and the hopeless porous boundary between all three. Now is the time to stop a while and find consolation and wonder in other worlds where all is well and sleep just a page or two away."
Feeling relaxed yet? If Mangan's soothing words aren't enough to convince you, we'll let Dr Orma explain just why reading or listening to bedtime stories as an adult can help ease insomnia. Apparently, it's all to do with neural pathways built during childhood – as we associated this nightly ritual with sleep, it's likely to have a similar effect now.
"Resurrecting an old habit is so much easier that creating a brand new one," he says. "If it helps, think of it like a forest path you regularly walked as a child, which eventually became overgrown as you walked it less and less. Then all of a sudden you cut it all back years later. The pathway underneath is still there. Your brain works in a similar way".
 
DISCLAIMER: We endeavour to always credit the correct original source of every image we use. If you think a credit may be incorrect, please contact us at info@sheerluxe.com.